This Instant Pot Chicken Noodle Soup is rich, creamy, full of noodles and chunks of chicken. Done in under 20 minutes, this soup is packed with flavor and quick enough for an easy weeknight meal.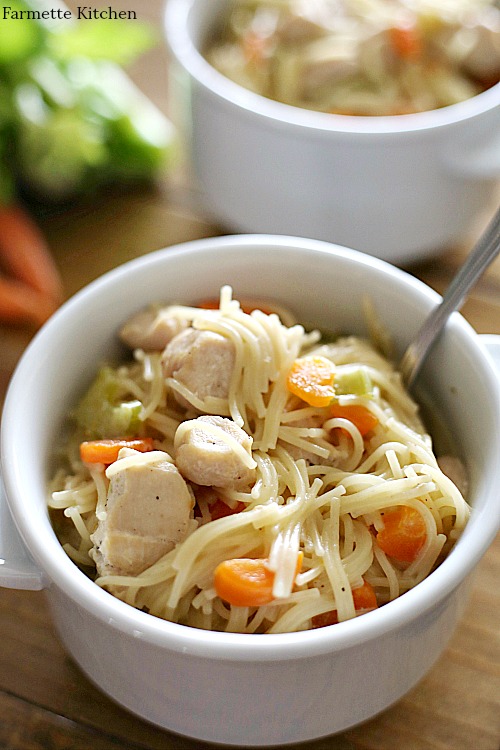 This soup is proof that when one door closes another one opens. I originally wanted to make this Instant Pot Chicken Noodle Soup with ditalini pasta (because I think they are adorable) but, of course, my tiny two-stop-light-town grocery store didn't have any. I stood there on the pasta aisle a good, long while before finally deciding on fideo mediano pasta instead.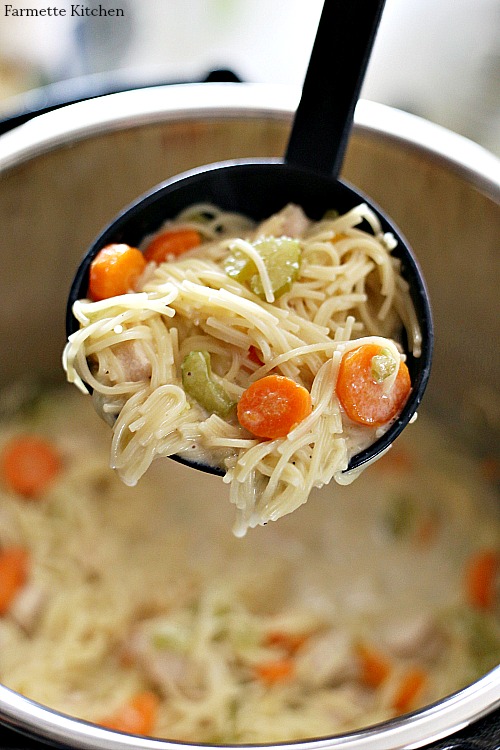 The fideo mediano pasta ended up being exactly what this soup needed. My mom made amazing beef and vegetable soup for us, and delicious chicken and dumplings, but I don't really remember her making chicken noodle soup often. When I think of chicken noodle soup most of my memories are of the Lipton brand soup packets; as a kid, that soup was the first thing I asked for when I was sick. Well, maybe the first thing after popsicles.
I didn't originally set out to recreate that childhood favorite but I'm so glad that's how it worked out. Even better: this homemade version doesn't contain any MSG, corn syrup, or powdered chicken. (Ew.) Not only that but it only takes ten minutes to make this Instant Pot Chicken Noodle Soup recipe in the pressure cooker! Almost as fast as a shelf-stable soup packet and a million times better.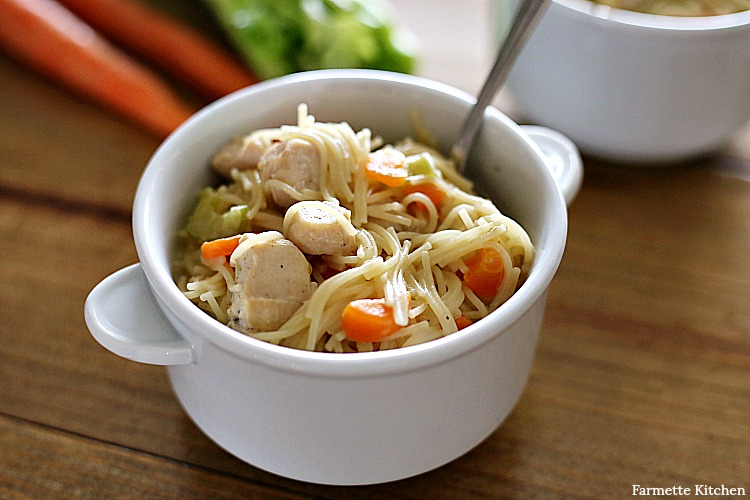 If you can't find fideo mediano pasta (if my tiny town has it then I'm willing to bet yours does too) try another small pasta, like ditalini or orzo. You can make this chicken noodle soup gluten-free by using a gluten-free pasta and dairy free by omitting the cream. Feel free to sneak in whatever other veggies you like, such as bell peppers or mushrooms, but try to keep them all about the same size. You could also leave out the chicken and substitute vegetable broth to make it vegetarian if you prefer.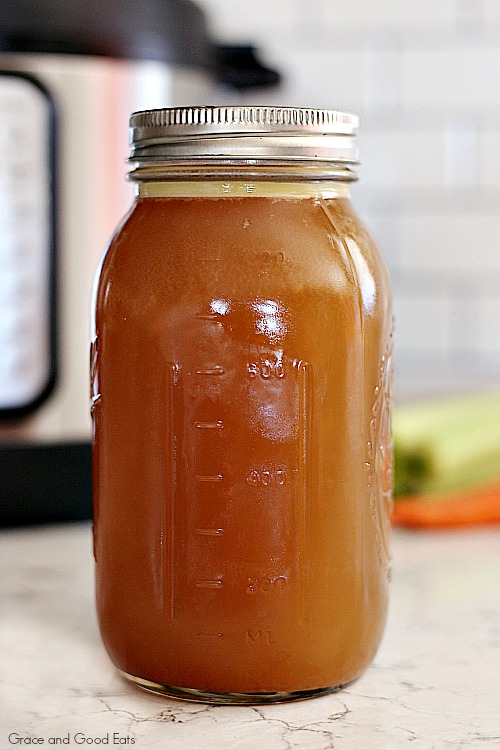 I used Homemade Bone Broth for my soup, which I highly recommend.  It's so easy (also a pressure cooker recipe) and infuses so much more flavor.  Save all of the meat from a rotisserie chicken (use it for my favorite White Chicken Chili Soup) and take what's left to make the homemade chicken stock for this soup! 
Bonus: you will already have the carrots and celery from making the bone broth.  Instant Pot Bone Broth + Instant Pot Chicken Noodle Soup were made for each other.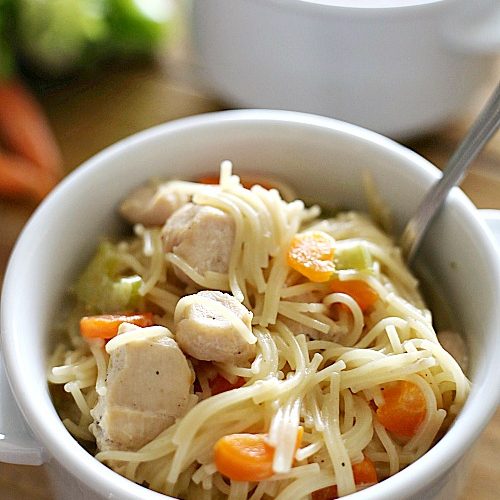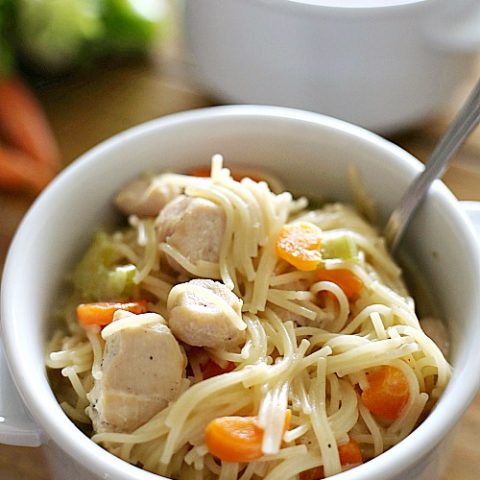 Instant Pot Chicken Noodle Soup
This Instant Pot Chicken Noodle Soup is rich, creamy, full of noodles and chunks of chicken. Done in under 20 minutes, this soup is packed with flavor and quick enough for an easy weeknight meal.
Ingredients
3 large carrots,, peeled and sliced (not too thin)
2 stalks celery,, sliced
1 boneless skinless chicken breast,, chopped
1 teaspoon salt
¼ teaspoon onion powder
¼ teaspoon garlic powder
⅛ teaspoon black pepper
4 cups low sodium chicken stock
7 ounces Fideo Mediano pasta,, or other small pasta
½ cup heavy whipping cream
Instructions
To the Instant Pot, add carrots, celery, chopped chicken, salt, onion powder, garlic powder, black pepper, and chicken broth. Stir well.
Place the lid on the Instant Pot and turn the valve to sealing. Press Manual, leave on high pressure, and use the arrows to select a cook time of 4-5 minutes (4 minutes for veggies with more bite, 5 minutes for tender veggies). It will take about 10 minutes to come to pressure and start counting down.
When the cook time is over, turn the Instant Pot off. Do a quick release of the pressure and open the lid.
Turn the Instant Pot to saute and add the pasta. Cook and stir for 4-5 minutes until pasta is al dente.
When the pasta is finished cooking, taste the soup. I add another 1 teaspoon of salt at this point if I feel like it needs more.
Stir the heavy cream into the soup - it will start to thicken and continue as it sits and cools. Serve immediately.
Nutrition Information:
Yield:

4
Serving Size:

4 people
Amount Per Serving:
Calories:

335
Pro tip: These food storage containers from Amazon (affiliate link) are the BEST for storing leftovers, especially soup. I have several different sizes, most of which came to me via leftovers from my mom, and we use them all.the.time. Somehow they just never seem to make their way back to her... 🙂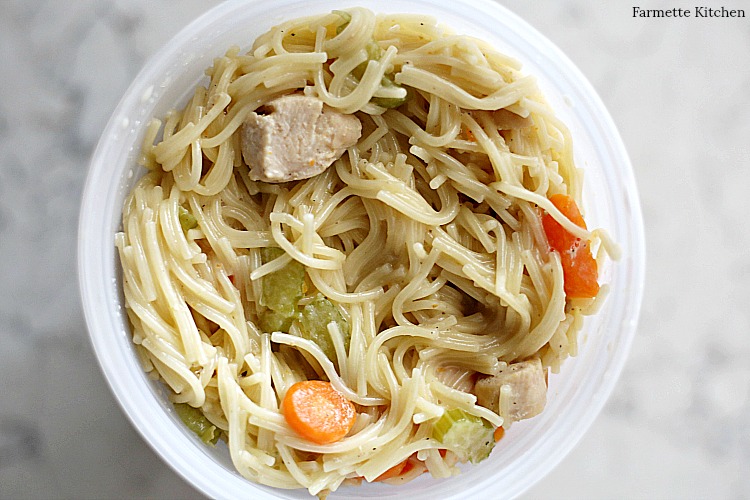 Find More Recipes
This recipe is part of my Instant Pot Recipes for Beginners series. Check it out!