S'mores Bars are all the deliciousness without all of the mess. Forget the open fire with this perfect make-ahead treat for your next summer gathering or camping trip.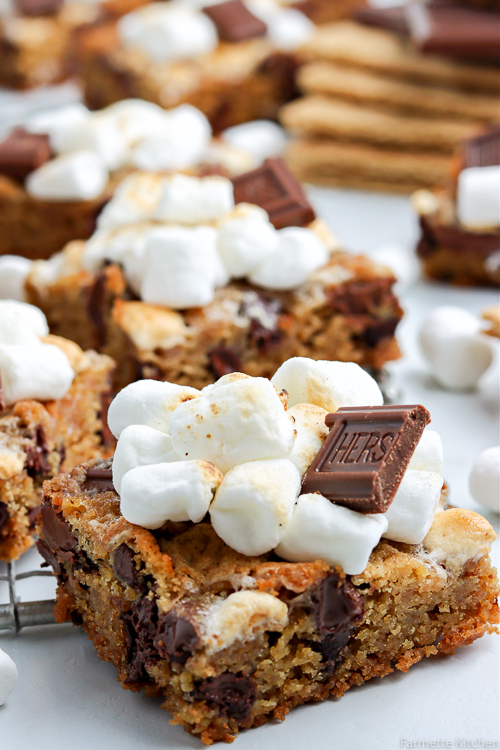 On one of our recent camping trips, we brought along our brand new personal fire pit to roast marshmallows and make s'mores. Long story short, we used the wrong pellets or something and all of our marshmallows turned a disgusting, inedible, ashy gray. Luckily, James noticed before anyone ate one!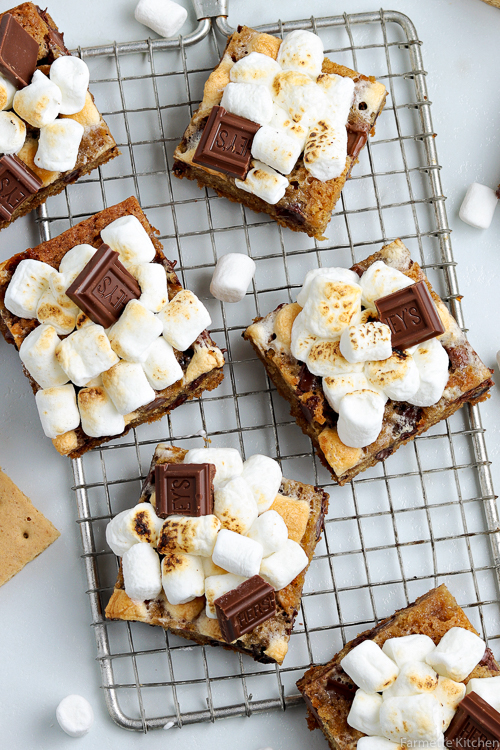 With the kids expecting s'mores, I took the operation inside and decided to just toast them quickly over the range. After setting off the smoke detector more than once, we finally had our s'mores. After that debacle + our next trip where it was too rainy and wet for a fire, I set out to find a way to satisfy the mandatory camping s'mores without all of the fuss. The solution- smores bars!
S'mores Bars bring together the goodness of a s'more and the ease of a cookie bar (like my favorite Salted Caramel Blondies) with all the melty marshmallow mess contained on a plate. Bonus: they're perfect for a crowd!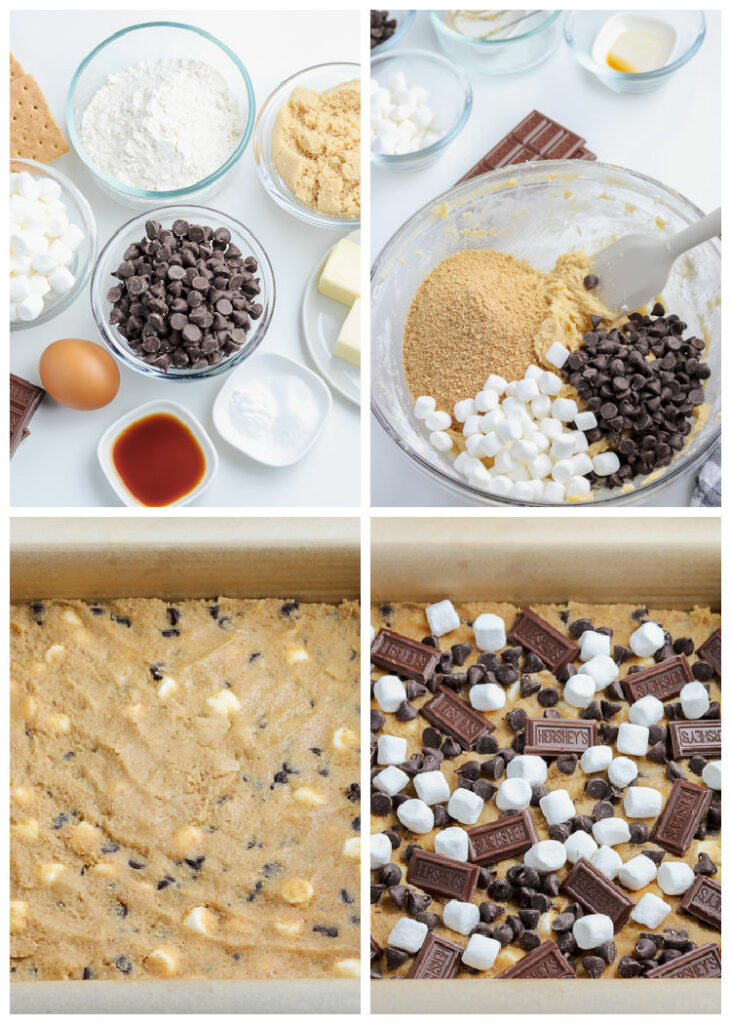 What do I need to make S'mores Bars?
Butter - the base of your cookie dough mixture, unsalted and at room temperature
Brown Sugar - remember when measuring to pack it into the measuring cup, light or dark will work
Vanilla Extract - adding to the delicious flavor of the cookie dough
Eggs - room temperature helps create the perfect texture
All-Purpose Flour - sift your flour to make sure all lumps are out, when measuring make sure to spoon flour into the measuring cup and level with a knife, it should not be packed into the measuring cup
Baking Powder - for the right fluffiness in your cookie dough mixture
Salt - it may seem odd, but it brings out the flavors in your baked desserts
Graham Cracker Crumbs - for the classic s'mores flavor
Chocolate Chips - an extra boost of chocolatey goodness baked in
Mini Marshmallows - chewy, sweet, and gooey addition to your s'mores trifecta
Chocolate Bars - you'll want to have a few pieces of chocolate bar on top of your s'mores bars to really get the full effect
How do I make S'mores Bars?
Preheat the oven
Prep the baking dish
Mix the cookie bar ingredients together
Fold in the s'mores ingredients
Top the s'mores bars with additional ingredients
Bake the bars in the oven
Cool completely
Cut and Serve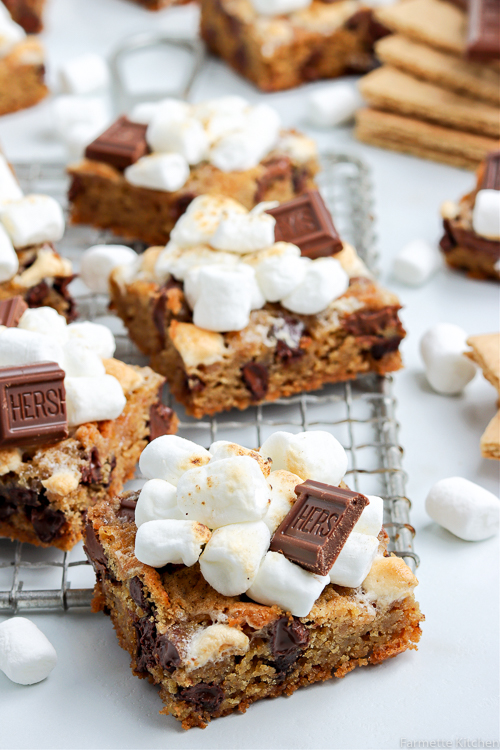 Smores Bars Variations
Add additional marshmallows to the top of your bars once done baking and turn the temperature up to 400 degrees. Watch closely and remove when marshmallows are toasted, it will only take a couple of minutes.
Immediately place small pieces of chocolate bar evenly spaced on top of marshmallows. Allow to cool completely before removing from the pan and cutting. 
If you like to change things up you can use other candies to replace the chocolate bar pieces:
Mini Peanut Butter Cup pieces
Rolo Candy Pieces
White Chocolate Chips
Cookies and Cream candy bar pieces
Carmello candy bar pieces
Crunch bar pieces
Kit Kat pieces
Snack-size candy bars
Different types of chocolate (Dove and Hershey's have assorted individual packages)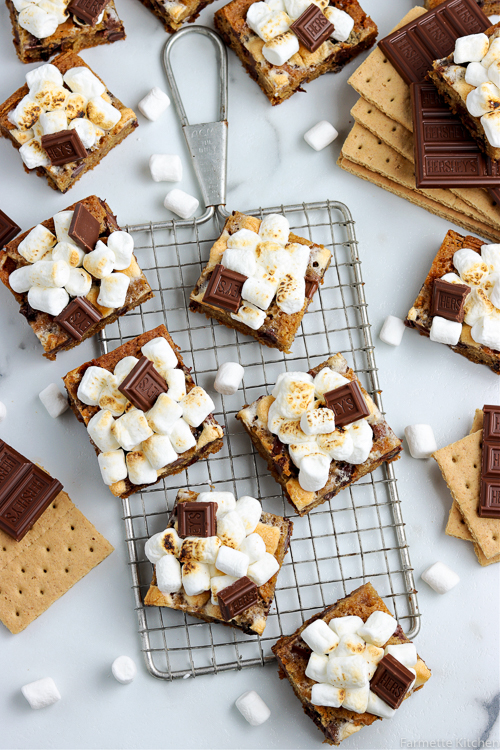 Tips and Tricks
Lining the dish with parchment paper makes removal much easier, you can just lift the entire pan out at once and then cut easily with a large knife. This makes it easier to get even pieces and to have them out of the pan easily. 
To get parchment paper to lay nicely in the pan, snip the corners diagonally about an inch so you have flaps that lay nicely against the sides and ends of the pan. (Cut in from each corner one inch.)
Use a plastic knife for the nicest edges and even pieces for your bars.  This trick works really well with brownies as well!
How do I store S'mores Bars?
You can store s'mores bars in an airtight container at room temperature for up to five days. I like to make these the day before we leave for camping to snack on for the entire trip (or as long as they last!). I try to enjoy one with a big cup of coffee for breakfast before the kids gobble them all up. 
Other Summer Dessert Ideas: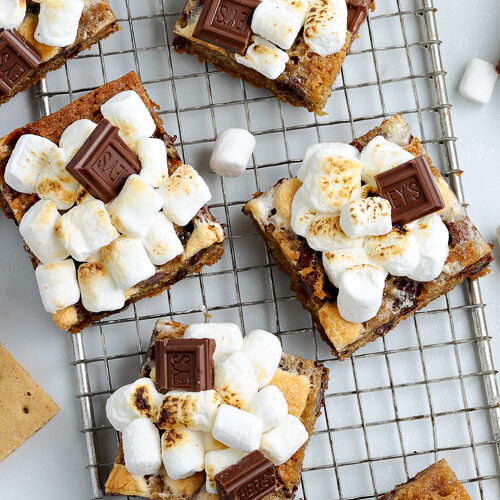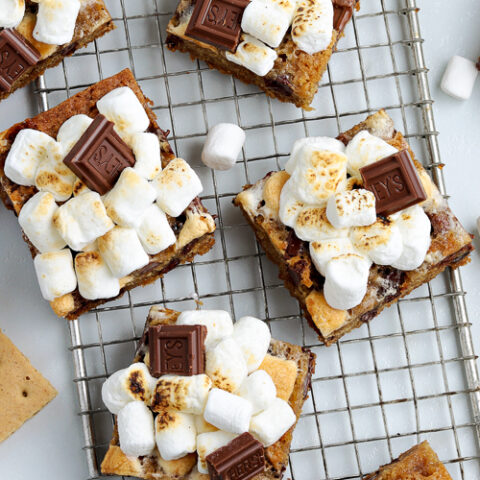 Smores Bars
S'mores Bars are all the deliciousness without all of the mess. Forget the open fire with this perfect make-ahead treat for your next summer gathering or camping trip.
Ingredients
½ cup (1 stick) unsalted butter, softened
⅔ cup brown sugar, packed
1 teaspoon vanilla extract
2 large eggs, room temperature
1 ⅓ cups all-purpose flour
1 teaspoon baking powder
1 teaspoon salt
1 ¼ cups graham cracker crumbs
1 cup chocolate chips
1 cup mini marshmallows
2-3 chocolate bars
Instructions
Preheat oven to 350 degrees F and line a 9x9 inch square baking dish with parchment paper.
In a large mixing bowl, cream butter until smooth.
Add brown sugar and beat until fluffy.
Add egg and vanilla extract and mix until well combined.
Add flour, baking powder and salt and mix until well combined.
Fold in graham cracker crumbs, about ¾ cup chocolate chips and about ¾ cup marshmallows.
Spread evenly into prepared baking dish.
Break chocolate bars into pieces and add to top of batter, sprinkle with remaining chocolate chips and marshmallows.
Bake for 20-25 minutes or until a toothpick inserted in the center comes out clean.
Cool completely on a wire rack. Remove from pan and cut into squares. Store in airtight container.
Notes
To make these "prettier:"
Add additional marshmallows to each piece and heat in the microwave for 30 seconds, or in the oven at 400 degrees F for about 5 minutes watching closely. 
To brown the marshmallows, use a kitchen torch, if desired.
Add additional pieces of chocolate bar.
Nutrition Information:
Yield:

16
Serving Size:

1
Amount Per Serving:
Calories:

215
Total Fat:

7g
Saturated Fat:

4g
Trans Fat:

0g
Unsaturated Fat:

3g
Cholesterol:

26mg
Sodium:

217mg
Carbohydrates:

35g
Fiber:

1g
Sugar:

21g
Protein:

3g
The nutritional information is provided as a courtesy and is an estimate generated by a calculator.