These Salted Caramel Blondies truly are the best ever. Not only do they taste amazing, but the recipe is incredibly easy (no need to soften butter or use a stand mixer). I've yet to meet someone that didn't like them!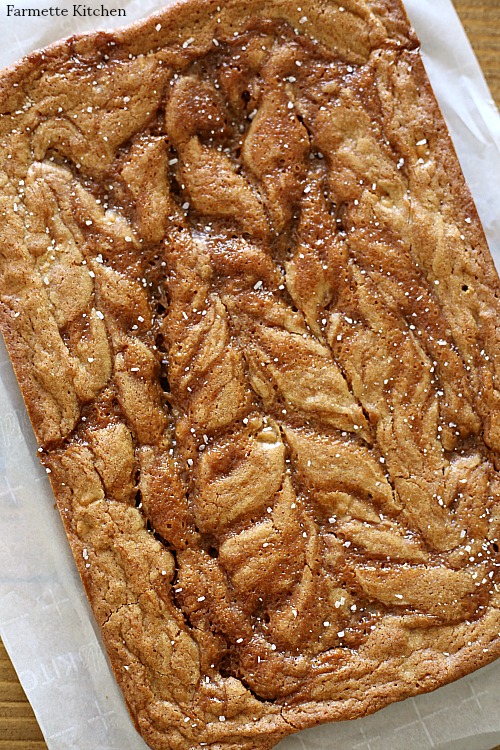 Best Ever Salted Caramel Blondies
Let's start with the obvious: claiming to be the best ever. I know, I know, it's a bold statement. One that I don't use lightly and have only awarded a handful of times before (See: Best Ever Pancakes or Best Ever Creamed Corn). I only officially dub a recipe as "best ever" once I've landed on a solid, tried and true, consistently perfect-every-time winner that is loved by all.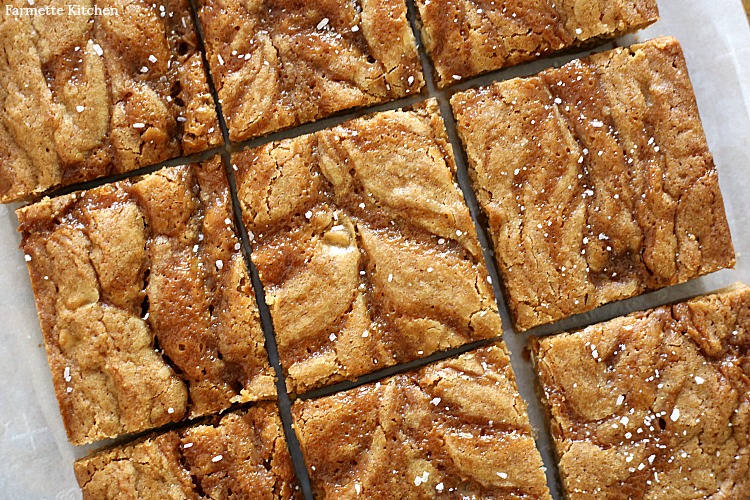 What are Blondies?
Now, let's talk about what blondies are and how they should be. Like brownies in shape and texture, blondies are flavored with brown sugar in place of chocolate.
Some compare the flavor profile of blondies to that of chocolate chip cookies, but I don't find that to be completely accurate because chocolate chip cookie preferences vary so wildly. Chewy, crunchy, soft, gooey, milk chocolate, semi-sweet chocolate, white sugar vs brown sugar ratios, all of these things will yield very different cookies.
Blondies should be chewy, rich, and flavorful.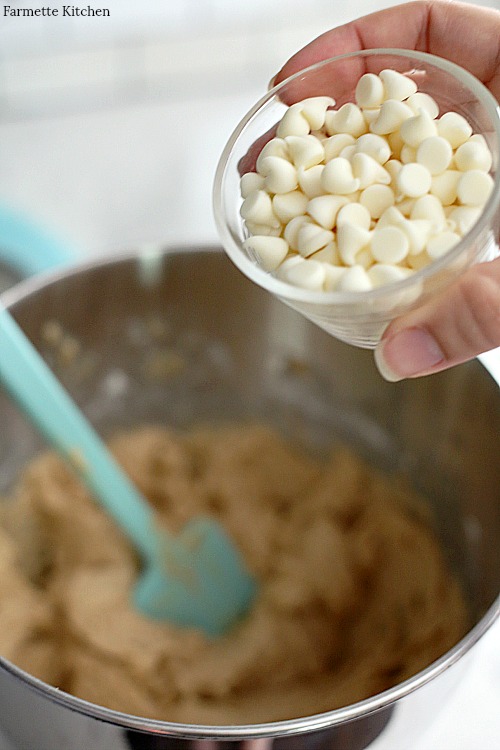 Choosing your Chips
Another hot topic is what type of chips to use for blondies: white chocolate, milk chocolate, semi-sweet chocolate, even butterscotch. While I am a fan of semi-sweet chips in most things, these Best Ever Salted Caramel Blondies with white chocolate chips is nothing short of a match made in Heaven.
Let me also preface that with saying that I am not a big fan of white chocolate. Given the choice, I would choose white chocolate last after just about anything else, so trust me when I say that they are perfection in this blondies recipe. The combination of the soft molasses flavor from the brown sugar + buttery caramel + subtle white chocolate + flaky sea salt is out of this world.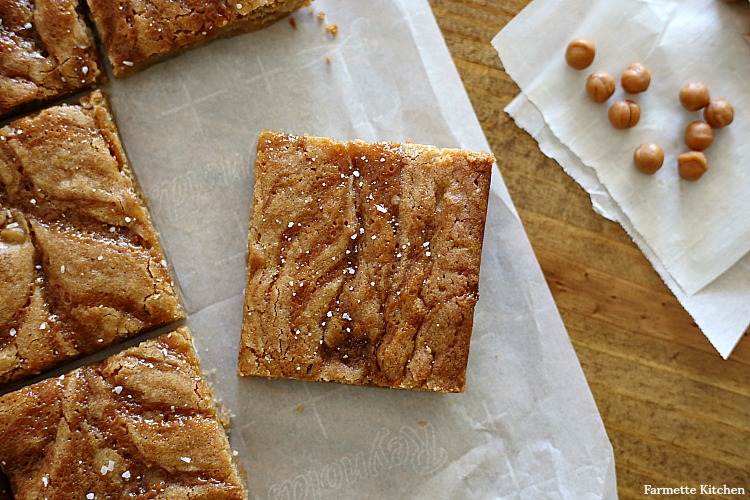 Are there nuts in blondies?
In this recipe, I say no. Pecans and walnuts are often added to blondie recipes, but I find them to be a distraction to the rich flavors and chewy, creamy texture of these Salted Caramel Blondies. Feel free to toss in a ½ cup of one or the other, but don't you dare comment on these and say they weren't "the best ever" if you changed the recipe. 🙂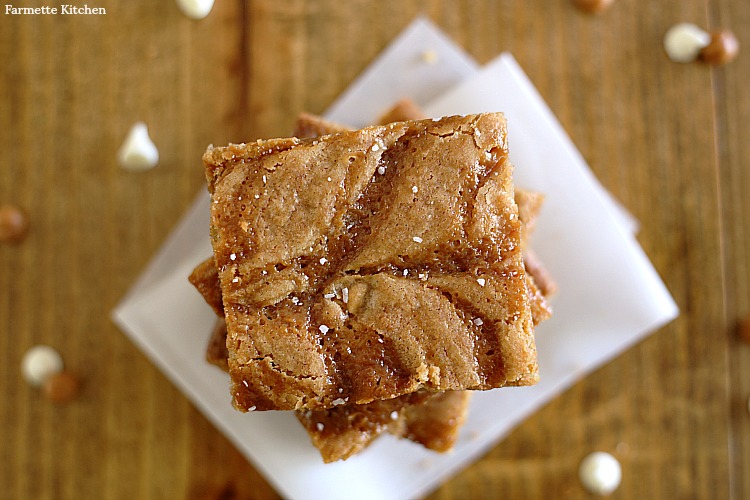 Recipe Tester Notes:
When whisking the butter and sugar: you want it to be fully combined, meaning the batter should thicken slightly and the sheen should be just starting to dull. This can be done easily by hand, you're not looking for light and fluffy.
When adding the dry ingredients: you can add all in one dump, no need to mix in gradually.
When adding the caramel: drizzle quickly and evenly, don't allow too much caramel to puddle in one area.
I've used caramel bits and caramel squares. I prefer the bits because they are easier (no time spent unwrapping). The caramel squares yield a smoother caramel, the bits almost appear "grainy" when melted but the end result after baking will be the exact same.
In my oven, the sweet spot for these Salted Caramel Blondies is 33 minutes. Your timing will depend on your oven. I recommend everyone purchase a cheap oven thermometer as a general rule for baking.
Don't forget to add the flaky sea salt as soon as the blondies come out of the oven or else it won't stick! If you do forget, brush the top very lightly with water and immediately sprinkle with salt.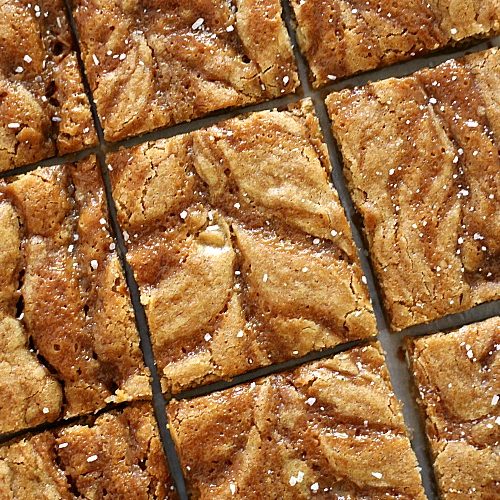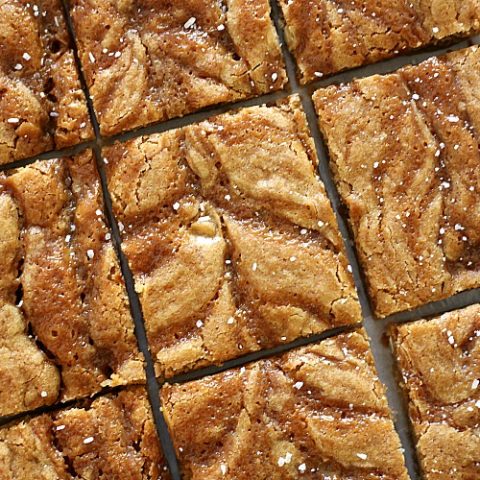 Best Ever Salted Caramel Blondies
These Salted Caramel Blondies truly are the best ever. Not only do they taste amazing, but the recipe is incredibly easy (no need to soften butter or use a stand mixer). I've yet to meet someone that didn't like them!
Ingredients
1 ½ cups all-purpose flour
1 tsp baking powder
½ tsp salt
1 ½ cups light brown sugar,, packed
12 tbsp unsalted butter,, melted and cooled
2 large eggs
1 ½ tsps vanilla extract
½ cup white chocolate chips
½ cup caramel bits (or 12 unwrapped caramel squares)
2 tbsp heavy cream
flaky sea salt for topping
Instructions
Preheat oven to 350 degrees. Prepare a parchment paper sling (see notes) for a 13x9 baking pan and spray with non-stick baking spray.
Whisk flour, baking powder, and salt together in a bowl.
In a medium bowl, whisk sugar and melted butter together until fully combined. Whisk in the eggs and vanilla.
Using a rubber spatula, gently fold in the flour mixture.
Once the mixture is fully combined, fold in the white chocolate chips and set aside.
Add the caramel bits and heavy cream to a microwave safe bowl. Microwave at 50% power in 30 second increments, stirring after each time, until smooth and fully combined. Allow the caramel mixture to cool slightly- not so much that it becomes thick and hard, but you don't want it piping hot either.
While the caramel is cooling, scrape the batter into the prepared pan and smooth the top.
After the caramel has cooled slightly, carefully drizzle it over the batter. Use a knife to create a marbled swirl by running the knife in the opposite direction of the drizzle. (If you drizzled the caramel horizontally, use the knife to make vertical strokes.)
Bake until the top is shiny and cracked slightly, it should feel slightly firm to the touch (not jiggly), about 30-35 minutes, rotating the pan halfway through baking.
Immediately after removing from the oven, top with flaky sea salt. (Just a generous pinch across the top.)
Let the blondies cool in the baking pan for 10 minutes. Remove the blondies from the baking pan and cool completely on a wire rack before cutting into bars.
Notes
To make a parchment paper sling- cut a piece of parchment paper as wide as the pan, but 2-3 inches longer than the pan. The extra overhang will act as "handles" to assist you in lifting the finished product from the pan in one piece.  (It doesn't have to fit perfectly; the goal is to cover the bottom and two opposing sides, not all sides.)
Nutrition Information:
Yield:

12
Serving Size:

12 bars
Amount Per Serving:
Calories:

335
How to Freeze Blondies
If this recipe wasn't magical enough, it also freezes very well! Freeze individually (separated into squares) uncovered for about 30-60 minutes, or place a piece of parchment paper between each square, before stacking or grouping together. These thaw quickly, perfect to take from the freezer and send in a lunchbox. I've also taken them straight from the freezer and microwaved for about 10-15 seconds to enjoy.