This Pressure Cooker Potato Soup is a simple, family-friendly recipe. A classic comfort food that can be ready in minutes and dressed up with shredded cheese, crumbled bacon, and diced green onion for a hearty meal.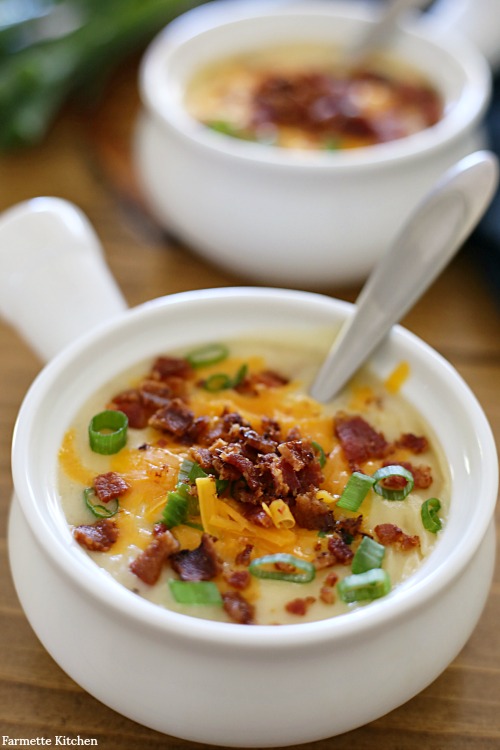 When I was a kid, there were two main kinds of soup in our house: beef with vegetables and creamy potato. (Along with the occasional can of tomato or chicken noodle- which I recently recreated in this Instant Pot Chicken Noodle Soup recipe.)
We didn't have soup often but when we did it was a meal, not a starter.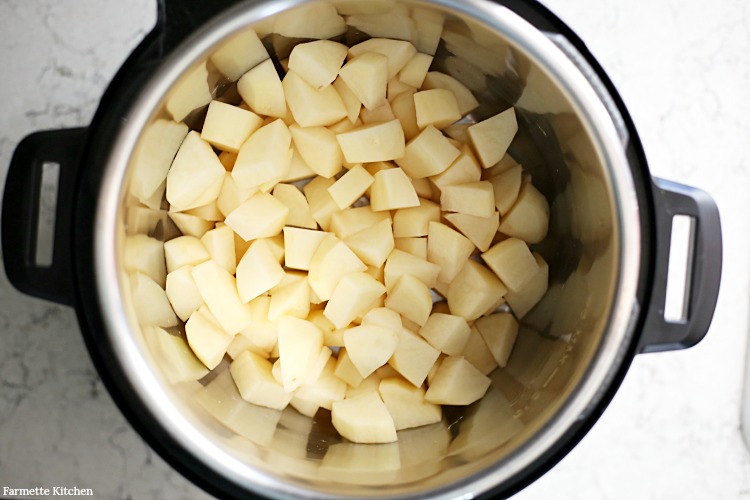 I think the rarity made it all the more delicious. I couldn't wait for a big bowl of beef and vegetable soup (sans vegetables) after smelling it for hours as it simmered on the stove. As an adult though, it is always Mom's potato soup that I crave whenever I start to feel sick.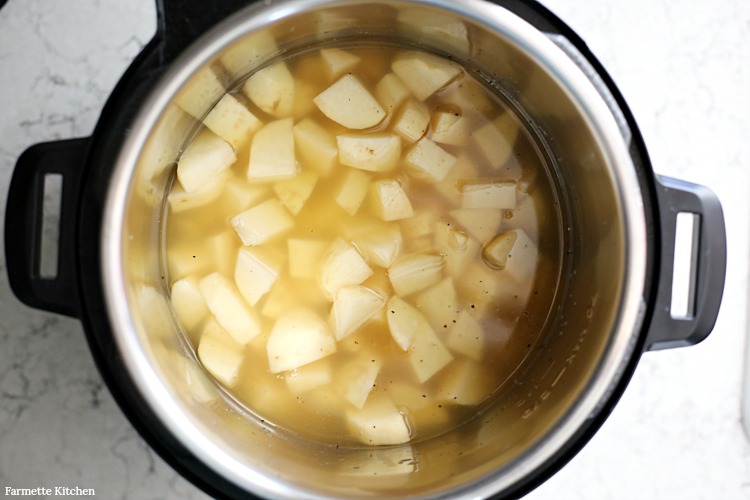 Pressure Cooker Potato Soup
Prior to purchasing an Instant Pot, I used to make this homemade potato soup in my Blendtec blender. The beauty of making Pressure Cooker Potato Soup is that a) it only takes THREE minutes to cook and b) it's a one pot wonder!
I make Instant Pot Chicken Tortilla Soup now too and what used to take multiple pots and pans is now all done in one.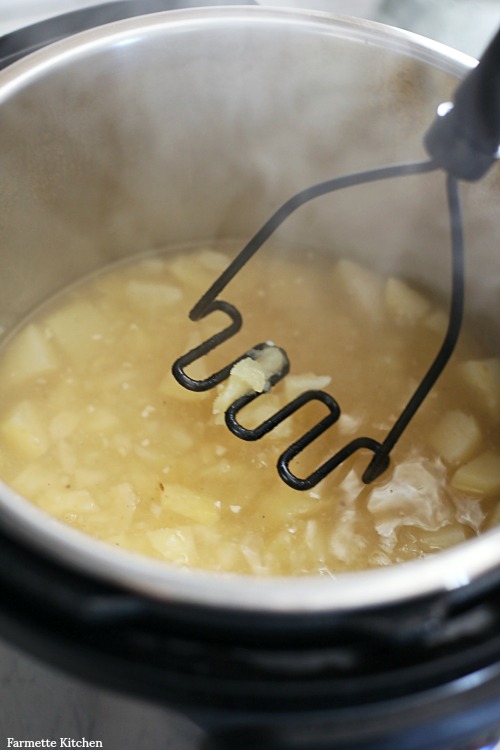 Because I used to make this in my blender, I didn't even own a potato masher. (I whip my mashed potatoes in my stand mixer so I've never needed one.) I ended up purchasing one just for this soup and used it again the very next day when I made Pressure Cooker Sweet Potatoes for my Sweet Potatoes Casserole with Pecan Topping. Comfort food season has barely begun and I already see this masher getting put to good use.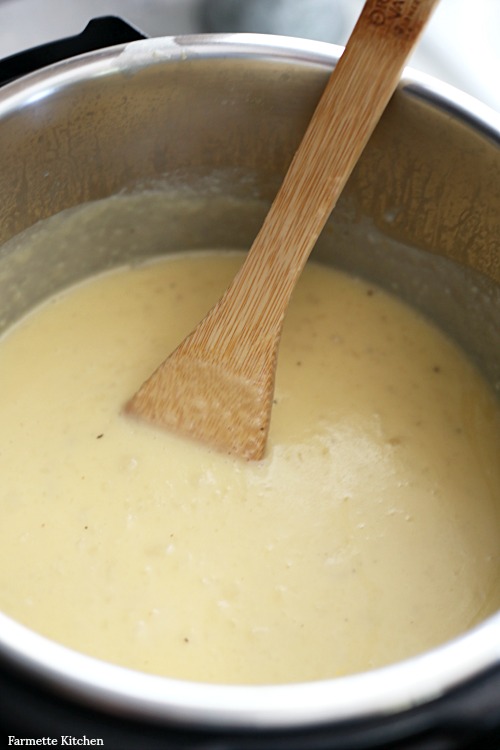 Best Potatoes for Potato Soup
Not all potatoes are created equally, nor can they always be used interchangeably in different recipes. Based on their starch profiles and other characteristics, some potatoes are a better choice than others when it comes to frying, mashing, and baking.
When it comes to soup, these three are most used:
Red Potatoes
Yukon Gold
Russet Potatoes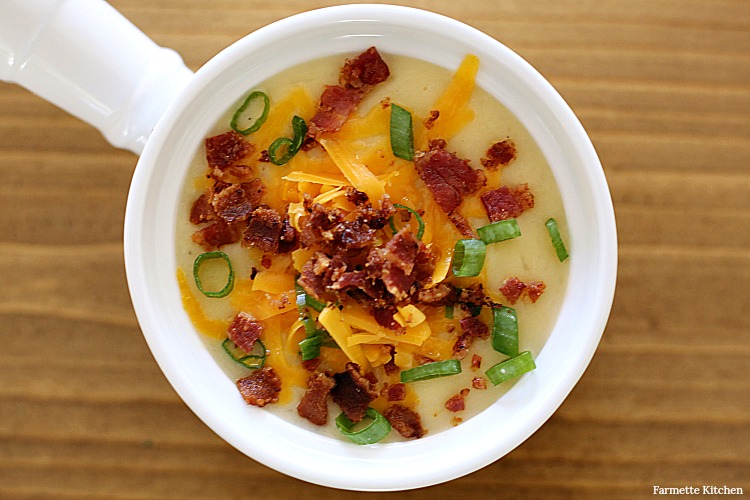 Red potatoes are a popular choice for soup because of their soft exteriors (some people don't bother to peel) and their waxy texture prohibits them from soaking up too much water and losing their shape. Yukon Golds are also a great option because of their versatility; their not too waxy, not too starchy texture profile makes them ideal for most purposes.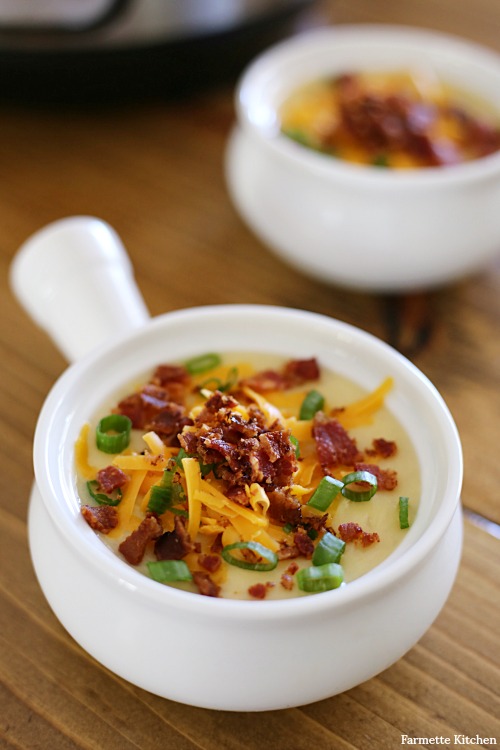 I use russet potatoes for my Pressure Cooker Potato Soup recipe because it is what I typically have on hand and because I prefer a thicker, creamier soup. Russets are high in starch and soak up liquid quickly- making them ideal for mashed potatoes or crispy fries. (The Pioneer Woman uses russets in her soup recipe as well.)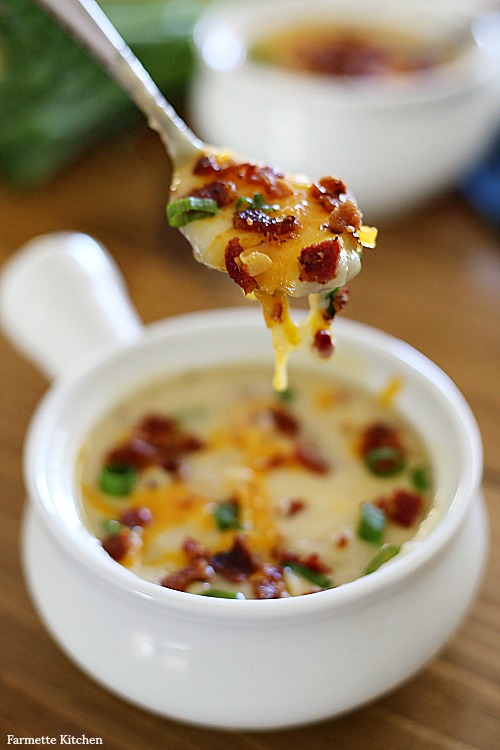 The best part of this Pressure Cooker Potato Soup is definitely the 'fixins.' Quickly cook up a batch of Air Fryer Bacon, dice up some fresh green onions, and pile on the shredded cheese. I'll look the other way if you also want to add a dollop of sour cream as long as you always promise to shred your own cheddar cheese... none of the pre-packaged stuff!
You can also make your own Instant Pot Bone Broth instead of store bought chicken broth and, trust me, you will taste a huge difference in the richness and depth of your broth!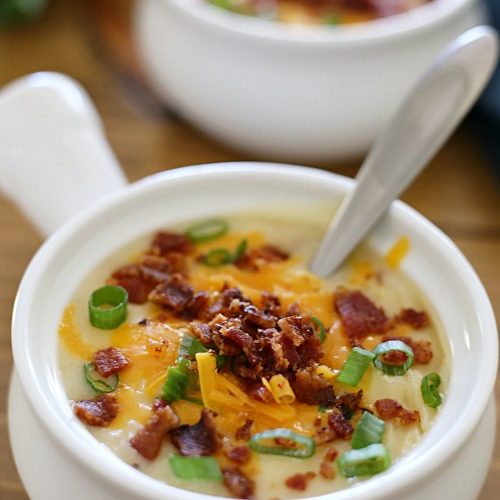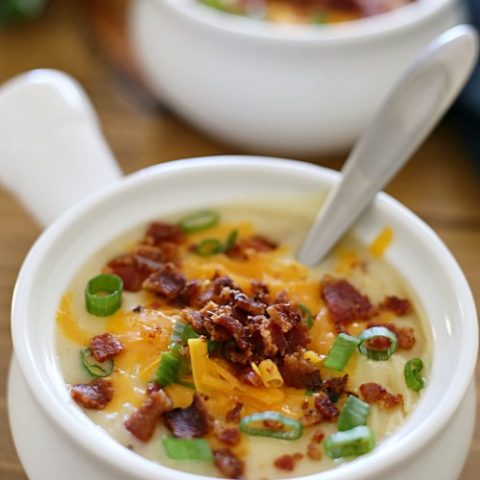 Pressure Cooker Potato Soup
This Pressure Cooker Potato Soup is a simple, family-friendly recipe. A classic comfort food that can be ready in minutes and dressed up with shredded cheese, crumbled bacon, and diced green onion for a hearty meal.
Ingredients
2 lbs Russet potatoes
3 cups chicken broth,, low sodium
1 ½ tsp salt
1 tsp minced garlic
¼ tsp onion powder
⅛ tsp black pepper
1 cup whole milk
2 tbsp cornstarch
¼ cup heavy cream
½ cup shredded cheese
cheese, green onions, bacon for garnish
Instructions
Wash, peel, and dice the potatoes into 1in cubes.
Add the cubed potatoes, broth, and spices to the pressure cooker.
Put the lid on, turn the valve to sealing, and select Manual high pressure for 3 minutes. (Note: It will take about 20 minutes to pressurize.)
Once the cook time is over, do a gradual quick release by slowly opening the valve to release the pressure. (You don't want to let it all release at once or it could sputter and foam.)
Remove the lid and turn the pressure cooker to saute.
Use a potato masher to break up the potatoes to your desired texture.
Whisk the milk and cornstarch together to make a slurry. Add the slurry mixture to the pressure cooker.
Stir gently and allow to cook until thickened. (It's important for the mixture to reach a gentle boil for the cornstarch to fully activate.)
Turn off the pressure cooker. Stir in the shredded cheese and heavy cream until well-combined.
Season with salt and pepper and top with shredded cheese, cooked bacon, and green onions as desired. Serve immediately.
Nutrition Information:
Yield:

6
Serving Size:

6 servings
Amount Per Serving:
Calories:

250
Find More Recipes
This recipe is part of my Instant Pot Recipes for Beginners series. Check it out!