This Air Fryer Bacon is the EASIEST way to cook bacon.  Perfectly crispy and no mess; no oil splatters on the stove, no ruined baking sheets in the oven!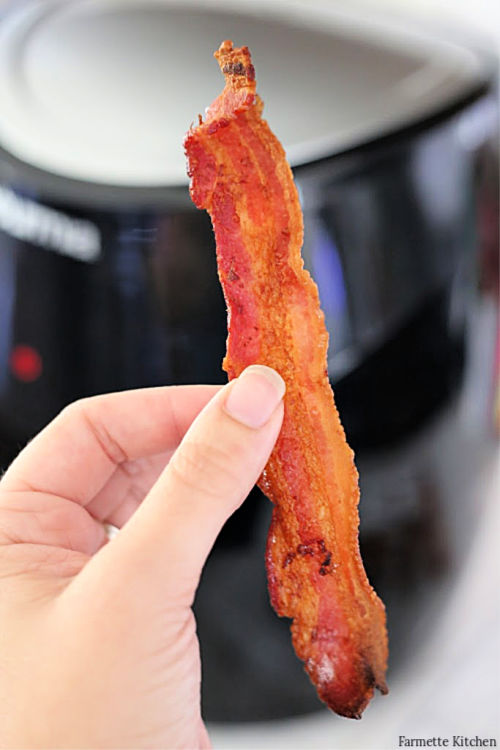 When we moved to the country our kitchen downsized considerably.  RIP walk-in pantry.  We've made some serious aesthetic improvements like subway tile and quartz countertops, but there's not much I can do about the size.  I did purge all non-essential kitchen gadgets before we moved with the hopes of keeping my countertops clean and clear.
...and then the Instant Pot epidemic happened.
...and then we started making these waffles every week.
...and then I learned about the magic that is the air fryer.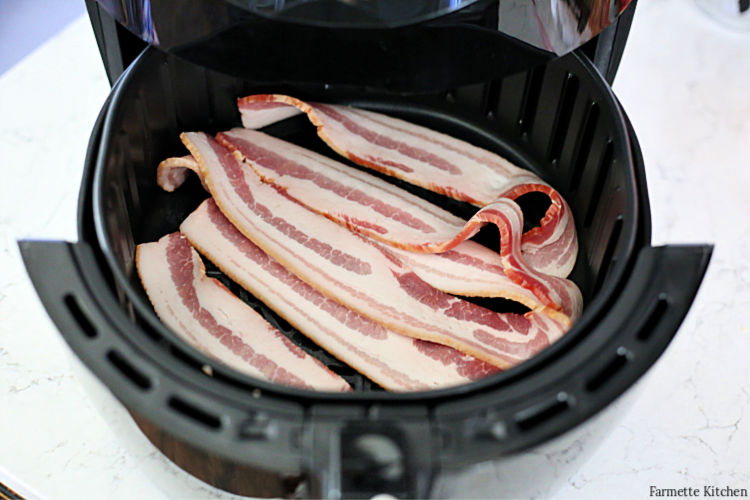 So many people were talking about how awesome and versatile air fryers are but I just couldn't bring myself to purchase yet another kitchen gadget.  A sizable kitchen gadget at that.  In a moment of weakness, with a gift card in hand + major sale, I gave in and purchased one.
Now it sits proudly on my counter ready to fry up whatever my heart desires.  Looking for more recipes to use with your air fryer?  Check out: the Best Air Fryer Recipes for Beginners here.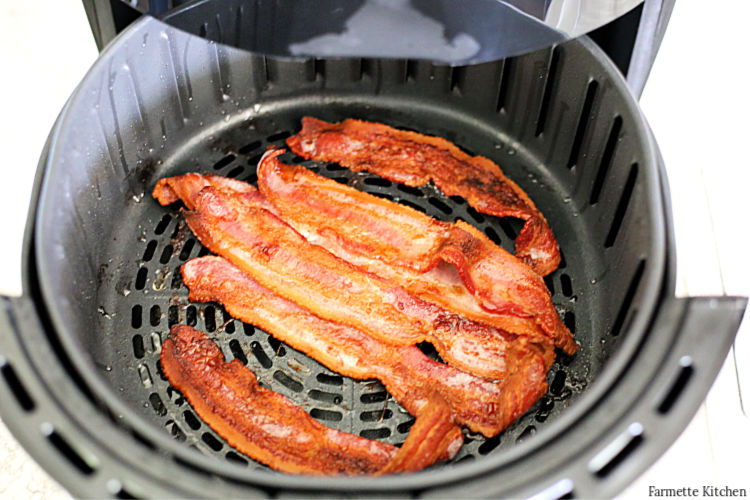 Turns out my heart desires bacon.  (Who doesn't?)  Flavorful, crispy, non-greasy bacon that is ready in ten minutes.  Ten minutes without preheating, without preparing a baking sheet, without babysitting a stovetop, without getting popped by hot oil.
Other Ways to Cook Bacon
I used to cook bacon in the oven.  Preheat the oven to 400 degrees, line a baking sheet with foil, carefully arrange the bacon in a single layer, and bake for 12 minutes.  My husband, on the other hand, always cooks bacon in a skillet on the stove.  He just jumbles it all up like a monster and pushes it around until it's cooked... while usually getting popped at least once from the hot grease.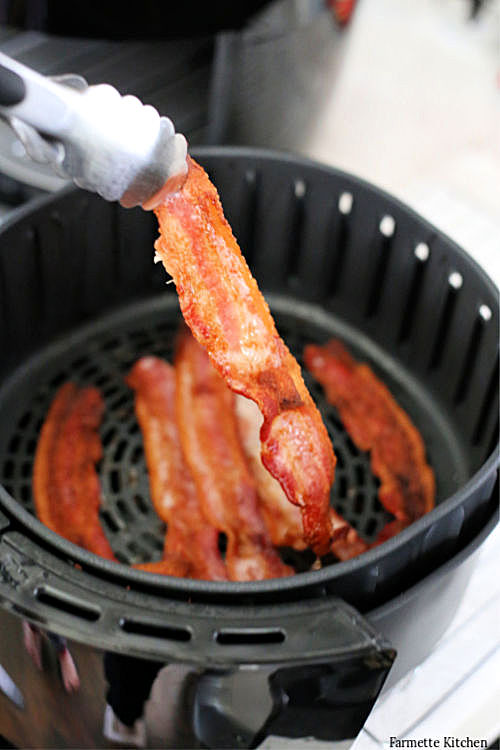 Unlike oven or stovetop cooking methods, cleanup is so easy with an air fryer!  The basket for my air fryer is dishwasher safe, but it's also super easy to wipe clean.  If you are cooking multiple batches of air fryer bacon then I would clean the grease between each batch.
Ways to use Air Fryer Bacon: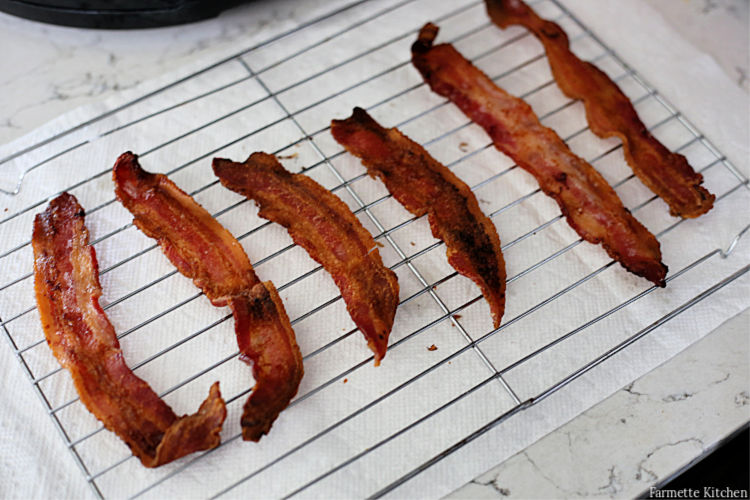 Pop some bacon in the air fryer while preparing a big stack of these Homemade Waffles, whip up a quick fruit salad, and boom!  Breakfast is served.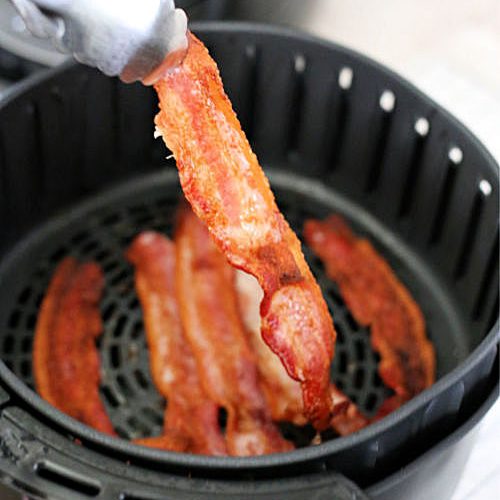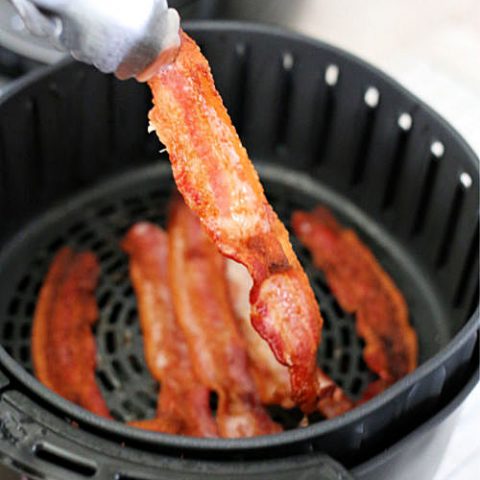 Air Fryer Bacon
This Air Fryer Bacon is the EASIEST way to cook bacon. Perfectly crispy and no mess; no oil splatters on the stove, no ruined baking sheets in the oven!
Instructions
Place the bacon in the air fryer basket. Some folding is okay, but try not to overlap too much.
Cook at 400 degrees for 10 minutes.
Check for desired doneness. I like mine extra crispy, so I usually cook it for 1-2 minutes more.
Transfer to a wire rack with paper towel to cool/ drain excess grease.
Notes
If you are doing more than one batch, be sure and empty the grease from the lower basket before cooking the second batch.
I like thicker bacon.  If you are using thinner cuts, watch closely because you may need less time.
Nutrition Information:
Yield:

6
Serving Size:

6 pieces
Amount Per Serving:
Calories:

270
Looking for more air fryer recipes?
Not sure what an electric air fryer is or what you can cook in it?  Get the best air fryer recipes for beginners – along with tips for buying and basic guidelines for using.  
Check out this post with the Best Air Fryer Recipes for Beginners