Use this Basic Waffle Recipe to stock your freezer with homemade frozen waffles. No buttermilk required, no need to whip the egg whites, just a few simple ingredients and you will never buy store-bought frozen waffles again!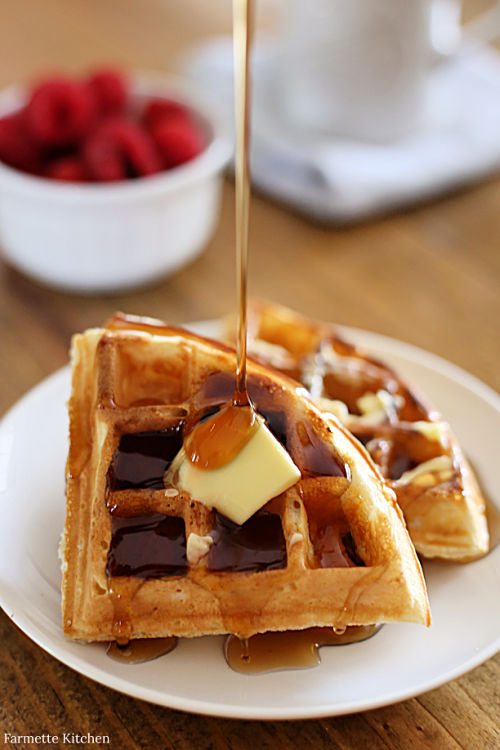 My kids have been on a frozen waffle kick lately. I rarely buy them but our Schwan's guy had a special so I caved. We typically only order things like wild-caught Alaskan salmon, sweet corn (to make this amazing Creamed Corn), and strawberry fruit bars... but occasionally a couple of processed items (like Ian's favorite chicken nuggets) slip in with our order.
As I was putting away the box of frozen waffles, the ingredient label caught my eye. 18 different ingredients- twice as many as what it would take for me to make waffles from scratch.
I'm not against a good store-bought shortcut, but it's only worth it to me if it tastes as good or better than homemade. I knew I could make tastier (and healthier) homemade waffles with my waffle maker.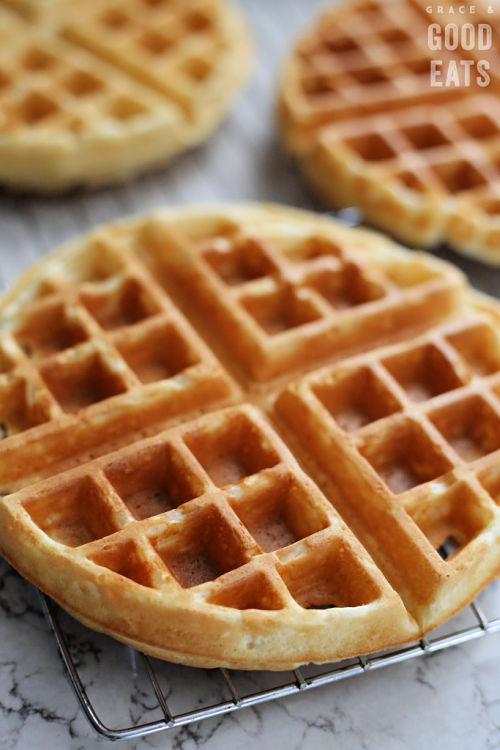 Basic Waffle Recipe
I knew for this frozen waffle recipe to work in my life, it needed to be two things: simple and delicious. (Much like my Small Batch Chocolate Chip Muffins recipe.) When I want waffles on Saturday morning, I do not want to have to run to the store for buttermilk (something we never keep on hand) or lug out my heavy stand mixer to beat egg whites.
That's one of my favorite things about this Best Ever Pancake Recipe- I always have the ingredients and I can mix it all up by hand. In fact, this Basic Waffle Recipe uses all of the same ingredients just in different amounts. No "natural flavors" or preservatives, either!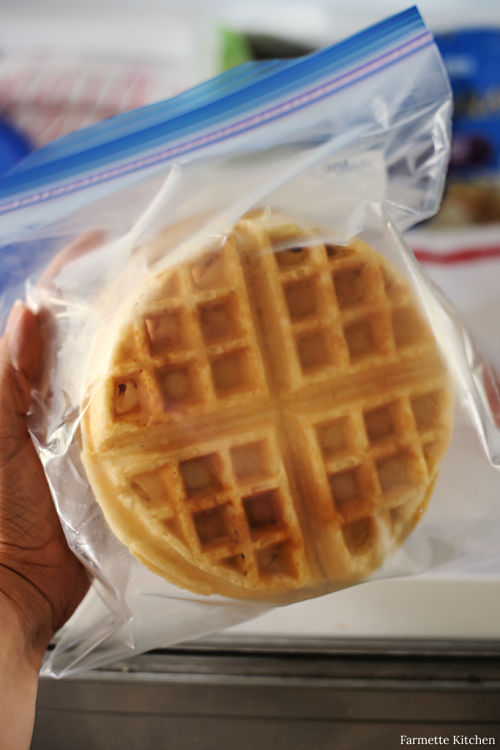 I honestly think these homemade waffles are better frozen. There's a small window of time to eat fresh waffles hot off the griddle... and by the time I get a waffle in front of each of my three kids, the window on mine has usually passed.
How to Freeze Homemade Waffles
Start by making a double or triple batch of the Basic Waffle Recipe below.
Cool the waffles individually, in a single layer, on a wire rack as they come off of the griddle. Don't stack them on top of each other or they will become soggy as they cool and release steam.
When you have all of the waffles cooled, place them on a baking sheet lined with parchment paper. I cut my waffles into quarters, because that is typically how we reheat and eat them, and it helps to get more of them on the pan. (If you need more room, cover the first layer of waffles with parchment paper and create a second layer. After that, I would get a second baking sheet because you don't want to squish the waffles with any more layers.)
Flash freeze the waffles for a couple of hours, until solid.
Transfer the solid waffles into a resealable plastic bag. Squish out as much air as possible, or use a straw to suck the air out and create a "vacuum seal."
Label the bags with the date and place them back in the freezer for up to three months.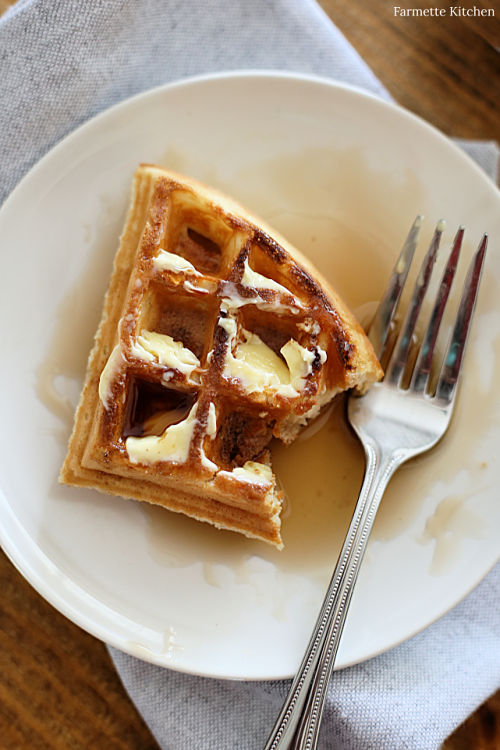 How to Reheat Frozen Waffles
There are several ways to reheat homemade frozen waffles. We typically use the toaster method because it is the easiest and I'm rarely reheating waffles in large quantities. Reheating in the toaster is pretty self-explanatory: place one-quarter of a waffle inside the toaster and heat using a medium setting.
You could also reheat homemade frozen waffles in the oven. Place them on a wire rack (so the air can circulate) at 350 degrees for 8-10 minutes. I've even seen some people slather both sides of a frozen waffle with butter and toast it in a skillet, but I haven't tried that method for myself yet.
What to Serve with Waffles
Waffles always remind me of my grandmother, Mia. As a kid she would let us have just enough syrup to fill every square. Which I always took as a personal challenge and tried to get as much syrup per square inch without overflowing. You can't go wrong serving your waffles with sticky syrup and a big pat of real butter!
Take this Basic Waffle Recipe to the next level by serving them with any of these yummy toppings: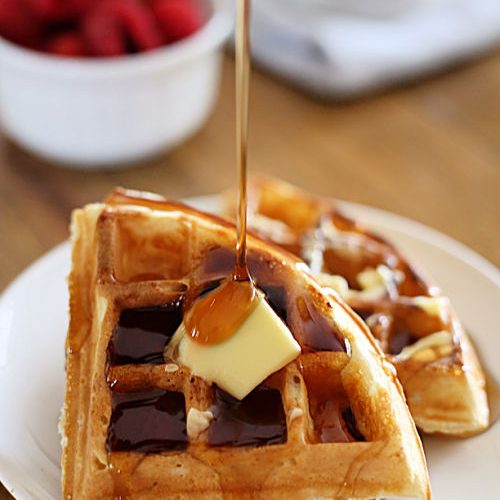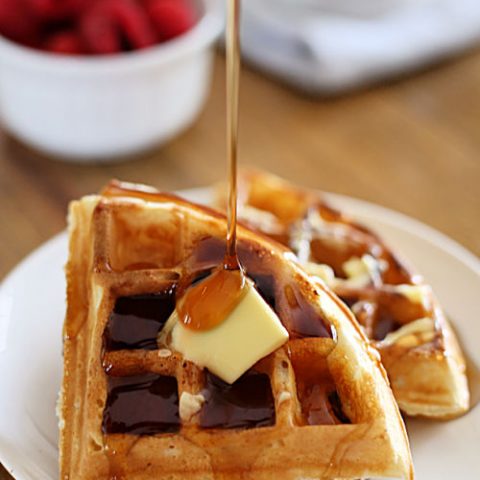 Basic Waffle Recipe
Use this Basic Waffle Recipe to stock your freezer with homemade frozen waffles. No buttermilk required, no need to whip the egg whites, just a few simple ingredients and you will never buy store-bought frozen waffles again!
Ingredients
2 cups all-purpose flour
4 tbsp sugar
4 tsp baking powder
½ tsp salt
2 eggs
1 ½ cups milk
6 tbsp melted unsalted butter
1 tsp vanilla extract
Instructions
Preheat waffle iron. Gently coat with nonstick baking spray.
In a large bowl, combine the flour, sugar, baking powder, and salt. Use the back of a spoon to create a "well" in the center.
Whisk the two eggs into the milk until well combined.
Pour the wet ingredients (butter, milk/egg mixture, vanilla) into the well of the dry ingredients and whisk until blended. (Note: the batter will be slightly lumpy, do not over-mix.)
Scoop the batter into the preheated waffle iron and cook until the waffles are golden brown and crisp. (About 2-3 minutes, but this will vary wildly depending on your waffle maker.)
Serve immediately or lay on a wire cooling rack until cool. Store leftovers in an airtight bag in the freezer.
Notes
I used a scant ⅔ cup of batter for each 1″ waffle.  This will vary based on the size of your waffle maker. 
Nutrition Information:
Yield:

5
Serving Size:

5 waffles
Amount Per Serving:
Calories:

417
This post was published September 27, 2018 and updated August 15, 2019.