These small batch Chocolate Chip Muffins come together easily in one bowl to make six moist, chocolatey, slightly sweet muffins. These chocolate chip muffins are easy enough for weekday mornings and delicious enough for weekends!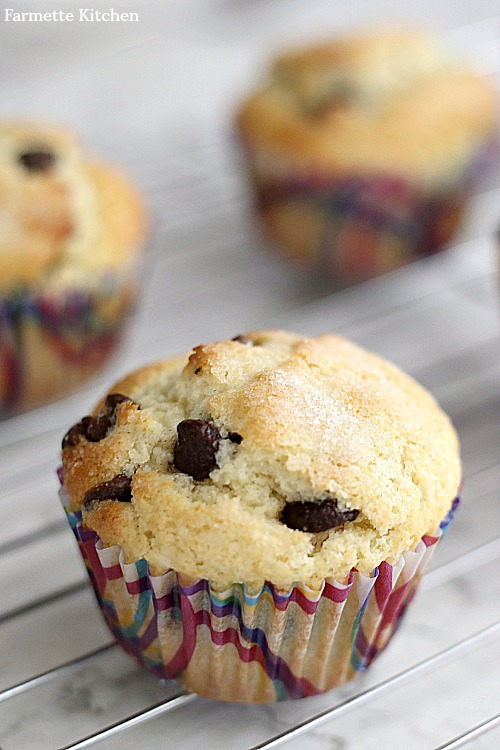 These Small Batch Chocolate Chip Muffins are one of my go-to breakfast recipes. Like my Favorite Pancake Recipe, I always have the ingredients on hand to make these muffins. I actually started out making these muffins plain- the perfect vehicle for butter or jam- and decided on a whim to toss in a handful of chocolate chips one day. Now, we rarely make them without!
Small Batch Chocolate Chip Muffins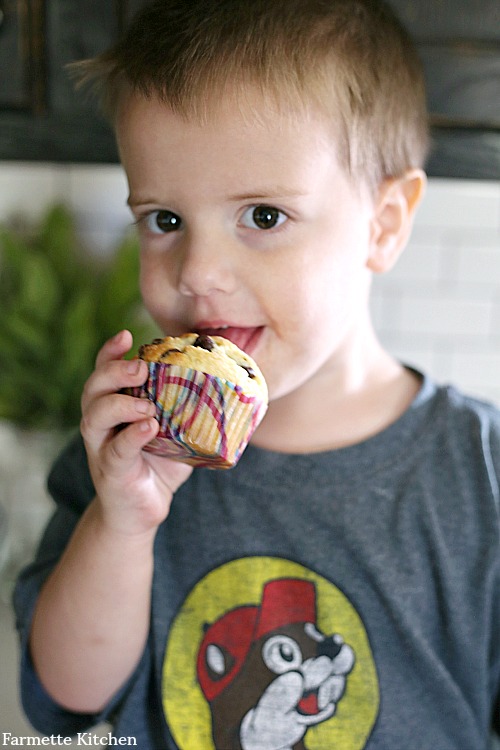 All of the kids love these, but Ian definitely loves them the most. I'm not sure what he enjoys more, making them with me or eating them after. If I had to guess, though, it's probably the extra chocolate chips he sneaks.
The girls occasionally like to cook with me but not as much as my little shadow, Ian, does. That's probably my fault. At 31 years old with over a decade as a mother under my belt, I've gained a deeper appreciation for the little years and (a bit) more patience than I had with them. I should have done a better job about inviting them into the kitchen with me.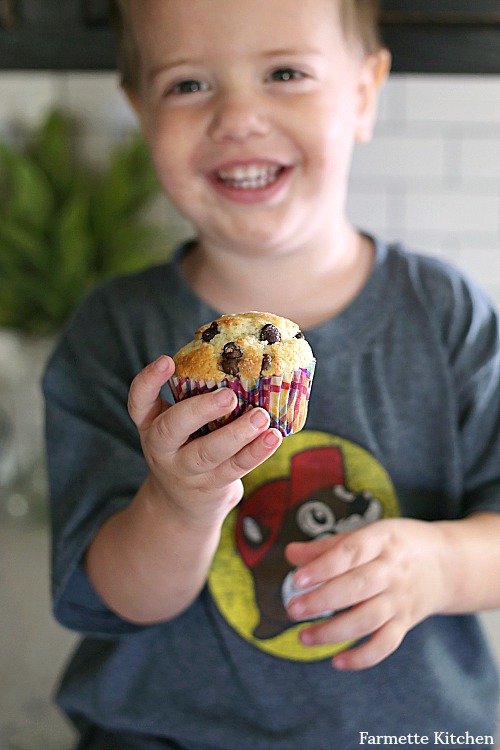 Instead of worrying about the mess or how much time his help will cost me, I set him in his highchair with a bowl and a whisk. That's one reason I love this Small Batch Chocolate Chip Muffin recipe so much, it only requires one bowl (can I get an amen?) and you just dump all of the ingredients into the bowl. The batter is thick which means no splashing out of the bowl with every eager stir.
From one Mama to another: make these muffins with your kids, even the little ones. The messes are temporary but the memories will last. Set yourself up for success with simple recipes like this one. (My one bowl, Small Batch Chocolate Chip Cookies is another good one!)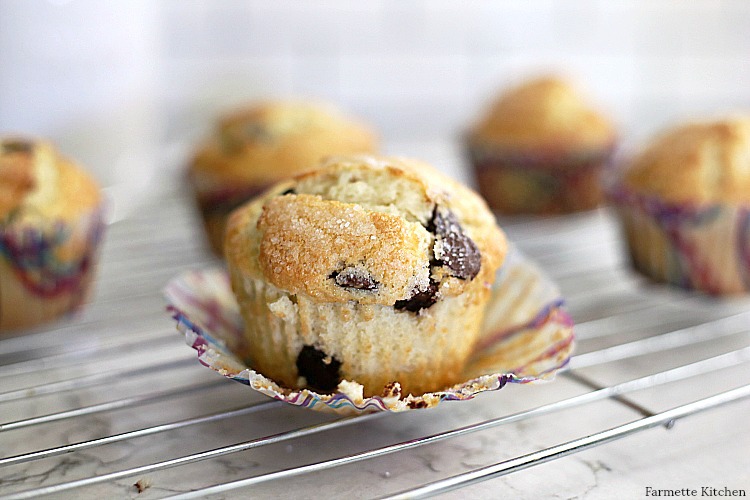 Tips for Small Batch Chocolate Chip Muffins
Use this scoop for uniform muffins. I like medium-sized (average) muffins with a rounded dome. The tops are the best part!
Once the batter comes together, don't over mix. Fold the chocolate chips in gently.
Usually I like to add a few extra chocolate chips to the top of muffins and cookies, but I don't with this recipe because I find that they burn too easily and become tough.
Don't over bake- the tops will be golden brown and push back slightly when touched. Use a toothpick inserted to the center to check.
Remove immediately from the hot pan and allow to cool on a wire rack. When I forget and let the muffins cool in the pan, the insides aren't as fluffy.
These muffins are best served warm. If you have leftovers (we rarely do), store them in an airtight container and try re-warming them in the microwave for just a few seconds when ready to eat.
These muffins are not overly moist (will not be like cupcakes) nor are they overly sweet. Don't omit the salt and don't skimp on topping them with a tiny bit of sugar.
This recipe easily doubles!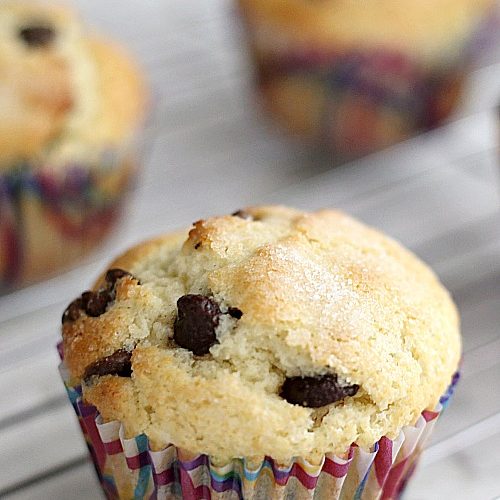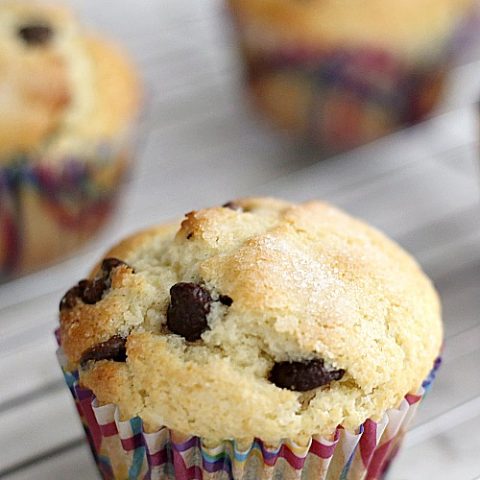 Small Batch Chocolate Chip Muffins
These small batch Chocolate Chip Muffins come together easily in one bowl to make six moist, chocolatey, slightly sweet muffins.
Ingredients
1 cup flour
¼ cup sugar
1 ½ tsp baking powder
¼ tsp salt
¼ cup milk
¼ cup vegetable oil
1 egg,, beaten
⅓ cup semi-sweet chocolate chips
Instructions
Preheat oven to 400 degrees.
Line a muffin tin with six muffin liners, use the center holes.
In a medium bowl, whisk together flour, sugar, baking powder, and salt.
Add milk, beaten egg, and oil to the dry ingredients. Whisk until combined.
Stir in chocolate chips until just incorporated, don't overmix.
Scoop into prepared muffin tin, and bake for 14-16 minutes.
Notes
We like a heaping ⅓ cup of chocolate chips. I also sprinkle ½ tablespoon of granulated sugar over the muffins just before baking. (½ tablespoon for ALL, not each.)
Nutrition Information:
Yield:

6
Serving Size:

6 muffins
Amount Per Serving:
Calories:

258