After two years of sitting on our house plans and preparing to build, dreaming up all all.the.things, design day is finally here! It is finally time to meet with our builder and begin choosing finishes.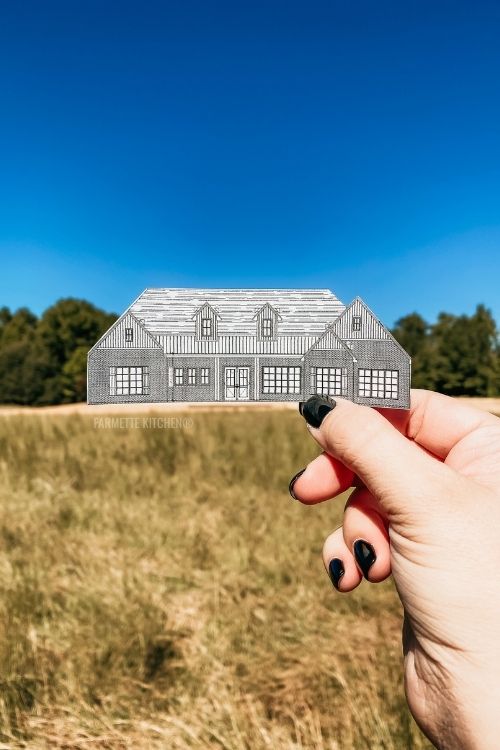 Our schedule for day one included:
Doors
Fireplace
Flooring
Lighting
Cassity Jones Lumber
Our first stop included exterior doors, interior doors, trim, crown molding, and the roof. I was a little nervous going in to the first meeting, not because I don't know what I want or don't have strong opinions, but more so just not knowing what to expect.
It was super helpful that our builder knows the look we are going for (modern farmhouse) and that it is inline with his style as well. He was able to lay out options, explain what he typically uses, and then let us decide from there.
Our front door is a set of double-doors and our back door is a single. James has been slightly worried about the double-door situation (wear and tear, kids slamming them, etc) but our builder and the design guy assured us that they're solid and they rarely hear of any issues with them.
I was SHOCKED to see James stand next to our 8ft doors. They looked HUGE! (You should know that I struggle with measurements and conceptualizing things spatially. This results in me purchasing shelves and items I think will fit only to discover they are way too big or way too small for a space. James, who does not struggle with this in the least, threatens to add a tape measure to my keyring every time it happens.)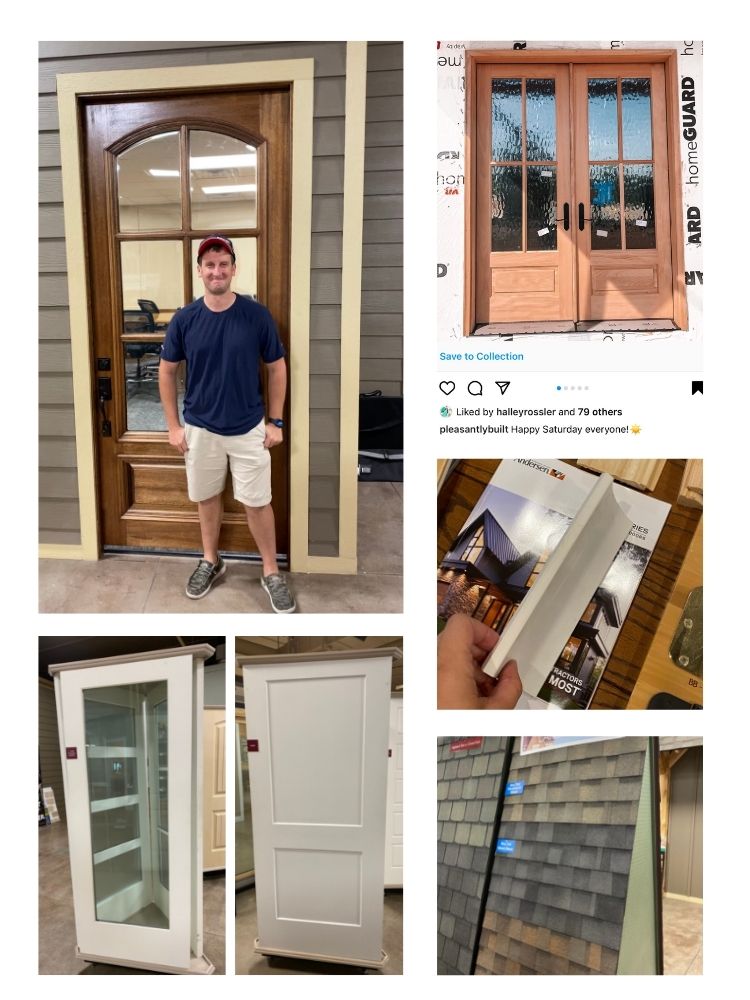 I had seen this image on Instagram from @PleasantlyBuilt literally the night before the design meeting and loved the look of the glass- providing privacy but still allowing for light. Our doors will look very similar with the four pane window and flemish glass. We haven't decided on a stain yet but will use black matte hardware.
The interior doors are white with a craftsman vibe. We chose similar trim, with 1x4 on the sides and 1x6 along the top. We will also use 1x6 as the baseboard trim as well. We went with a rounded cove crown moulding- honestly I had never seen this before, but I like the seamless way it blends in and isn't too distracting with the thicker baseboards and trim around the doors.
Finally, we chose a simple black shingle for the roof. We had originally gone back and forth between shingle and metal (which we had at our previous house), but ultimately decided on shingle for the majority with metal over the porch.
Light Your Fire
Another thing I learned today: there is an entire store dedicated to fireplace inserts. Not the brick surround, not the mantle, just the fireplace itself and its faux logs!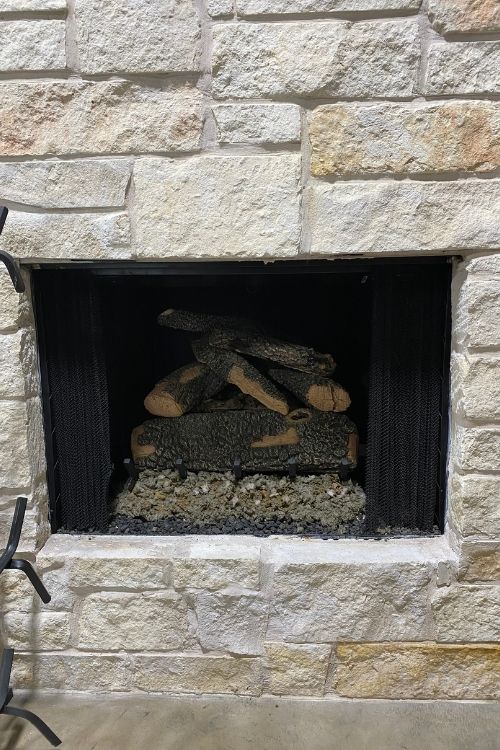 Despite the dozen or so choices, we were able to narrow things down pretty quickly. The design woman asked if we wanted the fireplace to serve more for warmth or ambiance. We chose ambiance.
There are few things James feels passionately about in the house, but having a fireplace is on the list. Aesthetics aside, I could mostly take it or leave it. I don't like the smell of smoke or wood burning, and it stresses me out way too much to have it on with the kids.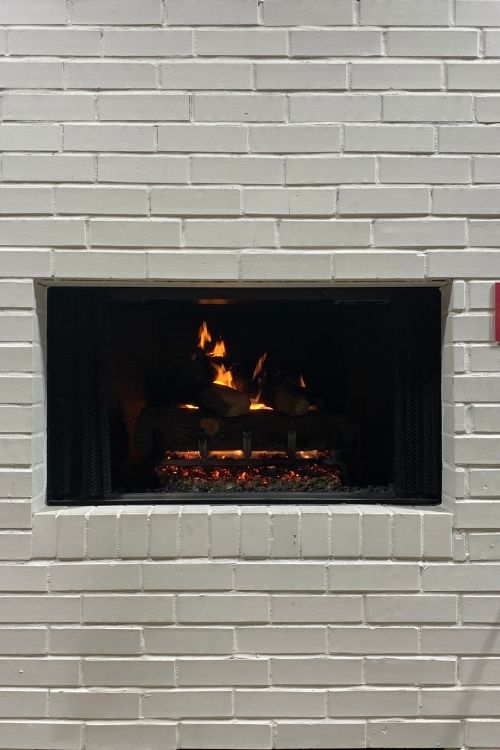 With that in mind, the designer helped us chose a vented, propane, wood burning capable fireplace. After we decided on the size, she turned them all on (with the flip of a switch) so that we could pick the style of faux logs we wanted. I'm very pleased with the set we picked out.
Surfaces Flooring
After a quick break for lunch, we got back to work with the first semi-challenging part of the day: floors. This was the first time I started to feel a little overwhelmed.
We had originally thought we would do stained concrete floors- partially to cut cost, partially because we liked the look- but I recently found a beautiful wood-look tile that made me reconsider.
We laid the plans out on the table before us and made a list of the areas to consider. We knew we wanted tile in the bathrooms, and that I wanted to do something fun (like a stenciled pattern or penny tile) in the mudroom and adjoining laundry room.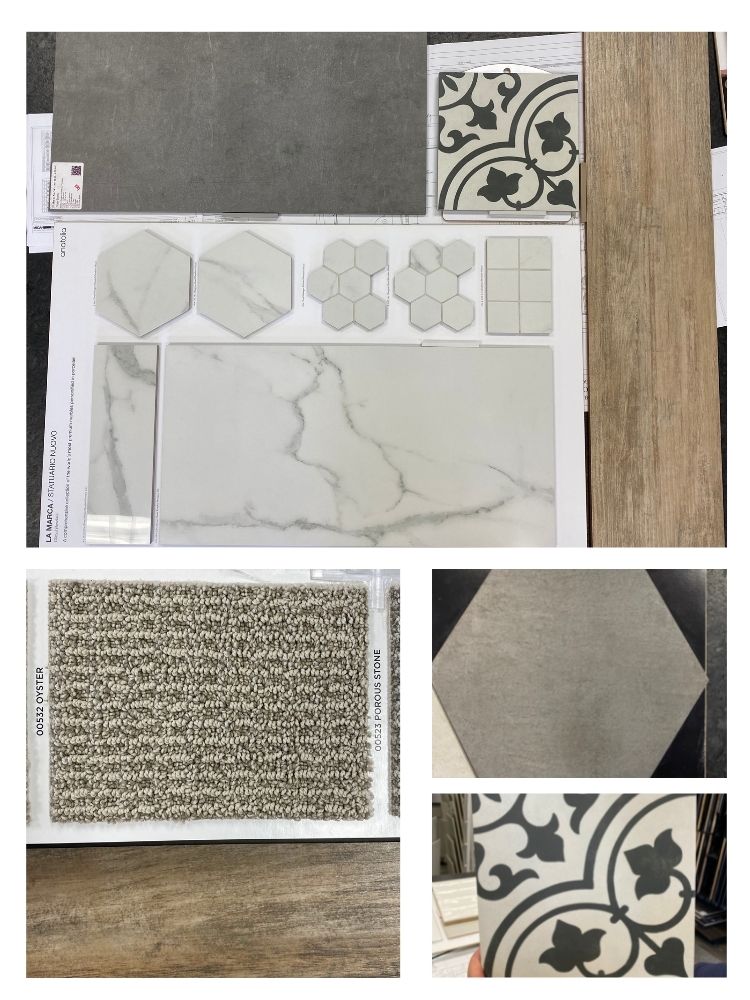 Here's what we decided on:
The large rectangular gray slate-like tiles in the Jack and Jill bathroom
The same gray tiles but in a hexagon shape for the bathroom in the second master
Large square porcelain tiles with a marble look for the master bathroom and master closet
The same marble look tiles in a small rectangle for the shower and hexagon shape for the shower floor in the master bathroom
The gray and white patterned tile for the laundry room and mudroom
The beige-gray low profile carpet for the upstairs office loft and stairs
The faux-wood tile for the rest of the house (bedrooms, kitchen, living, dining)
I like that everything has a cohesive look by staying in the same color families and using different shapes of the same pattern.
Hagen's Lighting
If choosing the flooring was semi-challenging, choosing the lighting was downright challenging. So many options! So many fixtures to choose! And with them displayed all throughout the store in different places, it was difficult to see the big picture of them all together in one house. It was a little overwhelming.
We wanted to do black finishes throughout, much like the plumbing and kitchen hardware, but I kept being drawn to the gold! Knowing how quickly gold comes and goes out of style, I settled for a few fun pieces in the powder bath and master bath.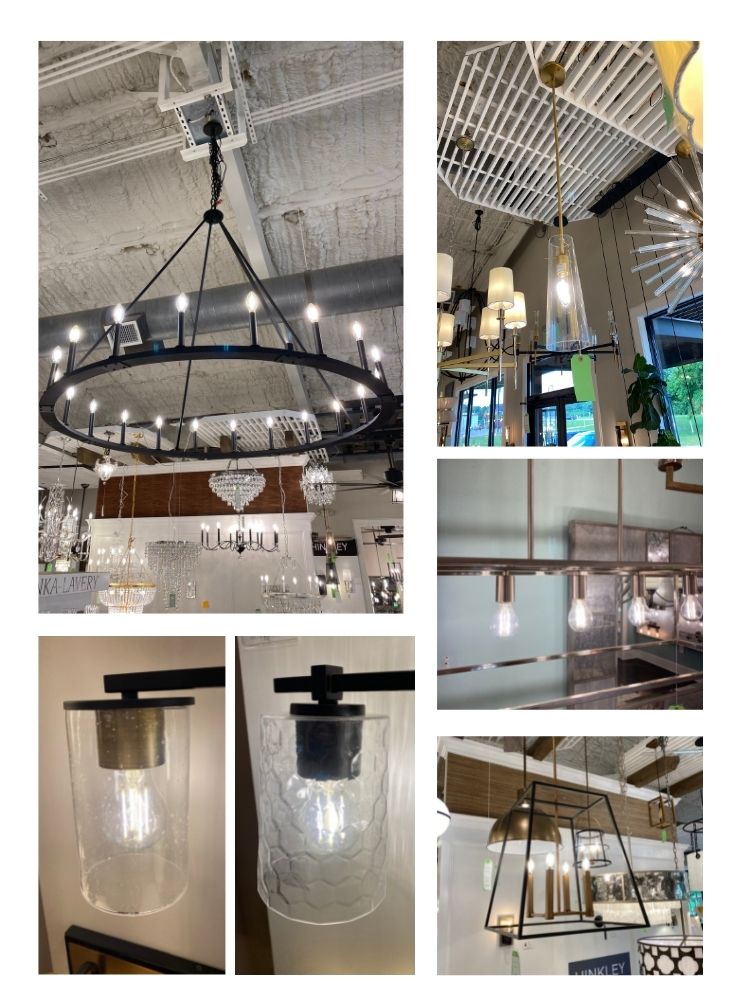 Here's what we decided on:
A large round chandelier for the living room in black
A rectangular linear chandelier for the dining room in black
Simple cone pendants for the kitchen island in black
Black vanity lights with a honeycomb glass for all of the bathrooms except the powder bath
Black and gold vanity lights for the powder bath
A Black and gold pendant for over the master bathtub
We also chose fixtures for the exterior - porch lights and sconces for the garage door. For the bedrooms we chose can lights and a simple black fan. The laundry room and mud room will also have can lights. We even had to pick which type of light bulbs we wanted! We went with small tubes throughout.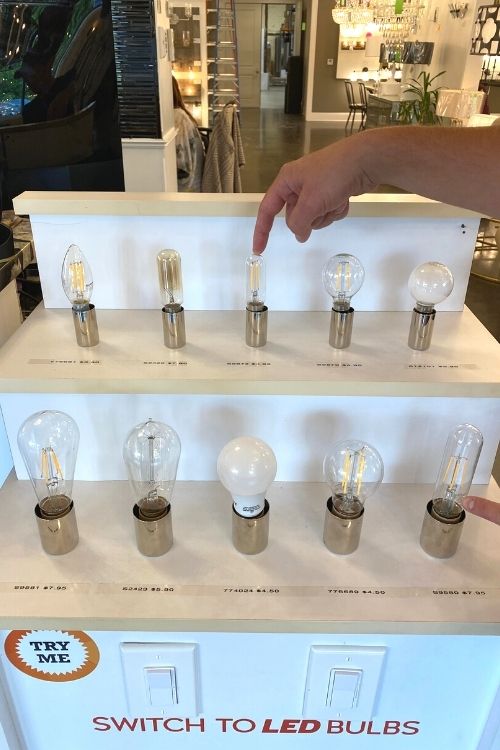 All in all, it was a productive day and I'm pleased with all of the selections we made! Next up is plumbing fixtures, countertops, and appliances.