Fresh Fruit Salad | Made with fresh berries and a honey lime dressing, this Fresh Fruit Salad is the perfect brunch or barbecue side dish. Serve with flaky croissants or spoon over Old Fashioned Pound Cake.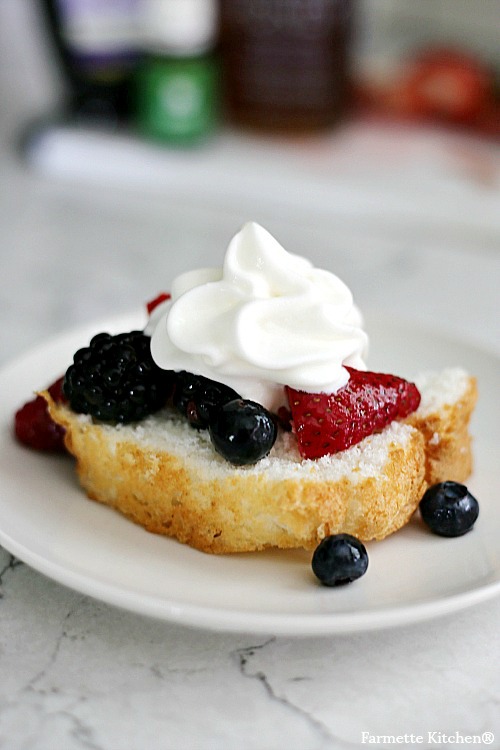 Fresh Fruit Salad
A few weeks ago, my mother-in-law asked me to bring fruit salad to our Father's Day celebration. Fruit salad means different things to different people, so I happily agreed but crossed my fingers that we were talking about the same thing. In my opinion, fruit salad equals a variety of fresh fruits and usually has a simple dressing.
Ambrosia Fruit Salad
Ambrosia is an entirely different variety of fruit salad that are popular around the holidays. Most ambrosia recipes contain some variation of canned pineapple, mandarin orange slices, miniature marshmallows, and coconut. Most Ambrosia fruit salads I've seen before also had whipped topping (like Cool Whip) and maraschino cherries as well.
Unlike an Ambrosia fruit salad which mostly uses canned fruits (and thus can be served any time of year), this fresh fruit salad recipe highlights the flavors of seasonal summertime berries.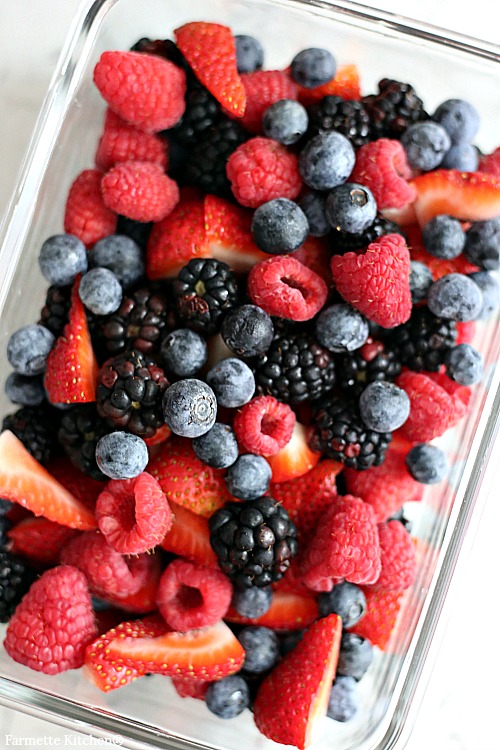 For this Fresh Fruit Salad you will need:
Strawberries
Blueberries
Raspberries
Blackberries
I make another variation of this berry fruit salad with honey lime dressing that uses more fruits-- like slices of kiwi and mandarin oranges. These fresh fruit salad recipes are my go-to for potlucks and family gatherings because they are no-bake, can be stored in the refrigerator ahead of time, and are easy to transport. Not to mention they're so bright and colorful that people ooh and ahh over them.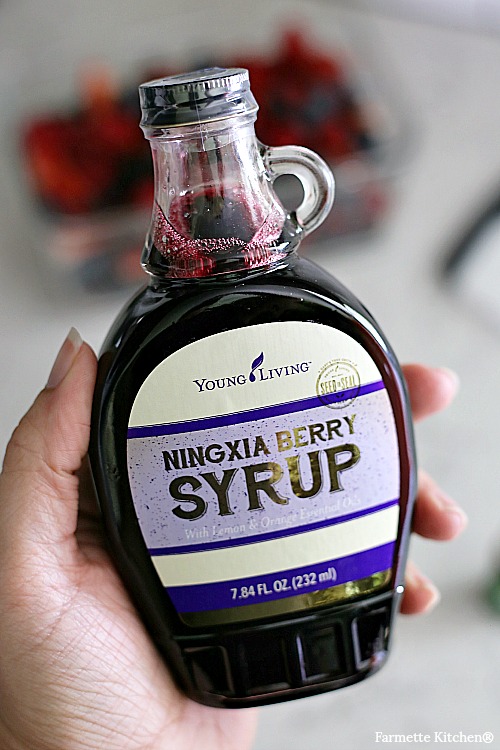 Ningxia Berry Syrup
I ordered a bottle of Young Living Ningxia Berry Syrup with my most recent ER order to try it with our favorite homemade waffles and Sunday morning pancakes. It had just arrived that morning so I decided to add some to the honey lime dressing to drizzle over the berries. It was heavenly! I also didn't have any fresh limes on hand so I used a few drops of Young Living Lime Vitality Oil- it worked perfectly to brighten up the dressing.
Of course, if you don't have either of these products, you can omit the Ningxia Berry Syrup and use fresh lime instead. I highly recommend stocking your kitchen with vitality oils, not only do they add wellness goodness but they taste delicious as well. (Like my favorite Ningxia Red Mocktail)
If you are interested in learning more about these powerful wellness tools, check out this post on how I got started.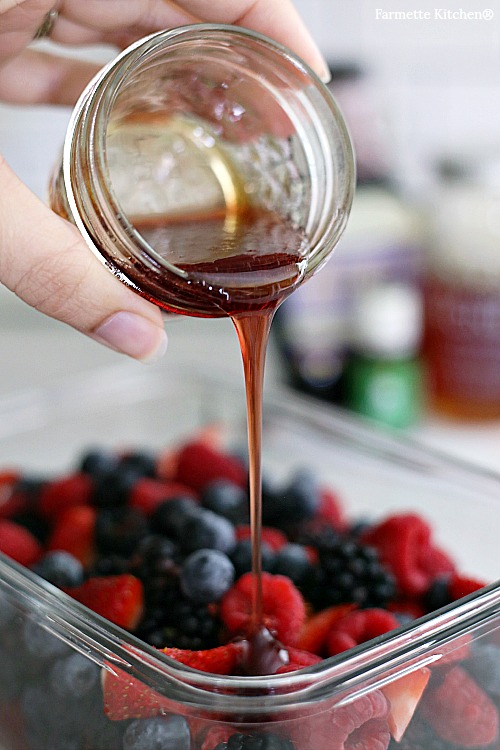 This fresh fruit salad is delicious on its own as a side dish, but you could easily turn it into a quick and easy summertime dessert by spooning it over a thick slice of Old Fashioned Pound Cake and serving it with a big dollop of homemade whipped cream. This recipe would also be yummy with a few sprigs of fresh mint for a refreshing flavor and pop of green.
If you want to keep it as easy as possible, grab a pre-made Angel Food Cake and a can of whipped cream instead!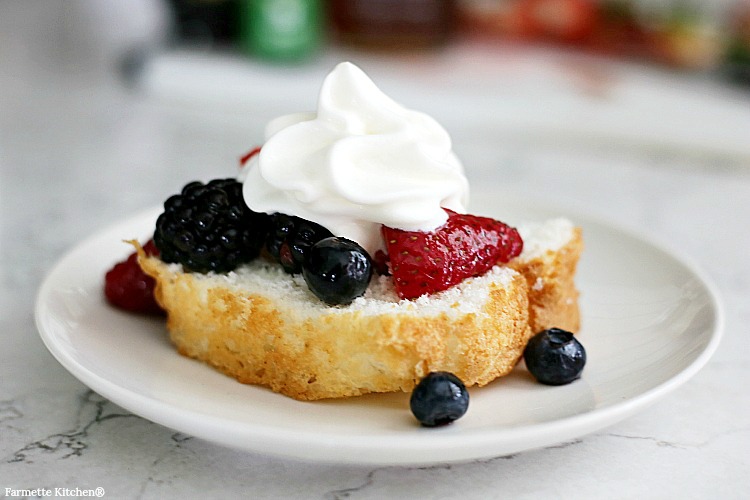 Looking for more fresh berry recipes? Try these: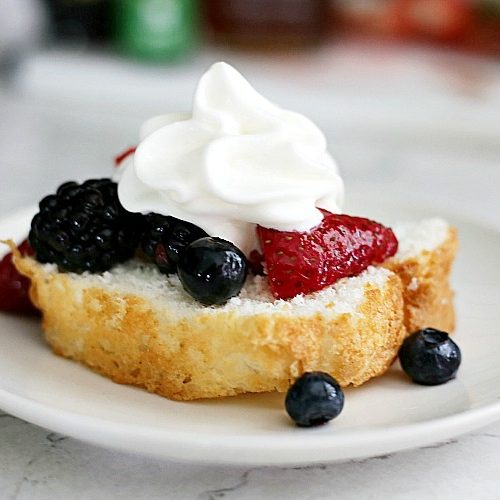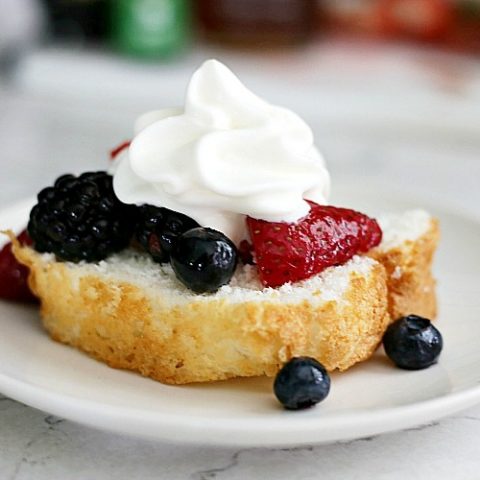 Fresh Fruit Salad
Made with fresh berries and a honey lime dressing, this Fresh Fruit Salad is the perfect brunch or barbecue side dish. Serve with flaky croissants or spoon over Old Fashioned Pound Cake.
Ingredients
½ pound strawberries
½ pint blueberries
6 ounces blackberries
6 ounces raspberries
1 tbsp honey
1 tbsp Young Living Ningxia Berry Syrup
1 tsp water
3 drops Young Living Lime Vitality Oil
1 pinch flaky sea salt
Instructions
Wash all fruit.
Slice strawberries into quarters or bite size pieces.
Gently combine all berries in a large bowl.
Mix together honey, syrup, lime, water, and salt in a small bowl. Drizzle over berry mixture and gently toss to coat.
Notes
If you don't have any Ningxia Berry Syrup or Lime oil: use 2 tbsp of honey and juice from 1 small lime.  Store in the refrigerator until ready to serve.  
Nutrition Information:
Yield:

8
Serving Size:

8 people
Amount Per Serving:
Calories:

100