This Old Fashioned Pound Cake recipe is one my mother made often throughout my childhood. Dense and buttery, this traditional pound cake is the perfect blank canvas for a fruit glaze or whipped topping.
My mom is forever making treats for my dad to take with him to work. She switches it up regularly between his favorite M&M cookies and various other sweets, like these Salted Caramel Blondies or her Classic Peanut Butter Cookies, but this Old Fashioned Pound Cake might be the most popular choice. The dense cake holds up well in a sack lunch and retains its smooth, buttery flavor for days.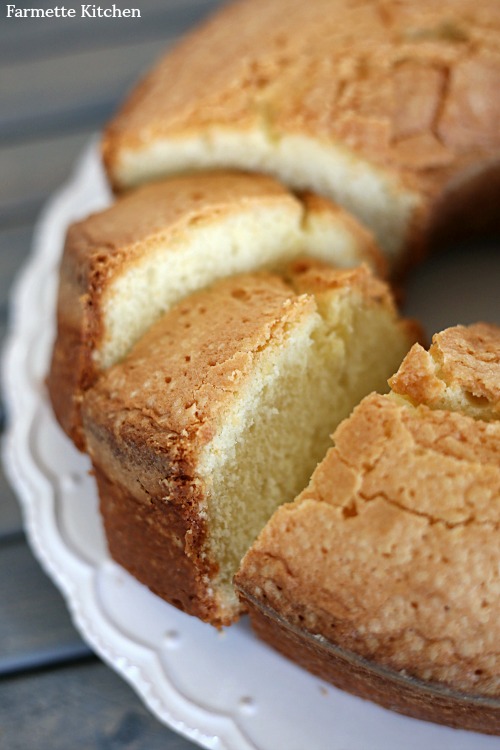 True Pound Cake, or Traditional Pound Cake, is a recipe that dates back to the 1700s. It gets its name from its simple ingredients. Originally, the recipe called for one pound each of flour, sugar, butter, and eggs.
Throughout the years that recipe has been amended to include spices and flavorings such as vanilla, lemon, or almond extract. Some even include dairy (such as buttermilk or sour cream) or additional leavening agents (like baking soda or baking powder). My mom's Old Fashioned Pound Cake includes real vanilla extract for added depth of flavor.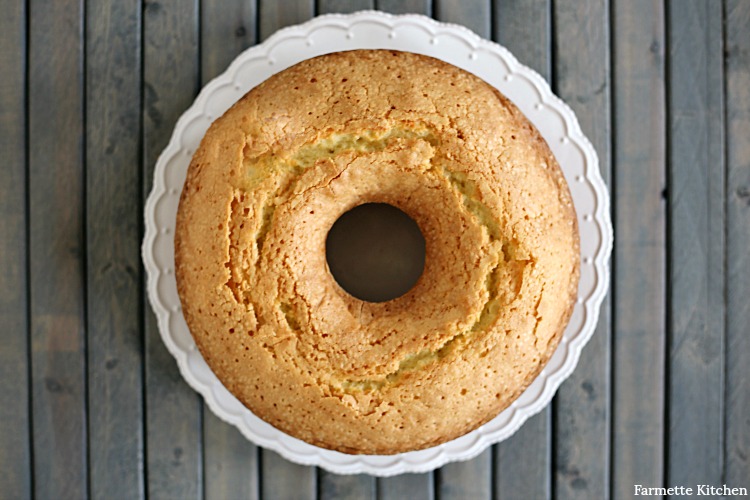 Tips for the Perfect Pound Cake
Use softened butter. You should be able to pick up the stick of butter and bend it without it melting in your fingers or becoming glistening or sticky. If the butter is too soft, it won't be able to hold the tiny pockets of air created during the creaming process that will eventually expand during cooking and help to lighten the cake.
Use room-temperature eggs. Eggs are the only leavening agent used in traditional pound cakes and are important to incorporate air into the batter that will later expand in the oven and cause the cake to rise.
Do not overbeat the batter. Overbeating the butter can soften it too much, making it greasy, which will diminish its ability to trap air. Overbeating the eggs whips in too much air and creates tunnels in the finished cake. Overbeating once the flour has been added promotes gluten formation and toughens the cake.
Pound cake batter should be a beautiful, pale-yellow emulsion. A well-emulsified batter will trap and hold air bubbles that then expand during baking. This produces the rise and is a major factor in the final texture of the cake.
A cake baked from a poorly emulsified batter will be grainy and uneven and can sink. If your emulsion breaks you might see what looks like curds or weeping. If this happens, try gently adding flour one tablespoon at a time until the texture recovers.
Before Baking the Pound Cake
The cardinal sin of baking pound cakes is not properly preparing your pan. Always grease cake pans with solid vegetable shortening, such as Crisco, and always dust with flour—a slippery surface keeps the batter from rising to its full volume.
This is the exact tube pan for pound cakes that I use- be sure to choose one that has a light colored interior.
While the Pound Cake is Baking
Resist the urge to take the pound cake out of the oven too soon. You want to place the cake pan in the center of the oven and keep the door closed until the minimum baking time has elapsed. If the cake requires more baking, gently close the oven door as soon as possible after testing to prevent jarring and loss of heat—both can cause a cake to fall if it's not done.
After the Pound Cake is Finished Baking
Always allow the cake to cool in the pan, right side up, for about 10-15 minutes before attempting to remove it from the pan. It should still be warm but not hot. Cooling too long in the pan will cause the cake to be damp and stick to the pan. Remove the pound cake from pan to a wire rack and let cool completely.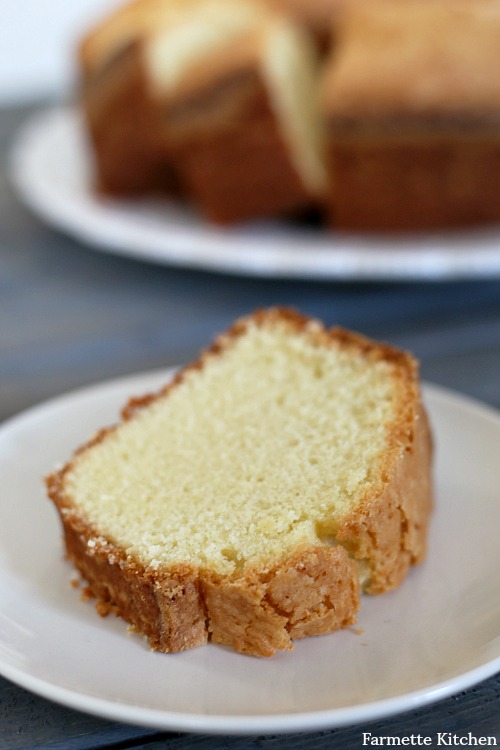 A pound cake is the perfect "company" dessert because of its simplicity. I almost always have the ingredients on hand and it doesn't require any fussy frosting. It can be further embellished with a simple lemon or orange zest glaze, or topped with strawberries and homemade whipped cream, both of which can be made ahead of time.
Serve this classic pound cake with this fresh fruit salad for a quick and easy dessert!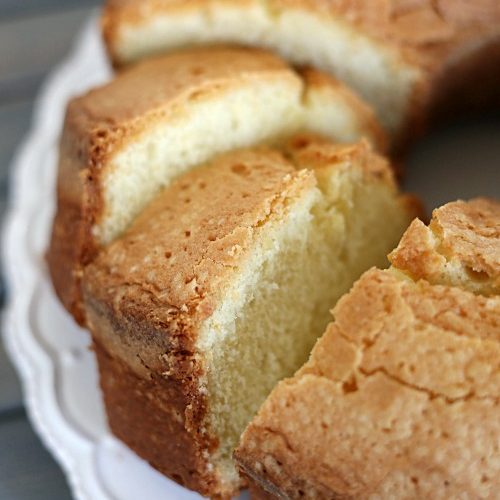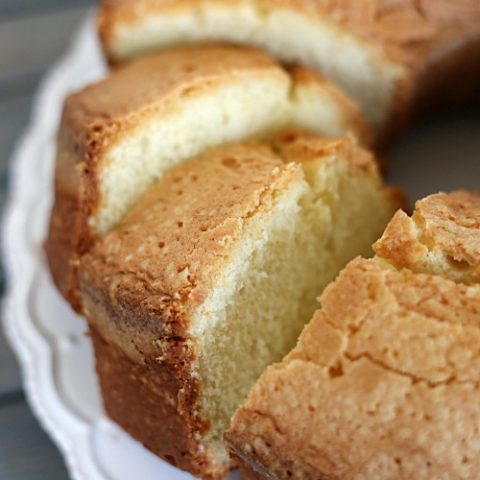 Old Fashioned Pound Cake
Total Time:
1 hour
15 minutes
This Old Fashioned Pound Cake recipe is one my mother made often throughout my childhood. Dense and buttery, this traditional pound cake is the perfect blank canvas for a fruit glaze or whipped topping.
Ingredients
1 cup unsalted butter, softened, (2 sticks)
2 cups all-purpose flour
2 cups granulated sugar
6 large eggs (room temperature)
Instructions
Preheat the oven to 350 degrees.
Grease and flour a tube pan.
Cream the butter and sugar. The mixture should be light in color, like a pale yellow.
Add the eggs one at a time. Continue to mix until the egg disappears completely into the mixture.
Slowly incorporate the flour into the mixture one 1/2 cup at a time.
Bake for 60 minutes or until an inserted toothpick comes out clean.
Allow to cool in the pan 10-15 minutes. Remove from pan to a wire rack and let cool completely.
Notes
If adding vanilla extract, use 1 teaspoon.
Nutrition Information:
Yield:

12
Serving Size:

12 people
Amount Per Serving:
Calories:

371
The nutritional information is provided as a courtesy and is an estimate generated by a calculator.