After two years of sitting on our house plans and preparing to build, dreaming up all all.the.things, design day is finally here! It is finally time to meet with our builder and begin choosing finishes.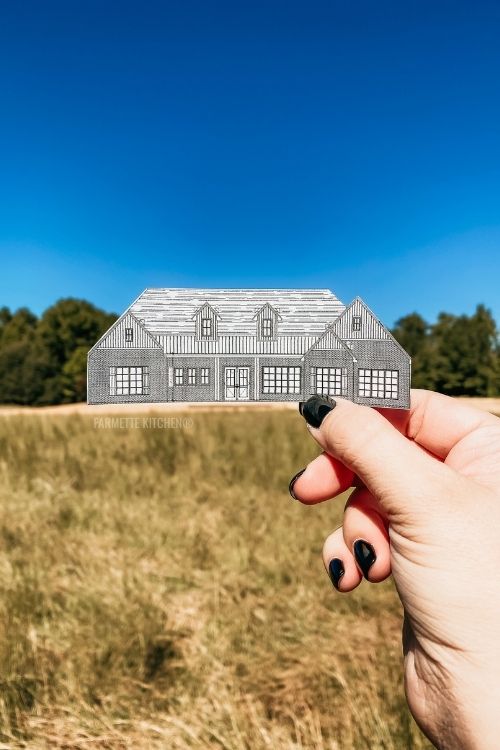 At our first design day, we chose lighting, flooring, interior/exterior doors, and the fireplace.
Our schedule for day two included:
Plumbing fixtures- including sinks/tub
Countertops and backsplash
Appliances
Moore Supply Co
Our first stop included kitchen/bathroom faucets, the bathtub, toilets, and the water fountain. Once again, I was surprised at all of the choices; I'm used to shopping at big box stores where the in-store selection is limited.
We knew we wanted matte black fixtures throughout- but did we want one handle or two, a pull down or separate sprayer, what style? We also knew we wanted a stainless steel, single basin, undermount sink for the kitchen. Everyone was surprised we didn't go with a white apron-front, but they're just not my favorite.
I was tempted to go with something touchless, but we decided on a single-lever faucet with a separate sprayer for the kitchen. The sprayer is another one of the few things that James feels strongly about- he hates when the sprayer is part of the faucet. He hand-washes way more than I do so I was happy to concede here.
In our master bathroom we will have double sinks with double lever faucets and double shower heads (one wand and one fixed). My favorite selection of the day was definitely our master tub. We chose a large, freestanding soaker tub. I tested it out in the showroom (i.e. sat it in with my clothes on lol) to make sure all 5 foot 11 inches of me could relax comfortably.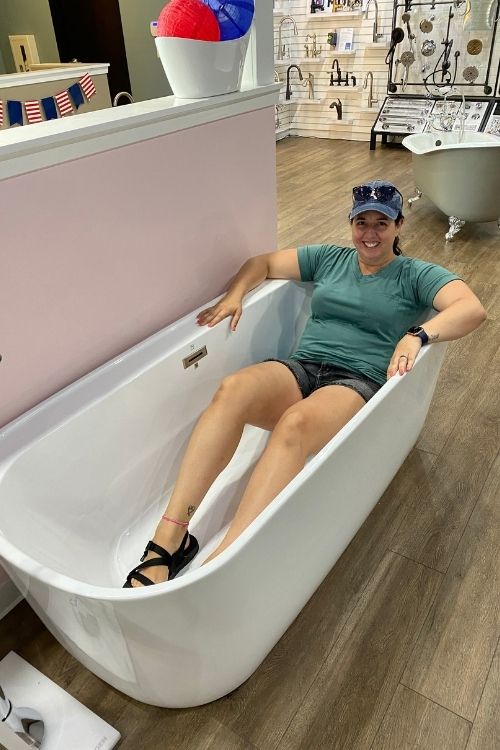 The second master and Jack and Jill bathroom will have the same double lever faucets. The smaller powder bath will have a single lever.
Finally, we chose an in the wall water dispenser/bottle filler for the mud room. This will be perfect for filling up water bottles before grabbing backpacks and heading out the door for school!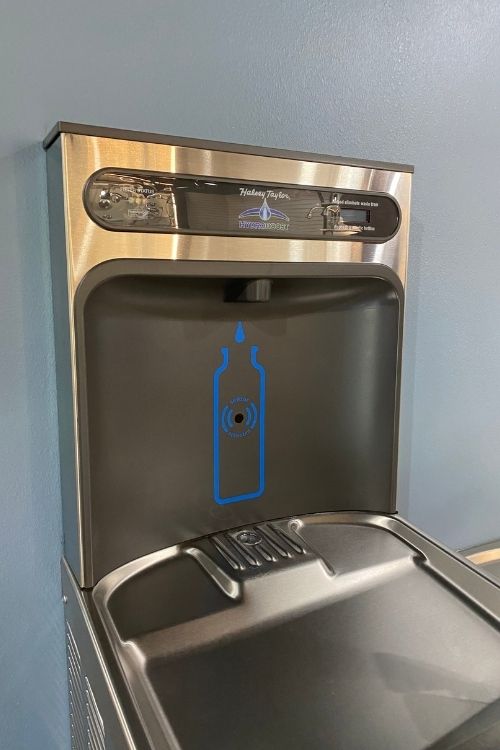 Granite Division
This was our easiest selection of the day. We knew we wanted some type of white/gray quartz for the kitchen countertops and backsplash. I loved the look of our white subway tile at our old house but, ultimately, the drama of the matching countertop/backsplash look won me over. We chose this white slab with thick grey veining. Our island is pretty big, so we wanted a bold statement piece with a lot of movement.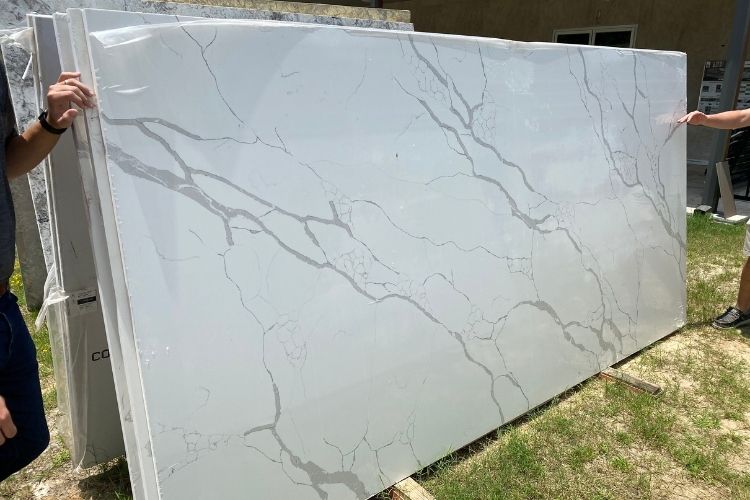 We went with a simpler white quartz with grey flecks for all of the bathroom vanities. Subtle and clean, but still in the same family as the kitchen.
Don's Appliances
We capped the day picking out all of the appliances. We already knew that we wanted to go with the Frigidaire Professional line specifically for the single door freezer and refrigerator. From there we just picked the matching dishwasher and range from that line.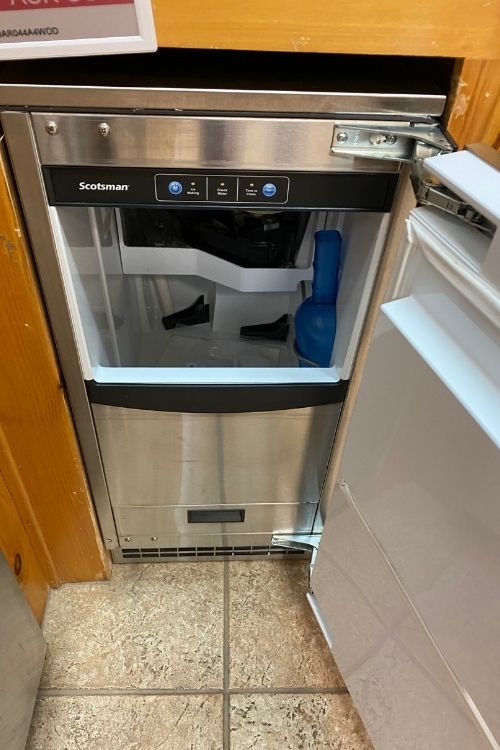 We also added a nugget ice maker and beverage cooler for the beverage area next to the pantry. I am SO excited about the nugget ice! We aren't big wine drinkers, but it will be nice to have sparkling water and sodas out of the main fridge.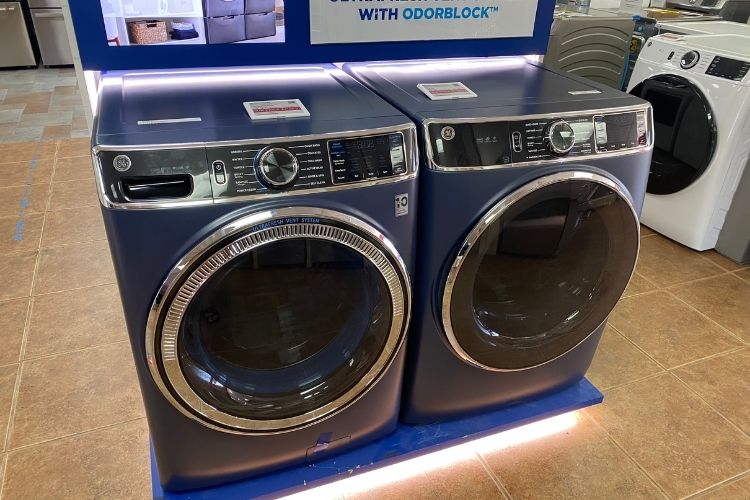 Finally, we picked a GE front-load washer and dryer set. The floor set was dark blue and I am tempted to go with it! We might switch to grey before making the final selection but the blue was pretty. We've never had a front-load set, and I've heard horror stories from the early models, but this will allow us to do a butcher block top for folding.
What happens next?
Now, we wait! Initial selections have been made, though we know some may ultimately change in the end, this will allow our builder to create a realistic budget for these line items so that we can get everything finalized and sent over to the lender for the construction loan. After everything is approved, we will close and be ready to officially break ground!