Transform avocados into the perfect, easy guacamole with only a little fresh lime juice, garlic powder, and salt.  This no-frills guacamole recipe is one that I go back to over and over again.  Perfect with chips or added to a burger!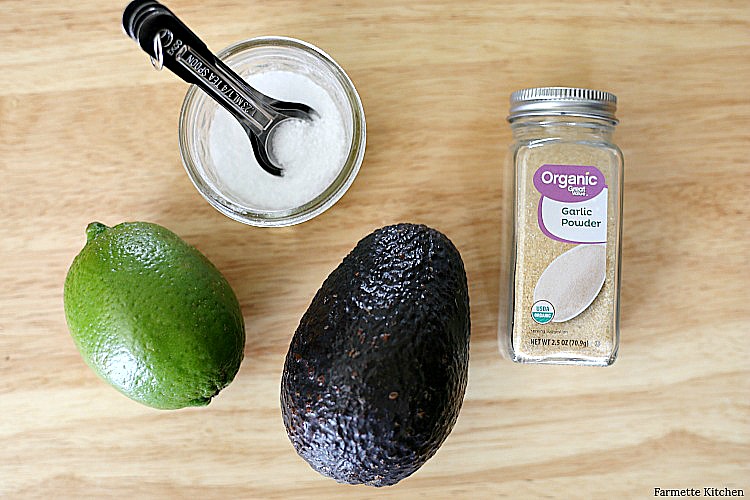 Would you believe that it wasn't until I was in my mid-twenties that I tried guacamole for the first time?  I know, I KNOW.  It was one of those foods that just never really made an appearance at our dinner table growing up; which is surprising when you consider how much Tex-Mex we ate.  Not surprising is that my Mom generally catered her meal planning around my Dad's taste and he is not a fan of the green stuff.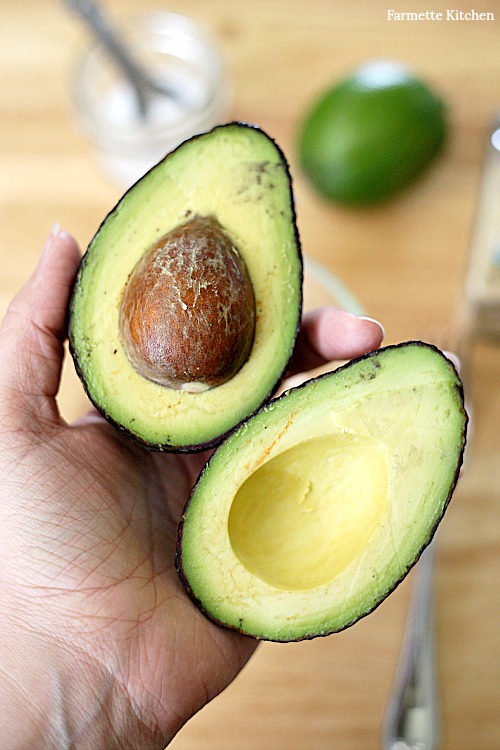 Guacamole Ingredients
One of the things that turned me off from trying guacamole was that many recipes included chopped onions and tomatoes.  I like the flavor of onions, and can tolerate them if either chopped really small or left big enough for me to pick around.  I'm out on tomatoes all together unless they are crushed or petite diced into a sauce (or salsa).  They definitely don't belong in my guacamole.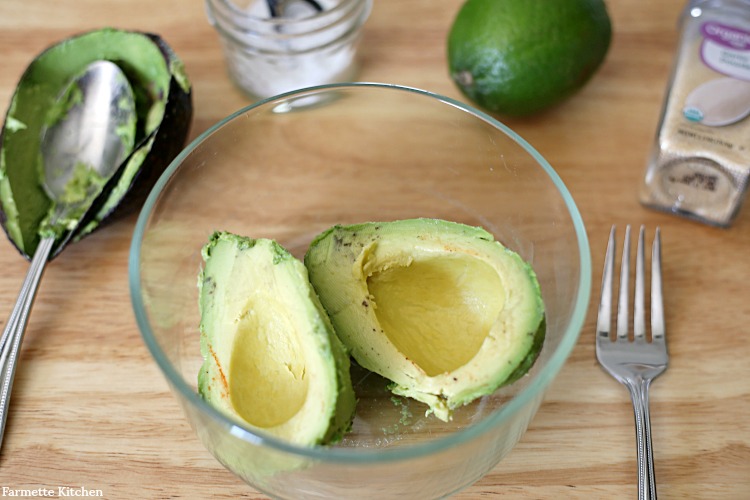 James loves guacamole (and most foods) and finally talked me into trying his no-frills guacamole recipe one day.  A little fresh lime juice, sprinkling of garlic powder, and a dash of salt.  Finally, I understood what all the fuss was about!  This easy guacamole is rich, creamy, fresh, tangy goodness.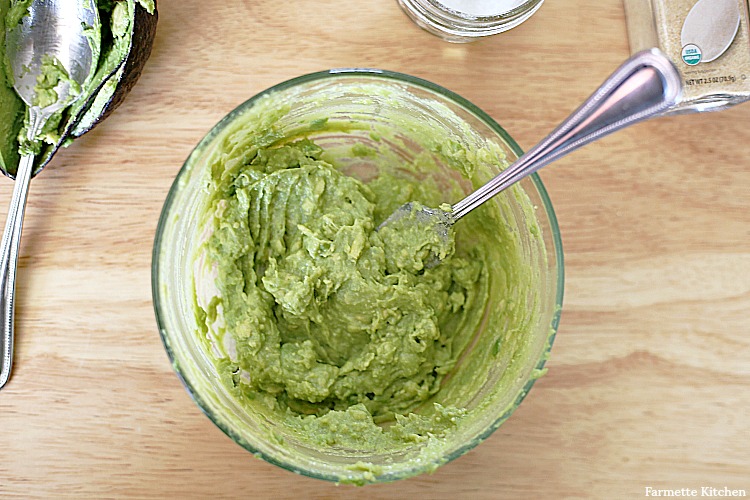 Tips for Making the Perfect Guacamole
The trick to making the perfect guacamole is using good, ripe avocados.  In fact, that's all you really need to make guacamole: ripe avocados and salt.  A splash of acidity is also arguably necessary; a little lime juice will help to balance out the richness of the avocado.
How to Tell if an Avocado is Ripe
Check for ripeness by gently pressing the outside of the avocado.  If there is no give, the avocado is not yet ripe and will not taste good.  If there is a little give, the avocado is ripe.  If there is a lot of give, the avocado may be past ripe and not good.  (In this case, it's best to taste test first before using.  If an avocado has turned it will also smell funky.)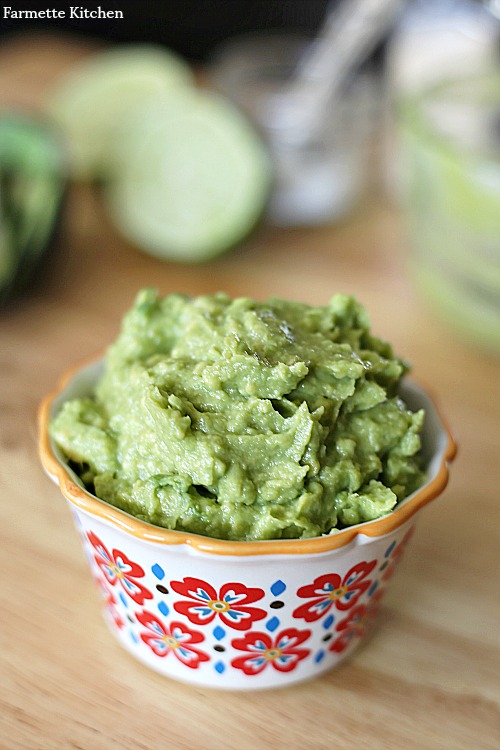 Making guacamole is easy once you've got the recipe down — basically it's mashing a simple combination of ingredients together.  Like my favorite granola recipe, if you can stir, you can make this recipe.  I prefer my guacamole smooth and creamy, I don't want to see any chunks.  (That's also how I like my salsas.)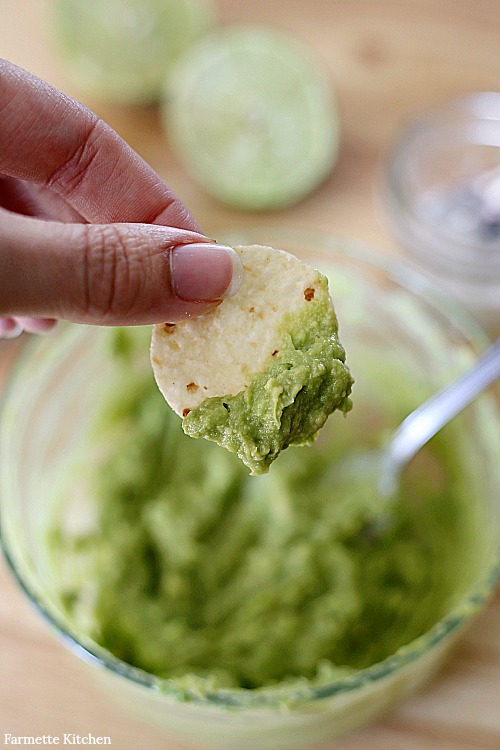 Always Remember to Taste
The thing about this easy guacamole is that the seasonings are really done "to taste" because it all depends on the size of your avocado (and how you like your guacamole to taste).  I try to use a large avocado, at least the size of my palm, but depending on the season they may be smaller.  If this is the case, you might need to use two small avocados and adjust the seasonings accordingly.
Taste the guacamole and decide if something is missing.  If the flavor tastes heavy, you may need more lime juice to punch up the flavor.  If it has good flavor but falls flat, you may need more salt.  Take a spoonful and adjust (only changing one ingredient at a time) by adding more of what you think is missing.  If your addition solves the mystery, adjust the entire batch accordingly.  You are striving for easy guacamole that tastes perfect for YOU.  Use my guidelines, but remember that this isn't a test on how well you can follow a recipe exactly.
Also keep in mind that most tortilla chips are very salty.  You might be tempted to under salt your guacamole to compensate when in fact you should do the opposite.  It sounds counterintuitive but when pairing a dip with a chip, you have to match the salt levels or the saltier of the two ends up dominating.
According to How to Taste by Becky Selengut, "When pairing foods, always try each component with its intended accompaniment to see if the total experience is spot on.  Add more salt to that guacamole-- enough that it might be too salty to eat on its own but it will balance out that salty chip and elevate the flavor of the avocado to its proper place of prominence."
Step-by-Step Guide How to Cut and Peel an Avocado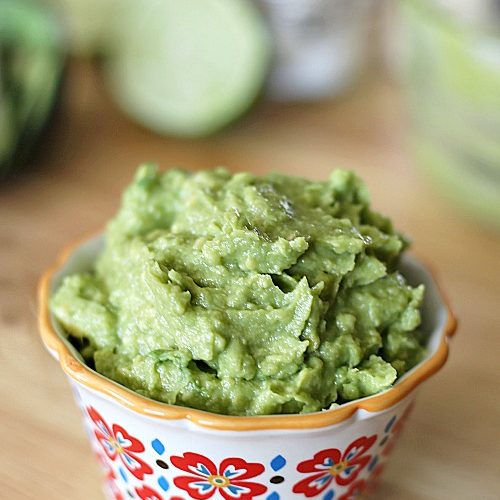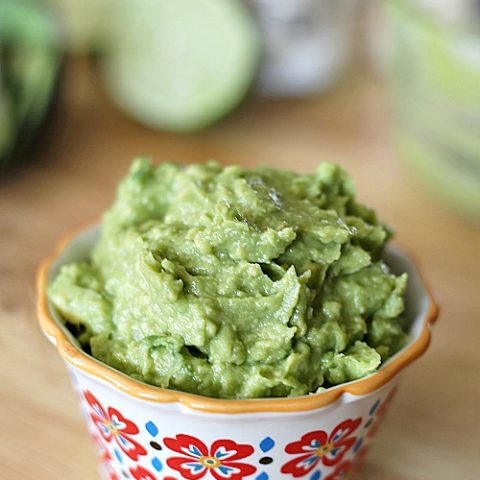 Easy Guacamole
Transform avocados into the perfect, easy guacamole with only a little fresh lime juice, garlic powder, and salt. This no-frills guacamole recipe is one that I go back to over and over again. Perfect with chips or added to a burger!
Ingredients
1 large avocado
1 tsp lime juice
½ tsp salt
¾ tsp garlic powder
Instructions
Cut the avocado in half and remove the seed.
Scoop out the flesh with a spoon.
Use a fork to mash the avocado with all other ingredients in a small bowl.
Taste and adjust seasoning as needed. Serve immediately.
Nutrition Information:
Yield:

2
Serving Size:

2 people
Amount Per Serving:
Calories:

165
---


I haven't yet finished the free media copy of How to Taste that I received, but so far I am LOVING it.  The goal of this engaging and approachable guide to taste and flavor is to make you a more skilled and confident home cook.  How to Taste outlines the underlying principles of taste, and then takes a deep dive into salt, acid, bitter, sweet, fat, umami, bite (heat), aromatics, and texture.  The handbook goes beyond what ingredients go well together; you'll learn how to adjust a dish and determine when something might be lacking.