This Basic Homemade Granola Recipe only requires six ingredients and can easily be customized with nuts or dried fruits. Eat this buttery, coconut granola plain or as a topping for yogurt.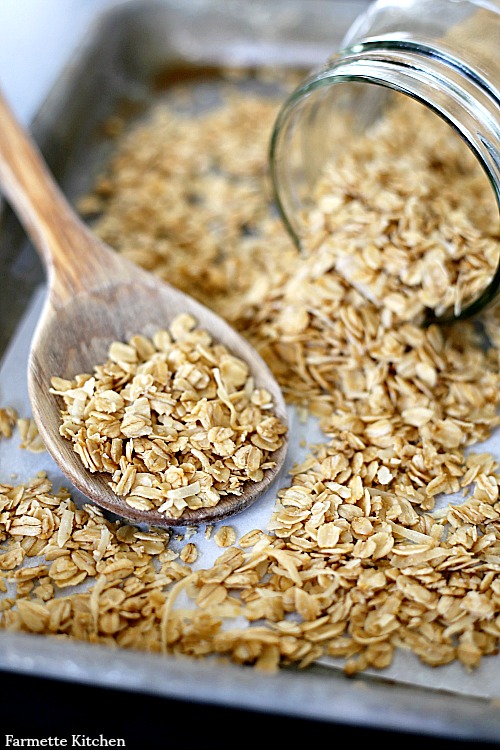 All three of my kids love cereal and granola bars. My two-year-old is basically at the 'surviving on chicken nuggets and granola bars' stage of life. This homemade granola recipe is the perfect substitute for the sugary store-bought varieties. Even if you aren't really a coconut person, trust me on this recipe! The crunchy oats and chewy toasted coconut come together perfectly.
This is one of those recipes that we "just one more bite" (or just one more handful) until it is completely gone. I store it in a wide-mouth mason jar on the counter because it never even has enough time to make it into the pantry. Luckily, it's so simple to whip up that I don't mind making it often to keep on hand. My kids love it plain or as a topping for vanilla yogurt, but I love to eat it in a small bowl of milk.
As I was making this recipe I started wondering if a coconut is a nut. Turns out a coconut is kind of a fruit, a nut, and a seed. Technically speaking, though, it is a drupe (???) like a peach or olive. I spent entirely too much time going down that rabbit trail while I waited on this homemade granola to bake.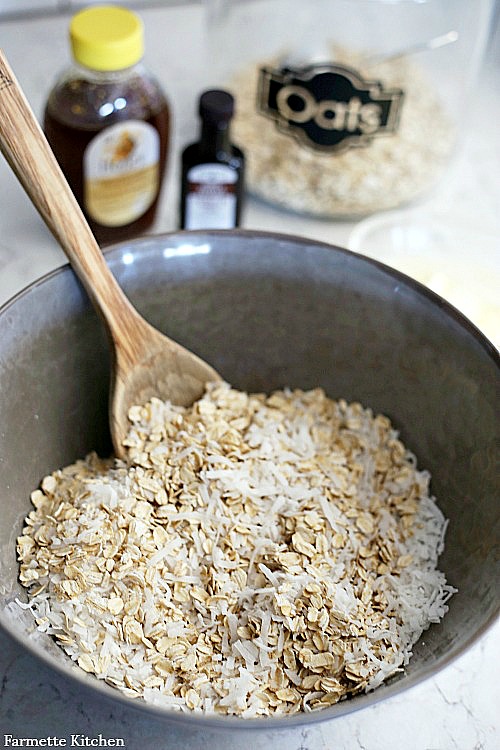 What is Granola?
In its purest form, granola is a base of oats with a little oil or butter and sweetener (typically honey or maple syrup) of choice. This basic guideline gives way to dozens of variations on this easy, homemade snack.
This basic homemade granola is my favorite because I prefer my granola without nuts, seeds, or dried fruit. (Which is funny depending on how you classify the coconut.) If you want to add all of that extra stuff to trail mix, I won't complain... so long as you add extra chocolate candies, just keep my granola pure.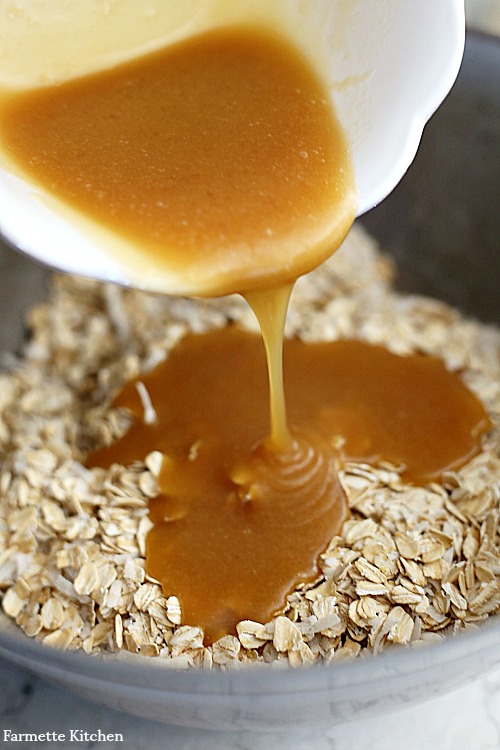 Why You Should Make Homemade Granola
Making homemade granola is SUPER easy, usually cheaper, and doesn't require any special skills or tools. If you can mix together six simple ingredients, you can make granola for yourself! It tastes better from scratch because you know exactly what is going into it; there's no hidden or added sugar and no weird preservatives. (The same reason I started making my own Homemade Frozen Waffles.) Use quality ingredients, especially the butter and honey, because you will taste the difference.
This buttery coconut granola reminds me of the Honey Bunches of Oats cereal. The oats become crunchy, the toasted coconut is delightfully chewy, and it all ends up as the perfect buttery and slightly sweet bite. I love that it has more fiber and protein than the boxed stuff and is without any added sugar. (Again, trust me on the coconut!!)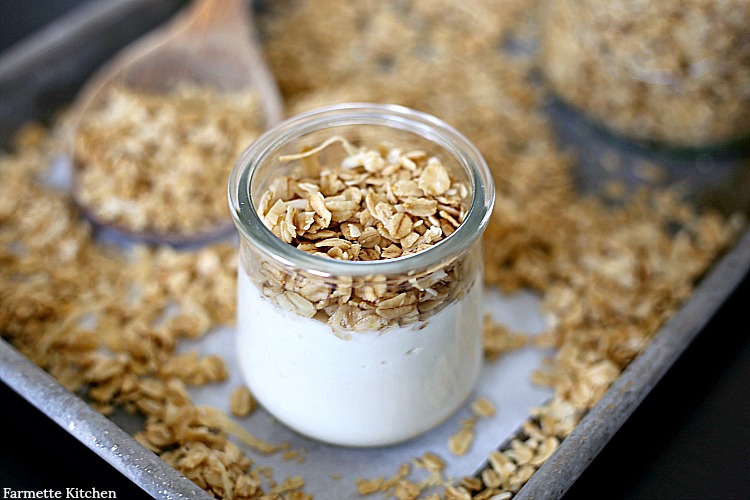 Tips for the Perfect Granola
Stick with a low temperature, keep an eye on your mixture, and stir it from time to time to help it brown evenly. Cooking granola at a high temperature can cause ingredients like nuts, seeds, and coconut to burn before the batch has a chance to properly dry out and crisp up.
All ovens are different, so check yours at the earlier end of the time range to see how brown it is, and keep a nose out to make sure it's not burning. Keep in mind that it won't be super crunchy when it's done baking; the granola will set and harden as it cools.
I've also added a ¼ - scant ½ tsp of cinnamon to this recipe before. A little goes a long way when it comes to adding dried spices to granola. Always remember, whether you're doing a sweet or savory granola, to add a pinch of salt. It adds that extra dimension and keeps it from being overly sweet. I use unsalted butter so that I can add my own salt, but you might omit the added salt if using already salted butter.
I prefer sweetened coconut flakes because that is what I typically stock in my pantry, but you could swap those out for unsweetened if you prefer (or flakes instead of shredded). Use old-fashioned rolled oats because the quick cook variety won't retain their texture as they cook. Ingredients like seeds and nuts can typically be added in prior to baking (try to keep the same wet/dry ratio, so consider cutting the oats slightly to compensate), but wait to add chocolate or dried fruit until after.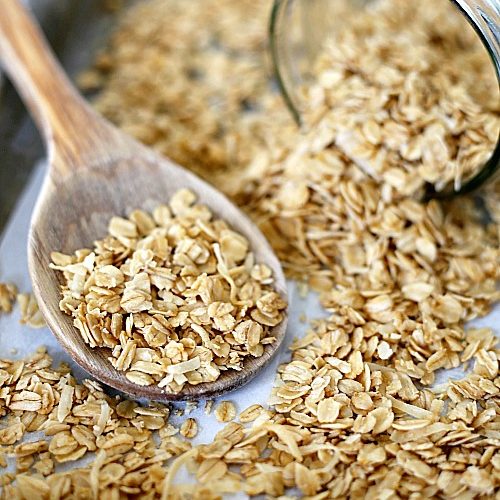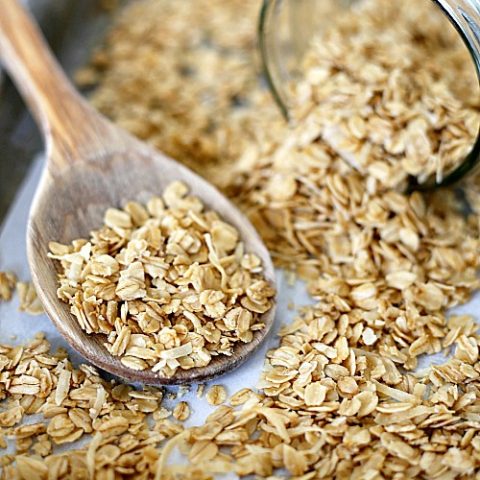 Basic Homemade Granola
This Basic Homemade Granola Recipe only requires six ingredients and can easily be customized with nuts or dried fruits. Eat this buttery, coconut granola plain or as a topping for yogurt.
Ingredients
3 cups old-fashioned oats
¾ cup coconut flakes,, sweetened
½ tsp sea salt
⅓ cup unsalted butter
⅓ cup honey
1 tsp vanilla
Instructions
Preheat oven to 250 degrees. Line a rimmed baking sheet with parchment paper. Set aside.
Melt the butter in a medium bowl.
Add the honey and vanilla extract, mix well. Set aside.
In a large bowl, stir together oats, coconut flakes, and salt.
Add the butter mixture over the oats and mix until fully coated.
Spread the granola on the prepared baking sheet and bake for 50 minutes, stirring every 15 minutes.
If the granola is not golden brown and toasted after 50 minutes, raise the temperature to 275 degrees and bake for an additional 5-7 minutes. Keep a close eye so it doesn't burn.
Let cool completely and then store in an airtight container.
Notes
Yields about 4 cups.  You can substitute maple syrup for the honey.
Nutrition Information:
Yield:

6
Serving Size:

6 servings
Amount Per Serving:
Calories:

373