This Homemade Alfredo Sauce is so simple, so creamy, and so delicious. You only need four main ingredients and ten minutes to make the perfect cheesy sauce that is way better than anything from a jar.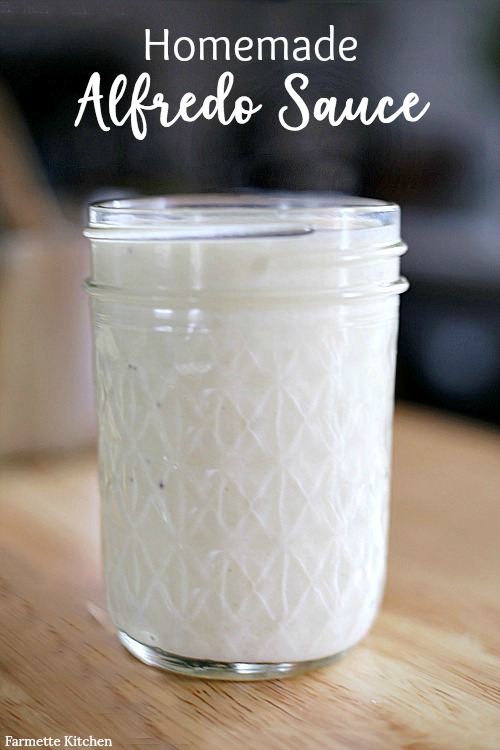 There are some things that I will never buy from the store again and will choose to make from scratch every time instead.  Alfredo sauce is one of those things.  I've made it so many times now that I don't even bother measuring any more.
How to Make a Roux
If I have the time I will usually make my Alfredo more of a Béchamel sauce and start with a roux.  A roux (pronounced "roo") is flour and fat cooked together and used to thicken sauces.  Roux is typically made from equal parts of flour and fat (I prefer butter) by weight.  It isn't overly difficult, but it does take a little more babysitting when working with a roux because you don't want it to break (or separate).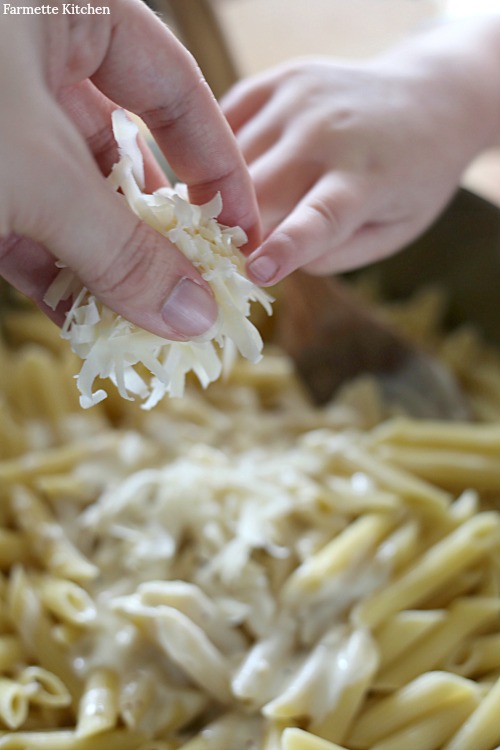 The beauty of this homemade Alfredo sauce is that there is no hand-holding needed.  Unless, of course, you have an adorable toddler helper in your kitchen.  Ian has been obsessed with helping me cook lately.  Seriously, if I want to make something quick (i.e. without his help) I have to do it very quietly while he is distracted in another room.  And, yes, it makes me feel all kinds of wrong!  Look at that precious face, wouldn't you feel guilty cooking without him even if it takes us an extra day half hour to get dinner on the table??
Ian also loves to help me make: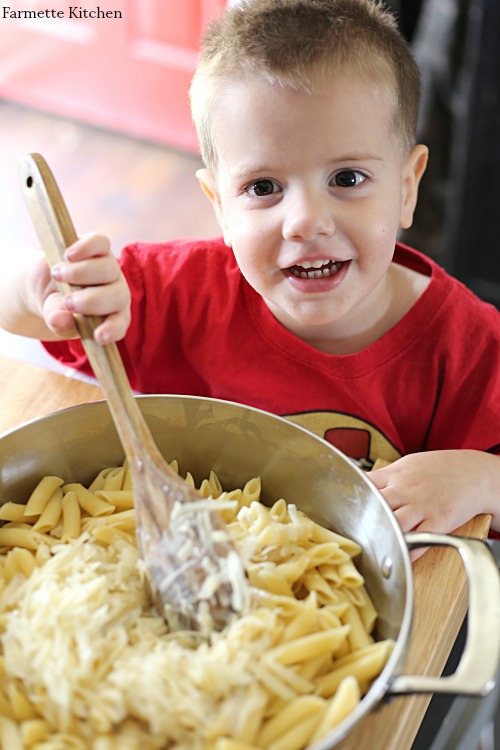 Let that be proof to you how simple this homemade Alfredo sauce is though; it's so easy a (well-supervised) two-year-old can make it.  The beauty of this sauce is that it only takes about ten minutes to cook so that means it can cook right alongside your pasta.  I consider myself an accomplished home cook but trying to time pasta and sauce to be done at the same time will forever be my nemesis in the kitchen.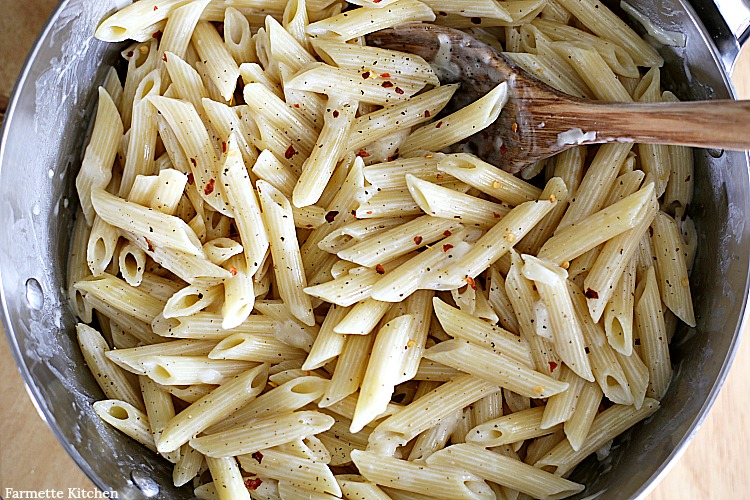 Tips for Making the Best Homemade Alfredo Sauce
You might be worried that this sauce is too thin while it's cooking- resist the urge to try and thicken it up or cook it longer.  The magic happens when you combine the Parmesan and sauce with the reserved pasta water.  The salty, starchy water not only adds flavor but it will also help thicken the sauce.  Make sure you salt the water that you use to cook your noodles.
I know I say it with almost every recipe, but quality ingredients really make a difference.  Especially in something like this Alfredo sauce where you will taste each component of the dish.  Make sure your cream and garlic are fresh and use a higher quality full-fat butter (never margarine).  I've used garlic powder in a pinch, but most of the time I opt for the already minced, refrigerated jarred variety.  I've also used whole milk instead of cream- it won't be exactly the same, and I wouldn't recommend 1% or 2% milk.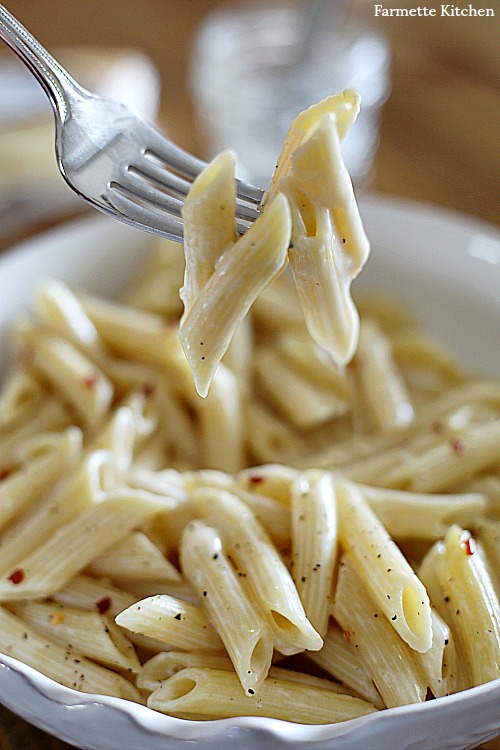 Fettuccine Alfredo is one my absolute favorite meals to order at Italian restaurants, but when I make this dish at home, I swap out the fettuccine for penne noodles.  I feel like they are less messy for the kids and easier to store in my pantry.  I use a pound of noodles when I make this homemade Alfredo sauce.  I say "four" ingredients because I don't count the salt (omit if using salted butter) and the other seasonings are optional.  My girls love to sprinkle on extra cajun seasoning!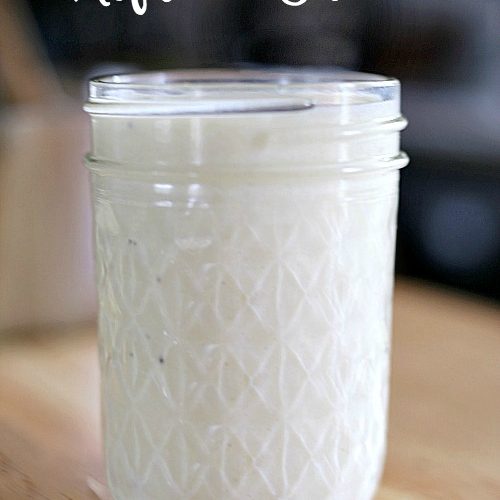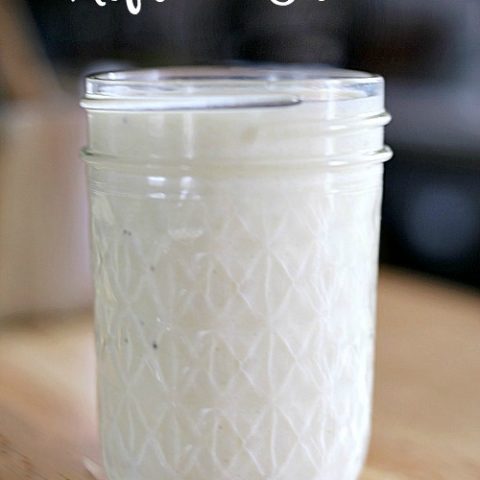 Homemade Alfredo Sauce
This Homemade Alfredo Sauce is so simple, so creamy, and so delicious. You only need four ingredients and ten minutes to make the perfect cheesy sauce that is way better than anything from a jar.
Ingredients
½ cup butter
1 tsp minced garlic
1 cup heavy whipping cream
½ tsp salt
½ cup Parmesan,, grated
1 cup reserved pasta water
fresh black pepper
red pepper flakes
Instructions
Add the minced garlic and ¼ cup of the butter to a medium saucepan over low heat. Cook 2-3 minutes, stirring constantly. Do not let the garlic or butter burn.
Add the remaining ¼ cup of butter, cream, and salt to the pan. Continue cooking, stirring often, over low heat for 10 minutes.
Pour the the sauce, grated Parmesan, and pasta water over cooked noodles. Mix well.
Add pepper and red pepper flakes to taste.
Notes
I serve this sauce with a pound of pasta (usually penne noodles).  
Nutrition Information:
Yield:

8
Serving Size:

8 servings
Amount Per Serving:
Calories:

229