Homemade Pumpkin Pie made with simple ingredients that makes for a nostalgic holiday favorite. Elevate this classic dessert with a homemade pie crust and top it with a dollop of homemade whipped cream!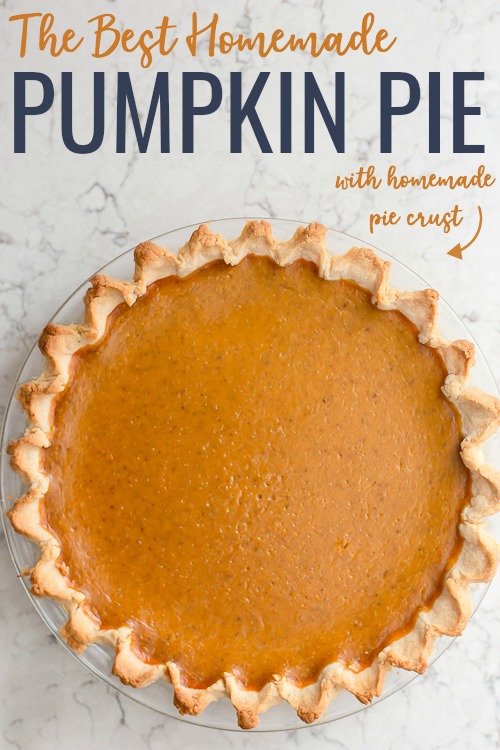 Pumpkin Pie is a must-have for our Thanksgiving dessert table. In fact, it used to be my husband's favorite before he discovered my Famous Pecan Pie. I'll admit that pumpkin pie isn't necessarily my favorite either, but it definitely wouldn't be the holidays without it (or cornbread dressing... or sweet potato casserole... or creamed corn!).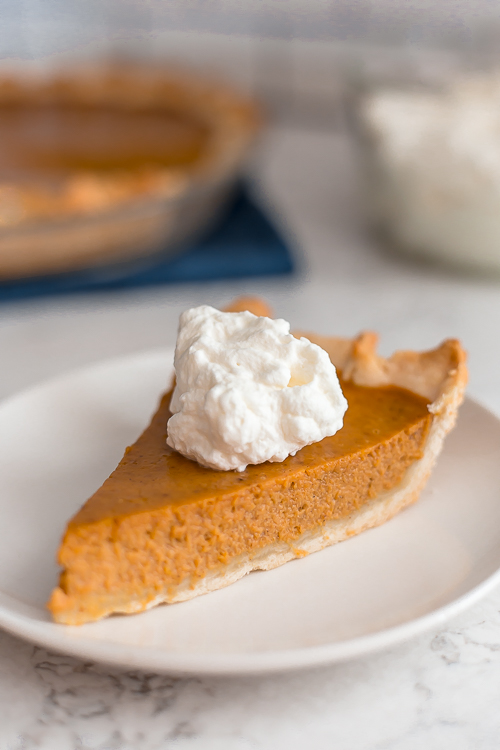 Homemade Pumpkin Pie
This homemade pumpkin pie recipe is almost too easy not to make. A simple dump and mix recipe that is perfect for getting the kids involved in the holiday prep. You can use a store-bought pie crust to make this recipe almost fool-proof, but I prefer the extra step of making my easy, no-knead, all-butter pie crust.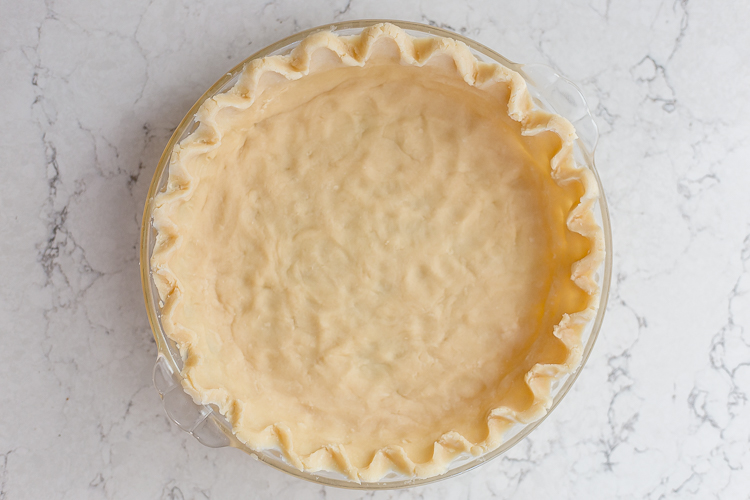 Crust for Pumpkin Pie
The thing you need to remember about this homemade pumpkin pie recipe is that you need a DEEP pie plate (one that will hold about four cups volume). If you don't have a deep enough pie plate, just fill the pie crust until almost full (leaving room for it to rise slightly) and then pour the extra filling into a small ramekin. Bake it next to the pie for an extra, crust-less treat.
Consider also putting the pie plate on a baking sheet if your worried about it spilling over.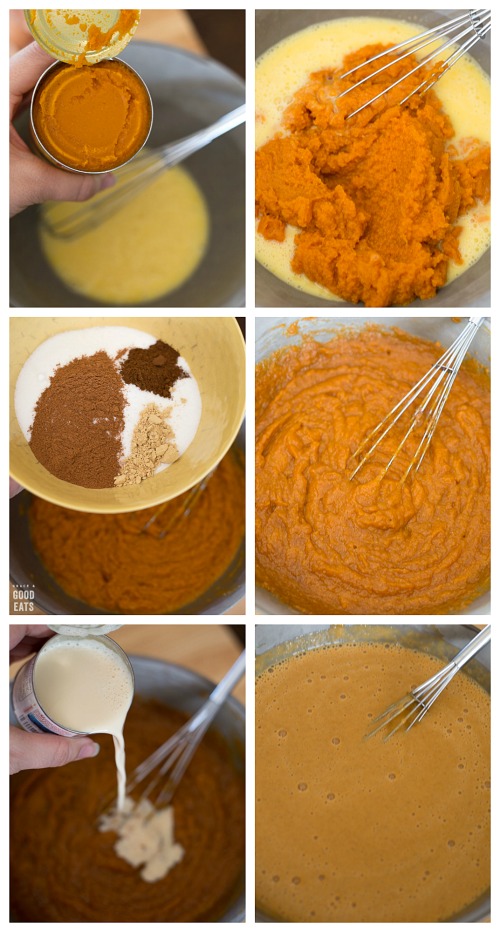 Ingredients for Homemade Pumpkin Pie
Sugar
Cinnamon, ginger, cloves*
Salt
Eggs
Pumpkin puree
Evaporated milk
*You can substitute Pumpkin Pie Spice for the cinnamon, ginger, and cloves mixture but it will change the overall taste slightly.
I love that this homemade pumpkin pie recipe is a one-bowl recipe that doesn't require a mixer. Well, I guess technically it is two bowls because you will need a small bowl to combine the sugar and spices in, but I don't count that because it just wipes clean and goes back in the cabinet when you're done.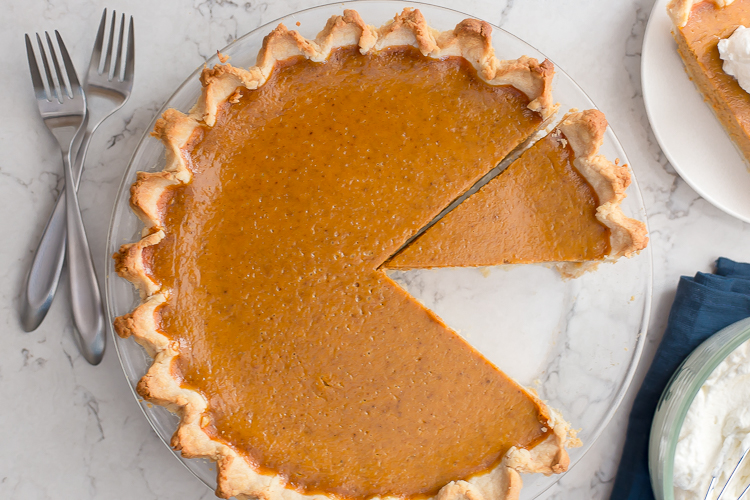 Can you freeze pumpkin pie?
Yes. Pumpkin pie, like custard pies, has a high fat content that makes it great for freezing. You may want to bake the pie in a disposable aluminum pan as the thinner pan will help the pie freeze faster. You also want to make sure that the pie has had a chance to cool completely before attempting to freeze. Lastly, you will need to wrap the pie tightly in layers of plastic wrap and seal it with a final layer of aluminum foil for extra protection against freezer burn or off-putting smells.
How to Defrost Pumpkin Pie
When ready to serve, remove your pumpkin pie from the freezer, remove the wrappings, and defrost in the refrigerator. You'll want to give the pie at least 12 hours to thaw. (Thawing faster at room temperature causes condensation on the pie, and that moisture will absorb into the pie crust, making it soggy.)
Remember, if your pie comes out a little worse for the wear, homemade whipped cream covers a multitude of sins!
Does pumpkin pie need to be refrigerated?
Yes. Homemade pumpkin pie will keep for two to three days in the refrigerator. Store-bought pumpkin pie likely has preservatives, so check the label for proper storage instructions.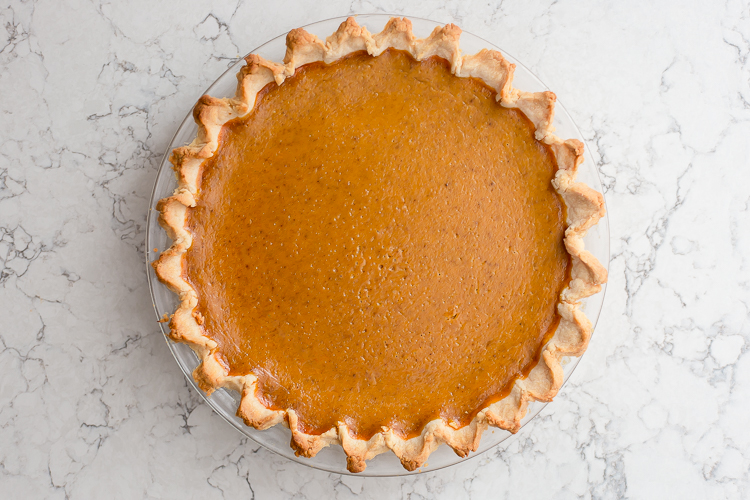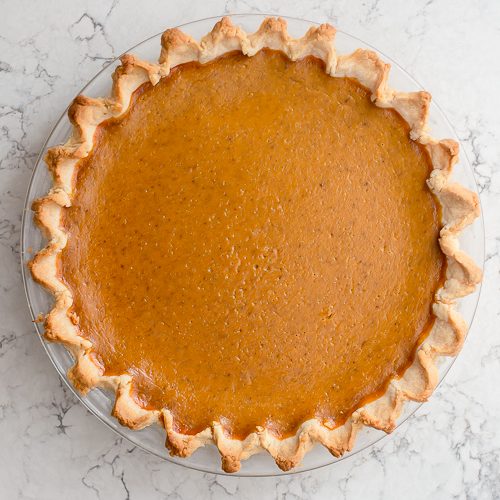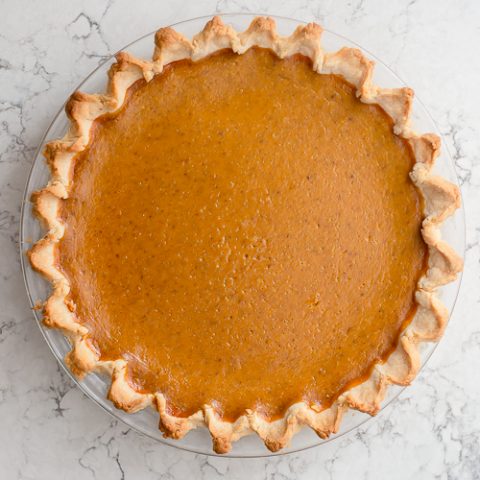 Homemade Pumpkin Pie
Total Time:
3 hours
10 minutes
Homemade Pumpkin Pie made with simple ingredients that makes for a nostalgic holiday favorite.  Elevate this classic dessert with a homemade pie crust and top it with a dollop of homemade whipped cream!
Ingredients
¾ cups granulated sugar
1 teaspoon ground cinnamon
½ teaspoon salt
½ teaspoon ground ginger
¼ teaspoon ground cloves
2 large eggs
1 can pumpkin puree (15 oz)
1 can evaporated milk (12 fl oz)
1 unbaked 9-inch deep-dish pie shell (4-cup volume)
Instructions
Mix sugar, cinnamon, salt, ginger and cloves in small bowl. Set aside.
Beat eggs in a large bowl.
Stir in pumpkin and sugar-spice mixture.
Gradually stir in evaporated milk.
Pour into pie shell.
Bake in preheated 425° F oven for 15 minutes.
Reduce temperature to 350° F and bake for 40 to 50 minutes more or until knife inserted near center comes out clean.
Cool on wire rack for 2 hours.
Notes
Serve immediately or refrigerate for two days. Top with whipped cream before serving.
Nutrition Information:
Yield:

8
Serving Size:

1
Amount Per Serving:
Calories:

229
Total Fat:

7g
Saturated Fat:

3g
Trans Fat:

0g
Unsaturated Fat:

3g
Cholesterol:

60mg
Sodium:

233mg
Carbohydrates:

38g
Fiber:

2g
Sugar:

28g
Protein:

6g
The nutritional information is provided as a courtesy and is an estimate generated by a calculator.
Find More Recipes
This recipe is part of my Traditional Thanksgiving Menu series. Check it out!