Blueberry Sour Cream Muffins that are moist, tangy, and bursting with blueberries. Sprinkle these muffins with coarse sugar for a delicious bakery-style breakfast at home. This small-batch recipe makes six blueberry muffins but easily doubles for more.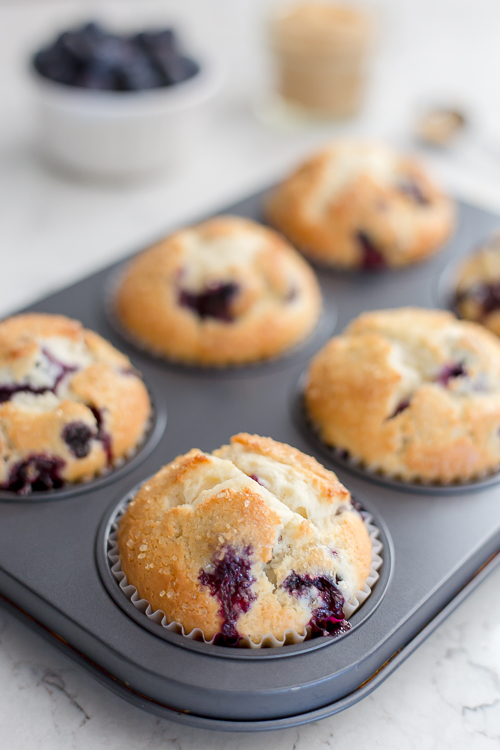 We make muffins at least once a week. Ian has our favorite Small Batch Chocolate Chip Muffins recipe memorized- they're his favorite thing to bake with me. I usually pair them with an Instant Pot hard-boiled egg and a slice or two of Air Fryer Bacon; and I tuck the leftovers in the kid's lunch boxes… if we have any.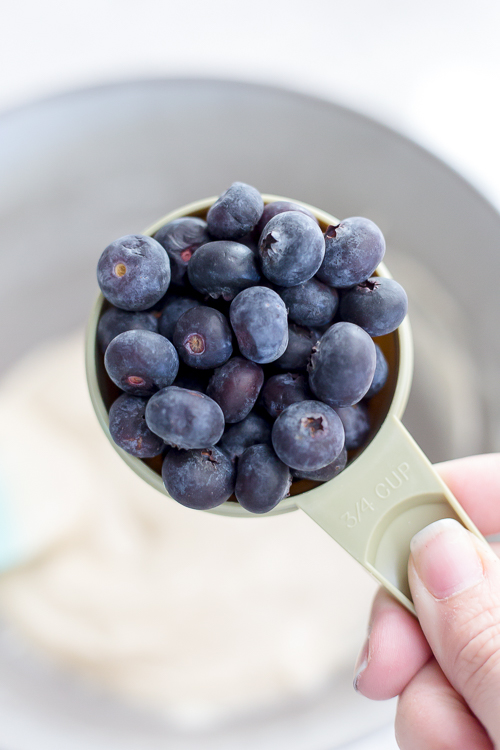 My oldest daughter is always asking for blueberry muffins. She loves when I add blueberries to our favorite Homemade Pancakes recipe and isn't a big fan of the chocolate chip muffins. (I know… weird, right?) I tried swapping blueberries for the chocolate chips in our usual recipe, but it didn't quite work like I wanted it to.
I've been on the hunt for a simple blueberry muffin recipe, but in order to make it in our weekly rotation the recipe needed to be super simple. That means small batch, common ingredients, and no stand mixer. This Blueberry Sour Cream Muffin recipe is the winner!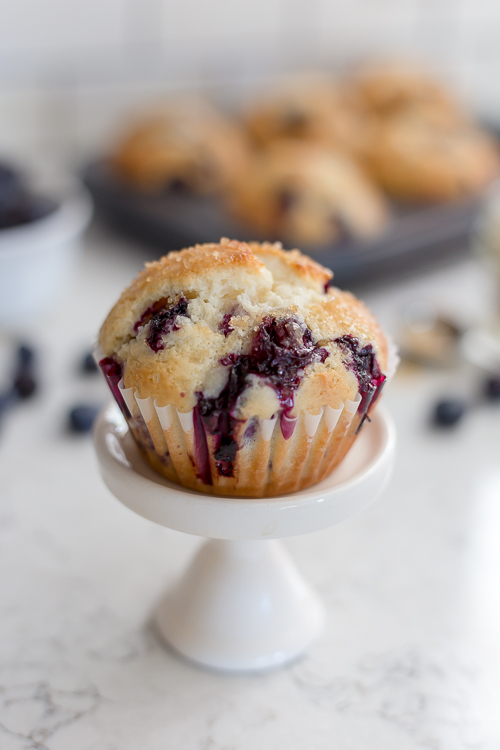 Blueberry Sour Cream Muffins
I started keeping sour cream on hand for these No Knead 7UP Biscuits, and because James likes to add it to tacos and the like. I don't personally like it plain, but it is THE SECRET to these moist, bakery-style muffins. It adds a tangy flavor and helps to activate the baking soda, adding to the fluff factor. Trust me on this, even if you don't think you like sour cream, it works in this recipe!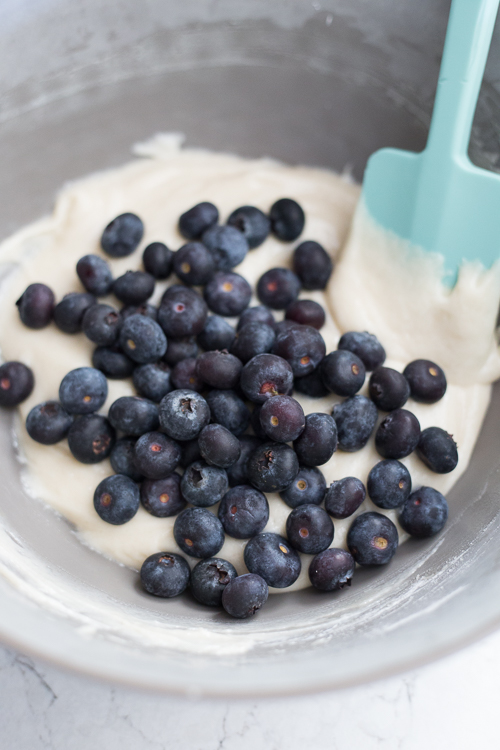 Why toss blueberries in flour?
Have you ever heard someone recommend you toss blueberries in flour before adding to prevent them from sinking in the batter while baking? I didn't want to do it simply because of the added work (remember: I'm looking for simplicity here, and that would require dirtying another bowl) and I'm glad I didn't after reading this post that debunks the flour myth all together.
Apparently it does still help to prevent the blueberries from bleeding into the batter, but I don't mind that when using fresh berries.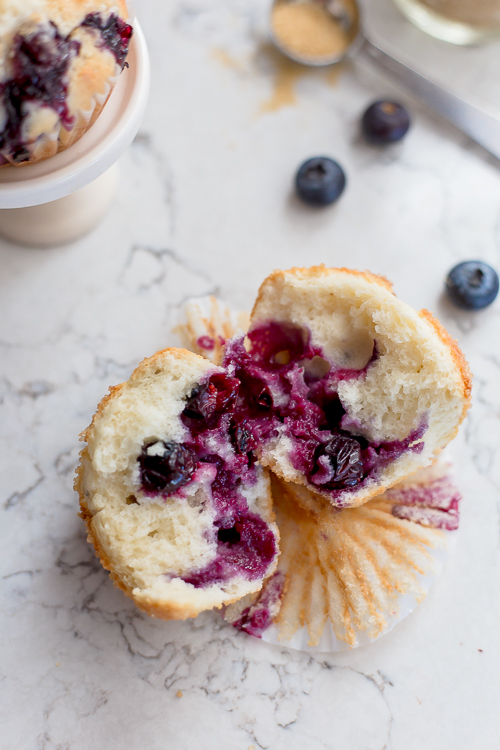 Another thing you will notice about this recipe is that you need to fill the muffin cups almost completely full. I use this 1/4 cup scoop to get a heaping scoop of batter for each muffin- it works perfectly and will result in happy little uniform muffins with a rounded dome.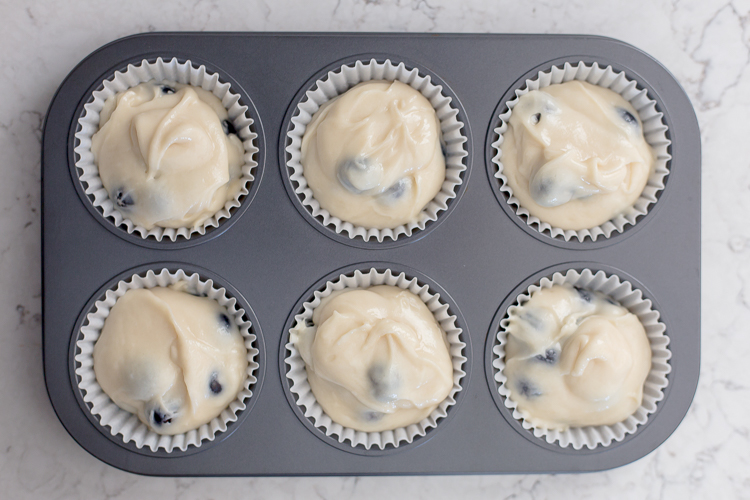 Sugar Topping for Muffins
The final secret to these Blueberry Sour Cream Muffins is to generously sprinkle the tops with turbinado sugar prior to baking. You could also use demerara sugar or sanding sugar- you want that coarse granule both for the texture and aesthetic.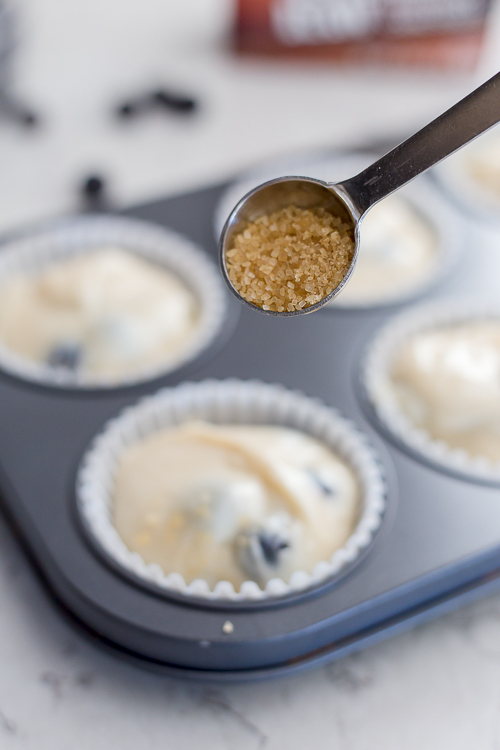 Can I use frozen blueberries in muffins?
Yes- as far as taste is concerned, frozen berries are a great option. Aesthetically speaking, frozen blueberries may bleed into your muffins causing them to look blueish-green (not the bursts of pretty bright purple like above).
I personally have not tested this recipe using frozen blueberries. You may try tossing them with flour to help prevent this issue or rinsing and drying them prior to adding if you're worried about it.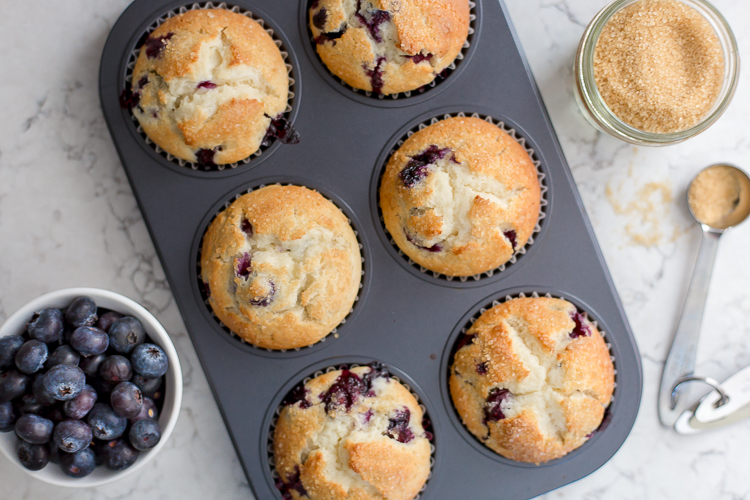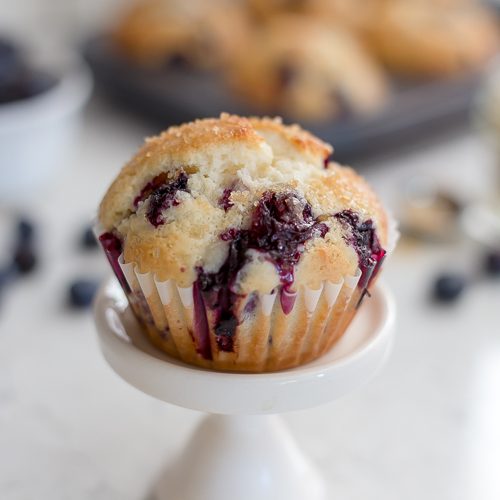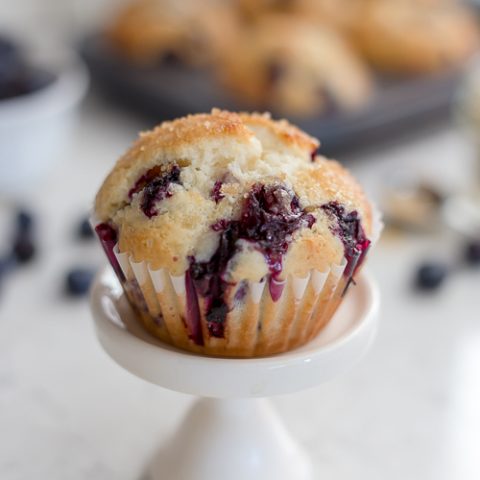 Blueberry Sour Cream Muffins
Blueberry Sour Cream Muffins that are moist, tangy, and bursting with blueberries. Sprinkle these muffins with coarse sugar for a delicious bakery-style breakfast at home.
Ingredients
1 cup flour
1/4 tsp baking soda
1/4 heaping tsp salt
1 egg
1/2 cup granulated sugar
1/4 cup vegetable oil
1/2 tsp vanilla extract
1/2 cup sour cream
3/4 cup fresh blueberries
Turbinado sugar
Instructions
Preheat oven to 375 degrees. Line muffin tin with six paper liners.
Stir together flour, baking soda, and salt. Set aside.
Whisk the egg continuously while gradually adding the sugar.
Continue whisking while slowly pouring in the oil until the mixture is well combined.
Whisk in the vanilla.
Add flour mixture alternately with the sour cream.
Gently fold in the blueberries.
Scoop the batter into the prepared muffin tin, filling each cup nearly full.
Sprinkle with turbinado sugar.
Bake for 20-25 minutes or until a toothpick inserted in centers comes out clean.
Cool in pan for 5 minutes before transferring to a wire rack to cool completely.
Nutrition Information:
Yield:

6
Serving Size:

1
Amount Per Serving:
Calories:

275
Total Fat:

14g
Saturated Fat:

3g
Trans Fat:

0g
Unsaturated Fat:

10g
Cholesterol:

42mg
Sodium:

168mg
Carbohydrates:

34g
Fiber:

1g
Sugar:

18g
Protein:

4g
The nutritional information is provided as a courtesy and is an estimate generated by a calculator.