How to make kimchi- a beginner's guide to making mak kimchi. Homemade kimchi is easier than you think using this simple recipe with step by step instructions on how to cut, salt, rinse, and season the vegetables.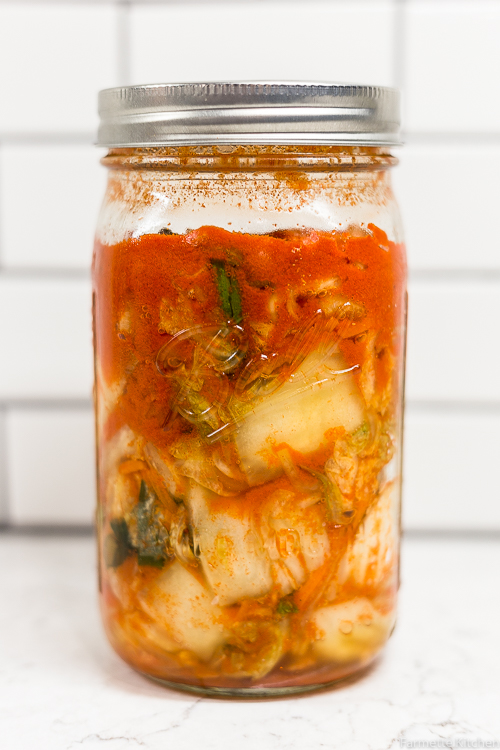 We were first introduced to kimchi during the wait to bring our son home from South Korea.  Learning about his birth country helped me to stay busy that year and was an opportunity to introduce our kids to a new culture. 
We started shopping at our "local" (1.5hrs away) Asian market and eating all.the.bulgogi.  My obsession with k-dramas began (why I learned to cook Curry Rice) and I couldn't wait to get my hands on a hot, fresh hotteok from a street vendor in Seoul.
It was during that time that we attended our first Korean festival in a small K-town community outside of Dallas and finally got the chance to try kimchi! I don't love pickled/fermented foods, so kimchi has been more of an acquired taste for me, but it was love at first bite for James.
What is Kimchi?
Kimchi is a Korean side dish made of salted, seasoned, and fermented vegetables served with nearly every meal.  Traditionally, this famous staple is made with napa cabbage and Korean radish that is seasoned with gochugaru (Korean chili powder), green onions, garlic, ginger, and fish sauce.  It's also super healthy, great for your gut (probiotic), and full of vitamins, minerals, and fiber.
What Does Kimchi Taste Like?
Kimchi is... unlike anything else. It's sour, spicy, and savory. It might be salty or sweet. The flavor varies widely based on the recipe, amount of seasoning, length of fermentation, and even based on the vegetables used. Kimchi made with cabbage might be quite strong whereas one made with cucumber will be lighter.
You can expect intense garlic and fishy umami notes. It will be sour from the fermentation (as the lactic acid produced by bacteria during fermentation creates a tangy, pungent flavor; think sour kraut) and range from mildly spicy to very spicy depending on the amount of red pepper used (which gives kimchi it's signature red color).
Kimchi Ingredients
The ingredients in kimchi vary widely, even in Korea, based on the regional flavors. Some prefer to use shrimp to aid the fermentation, while some sub the fish sauce for a soy sauce mixture to make it vegan.
We purchased all of the ingredients at Hmart (an Asian grocery store) but you can find the vegetables at your local grocer and order the speciality items like the fish sauce, sweet rice flour, and gochugaru on Amazon.  Note that the napa cabbage was much cheaper at the Asian grocery store (about $0.59 a pound) than our regular grocery store. 
For this homemade mak kimchi recipe, you will need:
napa cabbage
coarse salt
sweet rice flour
brown sugar
Korean radish (not to be confused with red radish or daikon)
carrot
green onion
ginger root
garlic cloves
yellow onion
fish sauce
Korean red pepper chili powder (not to be confused with crushed red pepper flakes)
Korean red pepper chili is available in powder and flake, but it is NOT the same thing as crushed red pepper flakes. My friend told me that pepper flakes are used more often during the summer and that the powder will make the kimchi more red. It seems that many restaurants opt to use powder to prevent the flakes from getting stuck in their customer's teeth. We had powder on hand, so that is what we went with for this recipe.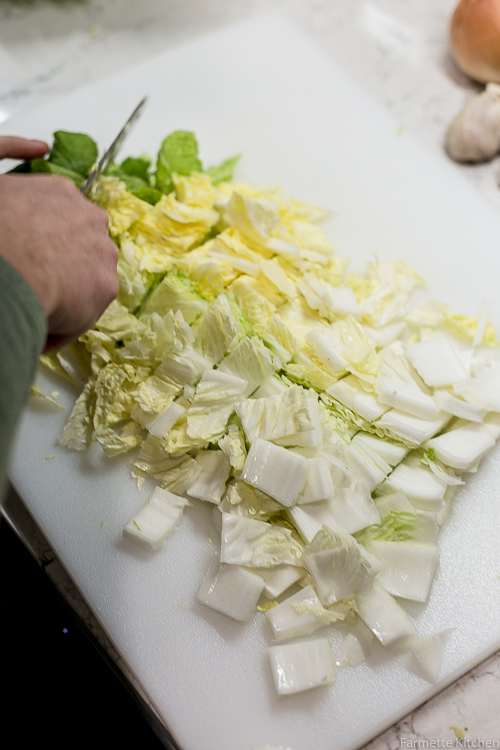 How to Make Mak Kimchi
Mak kimchi differs from traditional kimchi in the method of preparation. Pogi kimchi is made by quartering napa cabbage, salting for several hours, and carefully stuffing each leaf of the quartered cabbages. To serve, the cabbage quarter is then cut into bite-sized pieces.
When making mak kimchi, you will cut the cabbage into smaller, bite-sized pieces first thus requiring less salting and fermentation time.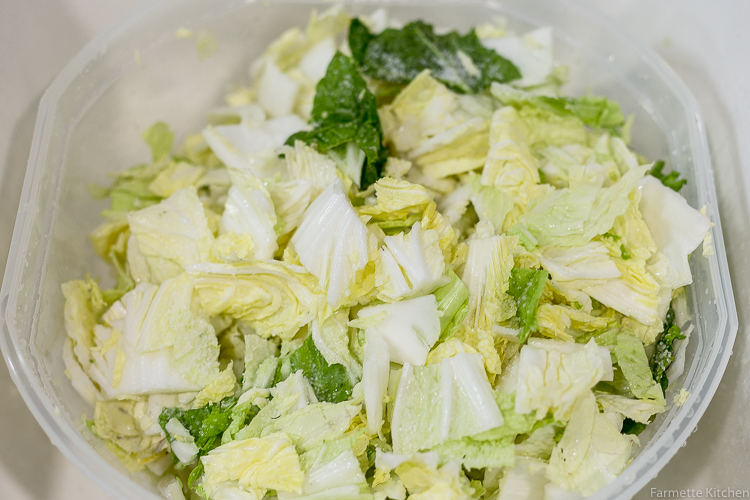 After you chop the cabbage, you will need to draw out the water using salt. You will want to use a coarse salt without additives (like anti-caking agents). If you use fine salt, be sure to cut the amount by at least a ¼. The salt helps to draw out the liquid but you don't want to use too much or it can make the end result too salty.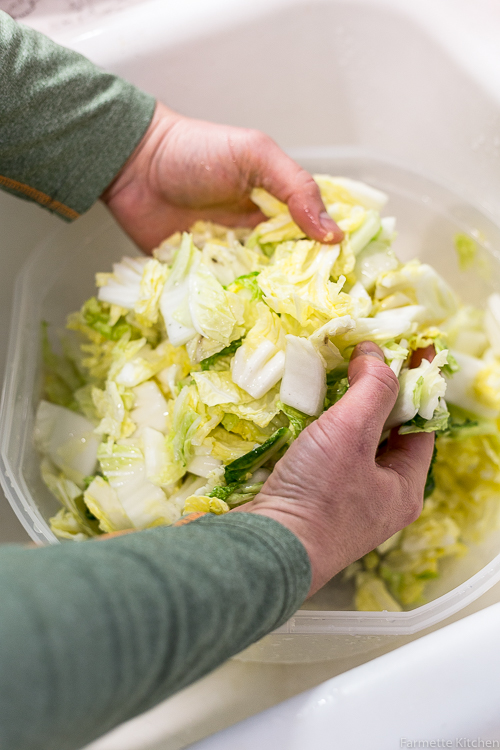 Every 30 minutes, turn the cabbage over to salt evenly but don't drain anything off at this time (total salting time will be 1.5 hours). Once this is finished, you will need to rinse the cabbage thoroughly (three times) in cold water before draining and setting aside.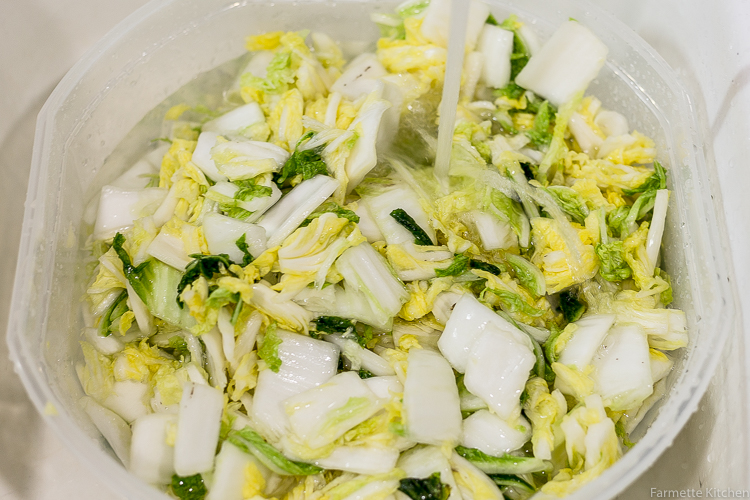 Next, you will need to make a rice flour porridge mixture.  This will need to be fully cooled before adding, so start on this while your cabbage is salting.  The porridge helps aid in fermentation but also helps the red pepper powder stick to the vegetables.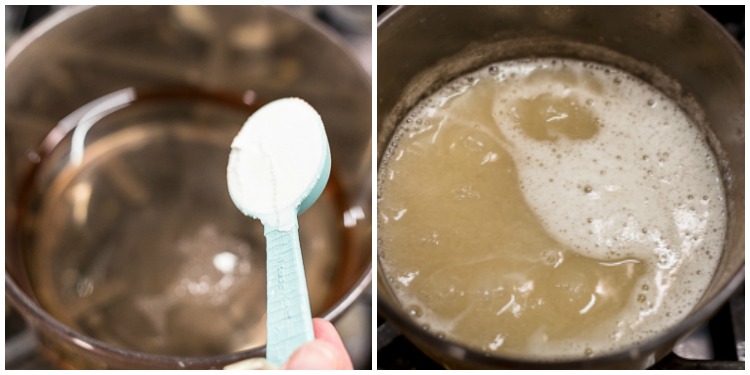 While the porridge is cooling, you will chop the rest of the vegetables. The carrot and Korean radish needs to be julienned (think matchsticks), while the green onion will be chopped (discarding the bulb at the end). Toss these in a bowl and set aside.
This is the tool I use to to julienne - makes it SO easy!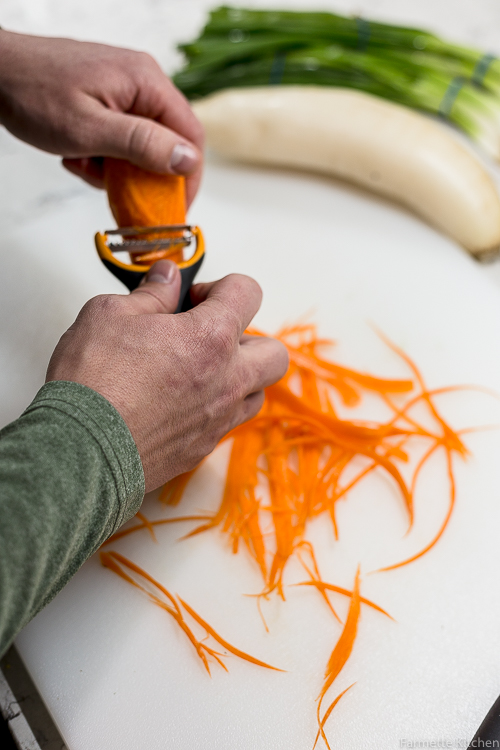 After the vegetables are chopped, start on the fish sauce mixture. It is best to use a blender or food processor. Combine the garlic, ginger, onion, and fish sauce and blend into a smooth, thick paste.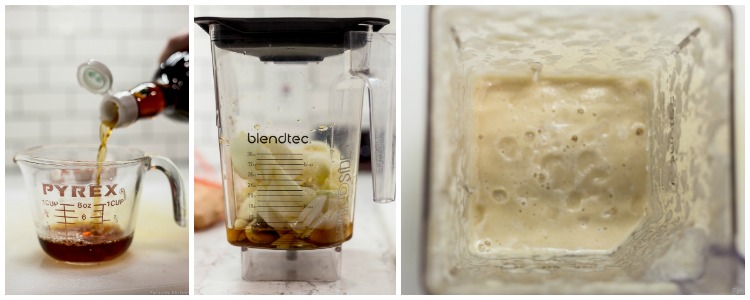 How to Make Kimchi
Now that the cabbage has been salted and rinsed, the porridge is cooled, the vegetables are prepared, you are ready to combine. In a very large bowl, add the porridge and fish sauce mixture. Stir these two together and then add in the gochugaru. This will be when you decide how spicy you want your kimchi.
For this homemake kimchi recipe, we used a scant 1 cup of powder and it has a nice approachable heat. James mentioned he might bump this up to a full cup next time.
Once these ingredients are combined, mix in the chopped vegetables (carrot, radish, and green onion). Finally, attempt to drain the cabbage one last time before adding it into the bowl. James used a spatula up until the point of adding the cabbage, where it's best to switch to using your hands. Be sure to wear gloves!!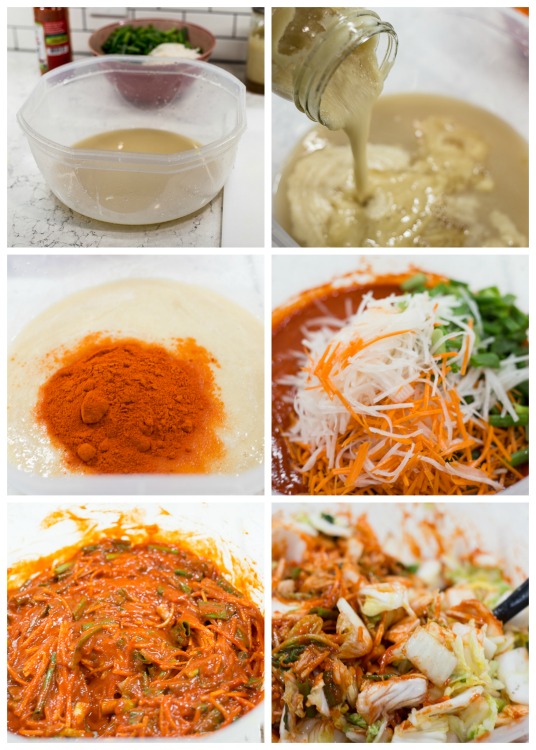 This recipe fits perfectly in five 32oz wide mouth mason jars.  You want to use a container with a good seal to prevent your entire house from smelling like kimchi.  Distribute the kimchi evenly between the jars; use a fork to push the vegetables down in an effort to remove as much air as possible.  Ensure that the vegetables stay well below the liquid while also leaving space at the top for expansion while it ferments. 
We let our kimchi sit (sealed) at room temperature for 2 days which resulted in a nice sour flavor (you can leave it out an additional day if you prefer). After the first 24 hours, you will see air bubbles throughout. Open the jars and use the back of a fork to push the vegetables down to release the air bubbles.
After another 24 hours, push the vegetables down again before placing the jars in the refrigerator. Each time that you take kimchi from the jar, you will repeat the process of pushing the vegetables back down below the liquid.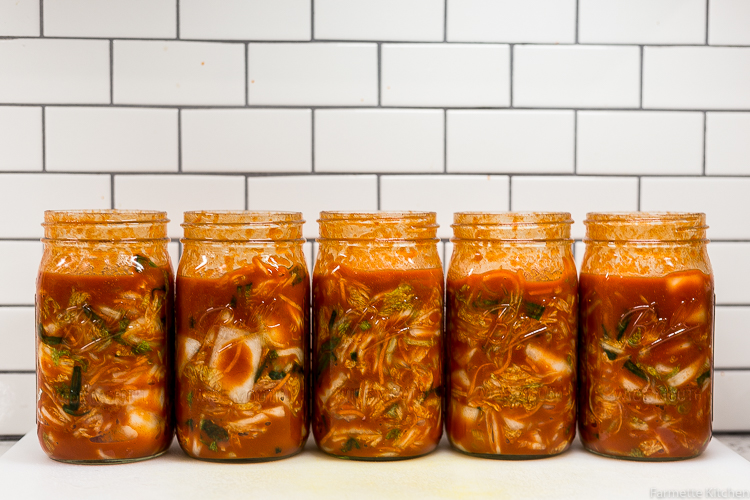 How long does kimchi last?
This mak kimchi does not last as long as traditional pogi kimchi (which lasts ... kind of forever ha-ha) because of the shorter fermentation and salting process. This recipe will last about 2-4 weeks in the refrigerator, but will continue to sour as time passes.
How to eat kimchi?
When ready to serve, pull out the desired amount from the jar and remember to shove the rest back down below the liquid. James enjoys kimchi as a side dish often, with salad or grilled chicken or whatever else we're having. I mainly eat mine with Asian dishes. We had kimchi dumplings (mandu) in Korea that were delicious.
If your kimchi has turned too sour to eat alone, you can use it to make kimchi jjigae (kimchi stew) - it is a great way to use up aged kimchi!
More Korean Inspired Recipes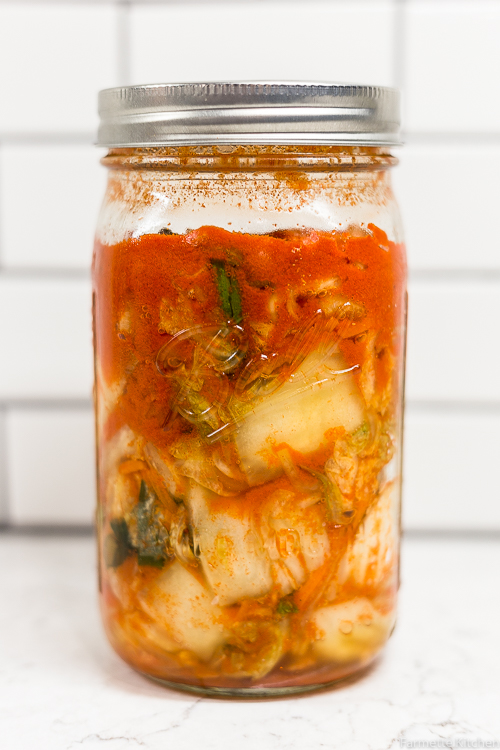 Mak Kimchi
Prep Time:
1 hour
45 minutes
Fermentation Time:
2 days
Total Time:
2 days
1 hour
45 minutes
How to make kimchi- a beginner's guide to making mak kimchi.  Homemade kimchi is easier than you think using this simple recipe with step by step instructions on how to cut, salt, rinse, and season the vegetables.
Ingredients
6lbs napa cabbage
½ cup coarse salt
2 cups water
2 tbsp sweet rice flour (glutinous rice flour)
2 tbsp brown sugar
2 cups Korean radish
1 cup carrot
2 cups green onions
24 garlic cloves
2 tsp ginger root
1 medium yellow onion
½ cup Korean fish sauce
1 cup Korean red chili powder (gochugaru)
Instructions
Quarter the cabbage and discard the root. Chop the cabbage into bite-sized pieces. (Roughly 1.5in x 1.5in)
Add to a large bowl, sprinkle the full amount of salt over the cabbage. Toss the cabbage to coat evenly as you sprinkle. Set aside. Toss again every 30 minutes for a total of 1.5 hours.
Add the rice flour and water to a medium pot. Bring to a boil over medium heat, stirring occasionally to prevent the rice flour from sinking and burning. When the mixture begins to boil, add the sugar and continue stirring while it boils gently for 8-10 minutes. Once the mixture turns shiny and thickens, remove from heat and set aside to cool completely.
Julienne the radish and carrot. Chop the green onions about 1in long. Add to a medium bowl and set aside.
Peel the garlic cloves and ginger and add to a blender jar. Toss in the onion and fish sauce. Blend well. Set aside.
After the cabbage has salted for 1.5 hours, rinse (3x) and drain thoroughly.
Add the cooled porridge, the fish sauce mixture, and the gochugaru to a large bowl and mix well. Add in the julienned vegetables and green onions; mix well. Drain the cabbage one last time and add to the bowl, tossing with gloved hands to combine.
Distribute the kimchi evenly between five wide mouthed mason jars. Use a fork to push the vegetables down below the liquid and remove air pockets. Seal and allow to sit at room temperature.
After 24 hours, open the jars and use a fork to push the vegetables down again removing air bubbles. Seal and continue to rest at room temperature.
After another 24 hours, open the jars and use a fork to push the vegetables down again removing air bubbles. Move the jars to the refrigerator for storage up to 2-4 weeks.
Notes
Each time you remove kimchi from the jar, use a fork to push the vegetables back down below the liquid.
Note: Keep in mind the nutritional facts are only a guesstimate and the sodium level is very misleading as the salt is rinsed off of the cabbage.
Recommended Products
As an Amazon Associate and member of other affiliate programs, I earn from qualifying purchases.
Nutrition Information:
Yield:

35
Serving Size:

1
Amount Per Serving:
Calories:

34
Total Fat:

1g
Saturated Fat:

0g
Trans Fat:

0g
Unsaturated Fat:

0g
Cholesterol:

0mg
Sodium:

2061mg
Carbohydrates:

7g
Fiber:

2g
Sugar:

2g
Protein:

2g
The nutritional information is provided as a courtesy and is an estimate generated by a calculator.