Roasted Tomatillo Salsa made with tomatillos, serrano peppers, onion, garlic, and cilantro. Make this delicious salsa verde to eat with chips, spoon over eggs, or add to chicken tacos.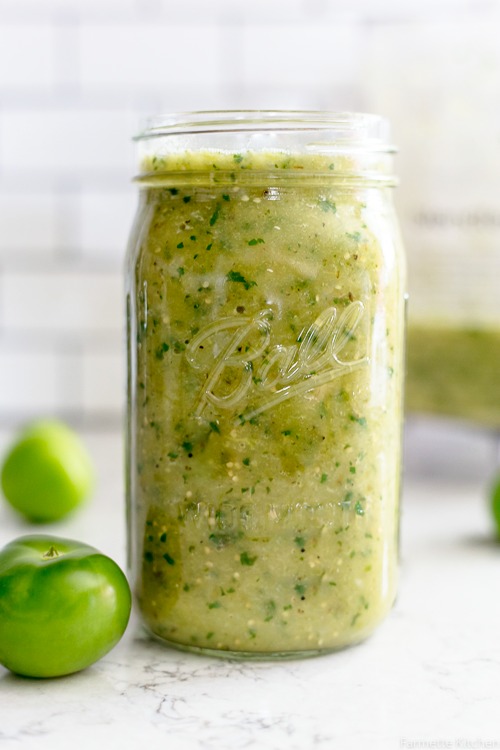 James came home from the fire station a few weeks ago raving about this roasted tomatillo salsa that they had while he had been on shift. Apparently they found some in the refrigerator, discovered it was delicious, and started asking around from the previous shifts to find out who made it. They got their hands on the recipe and made it that same day.
James rarely goes on and on about a recipe, except for maybe my pecan pie or homemade waffles, so I knew this had to be a winner.
Roasted Tomato Salsa Ingredients
He then made a special trip to the store after getting off shift just to buy the ingredients so we could make this at home. For this roasted tomatillo salsa you will need:
tomatillos
serrano peppers
garlic
onion
chicken bouillon
cilantro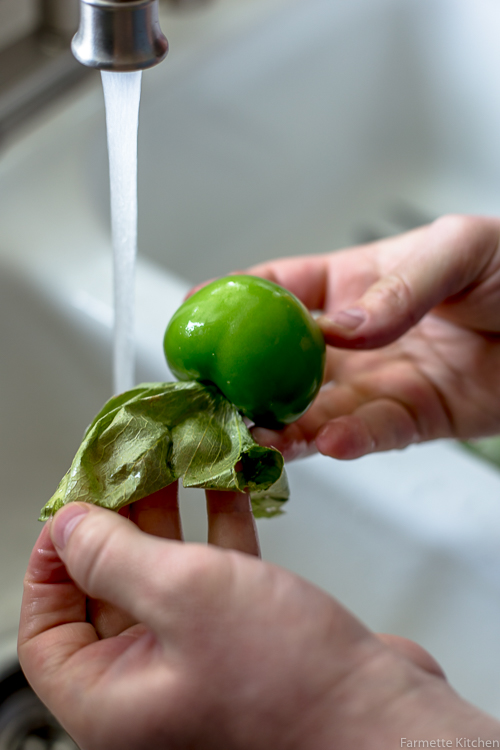 How to Husk a Tomatillo
Tomatillos look like green, unripe tomatoes with a dry, leafy husk that wraps around the outside.  Before cooking the tomatillo, you need to remove the papery exterior. 
To remove the husks, simply peel them back from the smooth green skin by hand.  Be sure to wash the flesh before cooking to get rid of any sticky film left by the husks.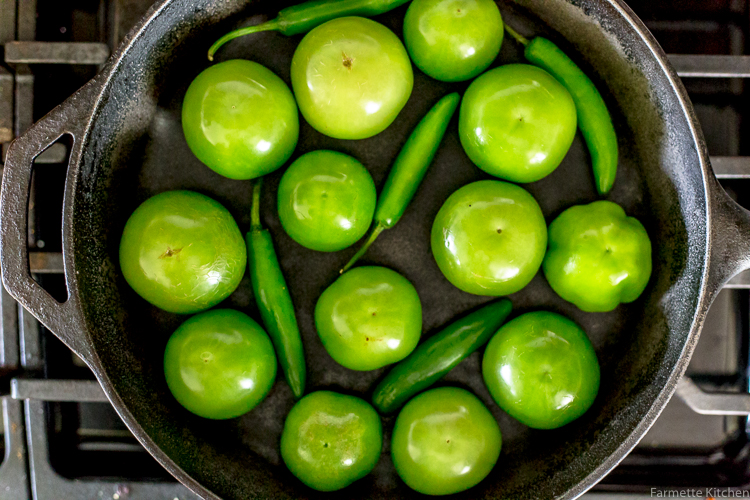 How to Roast a Tomatillo
After you have removed all the husks and washed the tomatillos, add them to a large skillet in a single layer. I like to dry roast mine (with the serrano peppers) using a heavy cast iron skillet over medium heat for 15 minutes. Make sure to turn them over frequently to prevent burning and promote even cooking.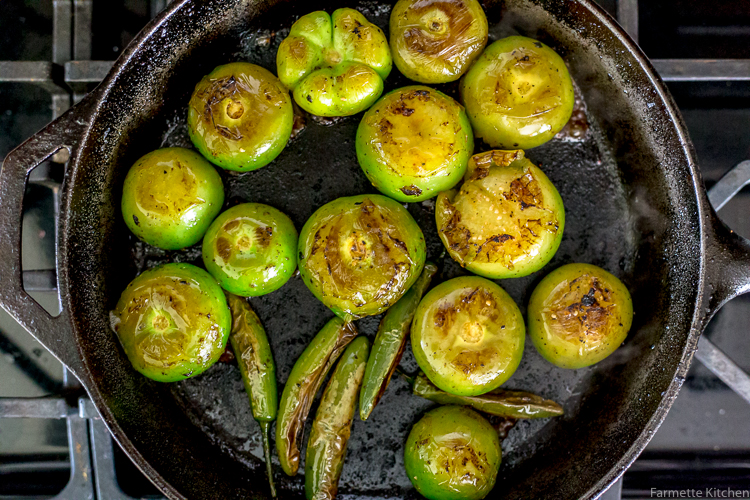 The tomatillos and peppers are done when the exteriors have slightly charred and changed colors. You want them to be soft and pale throughout.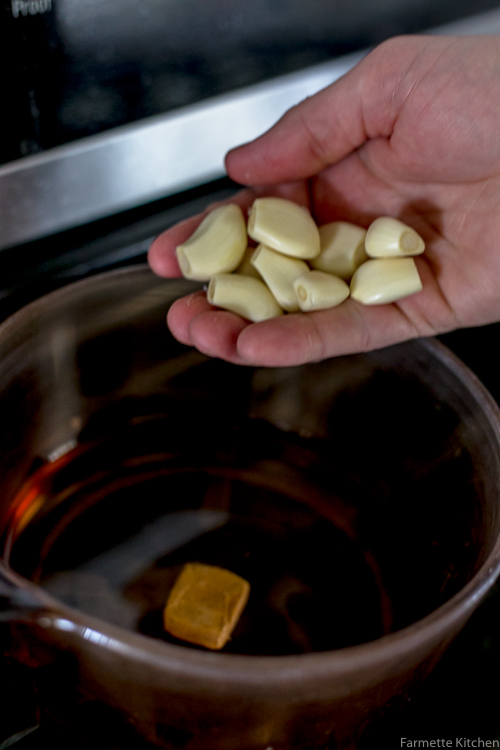 While the tomatillos and peppers are roasting, start the pot of water with garlic and chicken bouillon. I used a Knorr extra large cube but you could also use 2 tbsp of the granules.
If you don't want to use chicken bouillon, you can substitute the water for chicken broth, though the flavor won't be quite as strong and you may also need to add a little more salt to taste at the end.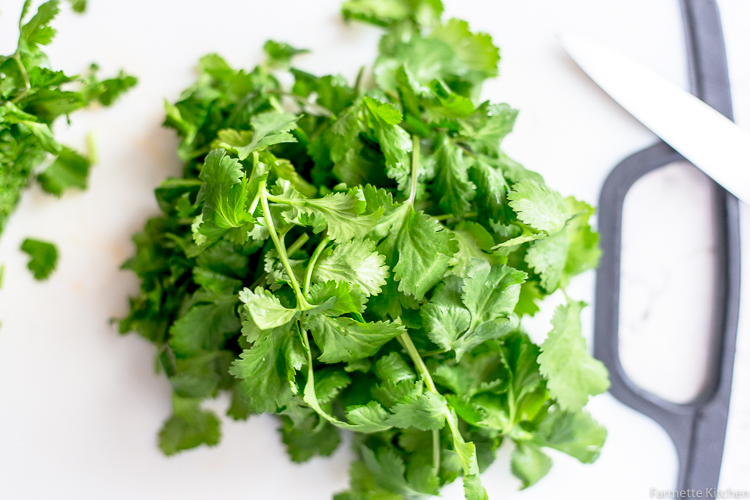 We love cilantro so I don't worry too much about measuring here. I chopped off the leaves from a small bunch, roughly a large handful. Cilantro is one of those things that's difficult to measure. If I had to put a number to it I would say around a ¼ cup.
No need to chop this as it is going straight into the blender with the other ingredients.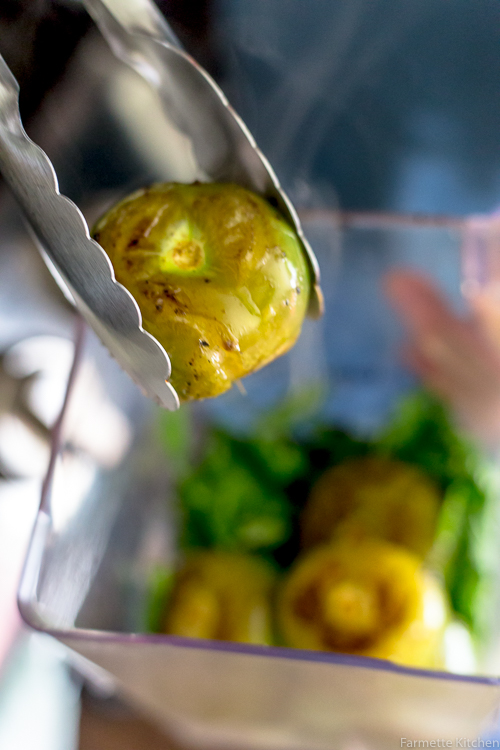 Toss everything into a blender once it is all done cooking. I use a powerful Blendtec Blender, so the order and size of ingredients doesn't matter for me. You may need to pre-chop if that's going to be an issue for your blender.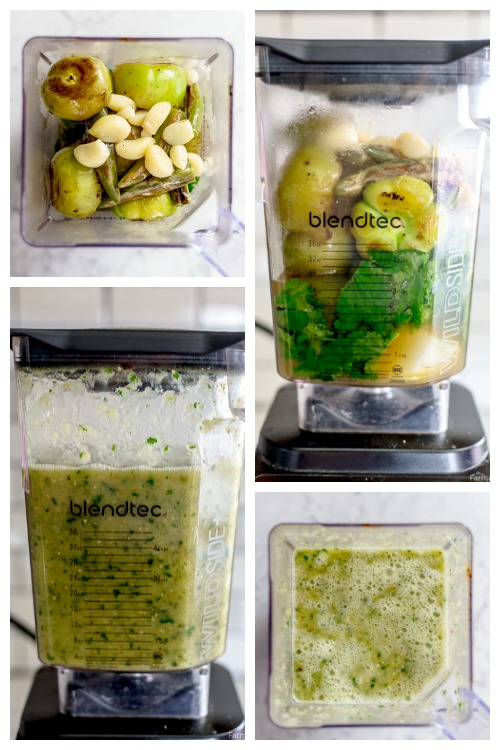 Salsa Verde
We absolutely love this recipe. I will warn you- it is pretty spicy. We made it with six serranos the first time and almost couldn't eat it because it was burning our mouths (in the most delicious way) with every bite. We scaled back to four but don't let that fool you- it still packs some heat.
We eat our fill straight from the blender and then save the rest for making salsa verde chicken in the pressure cooker.  This would also be delicious with chicken enchiladas!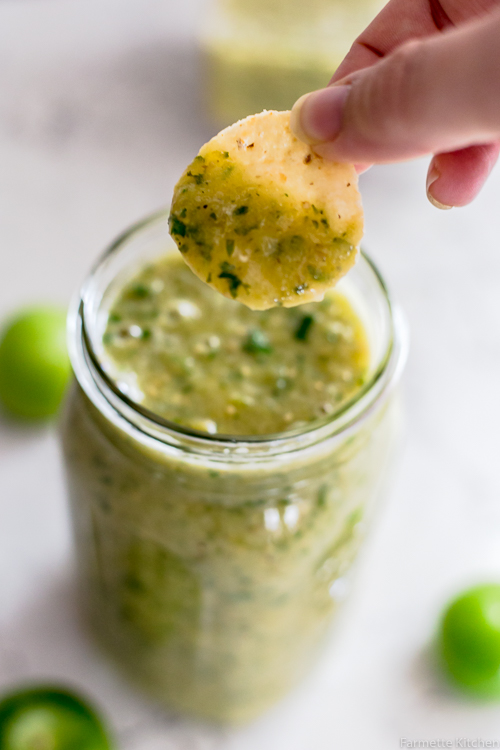 More Salsa Recipes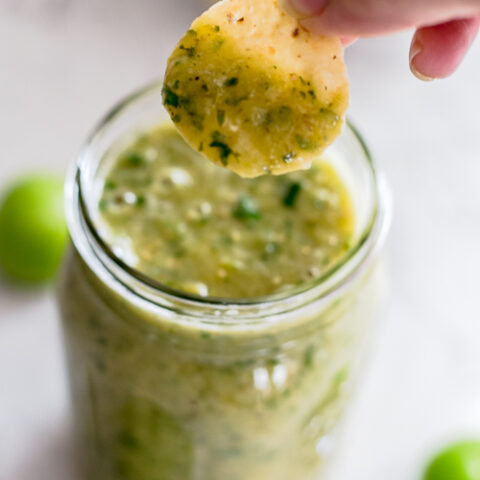 Roasted Tomatillo Salsa
Roasted Tomatillo Salsa made with tomatillos, serrano peppers, onion, garlic, and cilantro.  Make this delicious salsa verde to eat with chips, spoon over eggs, or add to chicken tacos.
Ingredients
8-12 tomatillos, husks removed
4 serrano peppers, stems removed
1 cup water
2 tbsp chicken bouillon (or 1 extra large bouillon cube)
1 whole head of garlic, peeled
¾ white onion, quartered
1 handful cilantro
½ tbsp Kosher salt
Instructions
Remove the husks from 8-12 tomatillos. (Count depends on size.)
Add whole tomatillos and 4 serrano peppers to a large skillet over medium-high heat. (I use cast iron.)
While those are roasting, add 1 cup water and the chicken bouillon cube to a separate pot over medium heat.
Peel the garlic and add to the pot. Cover and cook for 15 minutes.
Peel and quarter an onion. Add ¾ of the onion and a decent amount of cilantro to a blender. (I use a large handful, see picture above.)
After the tomatillos and serranos are softened and slightly blackened, add to blender.
Add the chicken bouillon/garlic water to the blender along with the ½ tbsp salt.
Pulse until chunky or desired texture.
Notes
This roasted tomatillo salsa should keep well in the refrigerator, covered, for at least 1 week.
Recommended Products
As an Amazon Associate and member of other affiliate programs, I earn from qualifying purchases.
Nutrition Information:
Yield:

12
Serving Size:

1
Amount Per Serving:
Calories:

22
Total Fat:

1g
Saturated Fat:

0g
Trans Fat:

0g
Unsaturated Fat:

0g
Cholesterol:

0mg
Sodium:

534mg
Carbohydrates:

4g
Fiber:

1g
Sugar:

2g
Protein:

1g
The nutritional information is provided as a courtesy and is an estimate generated by a calculator.