Instant Pot Corn on the Cob - the easiest way to make corn on the cob! Tender and juicy corn on the cob that cooks in two minutes and is full of flavor.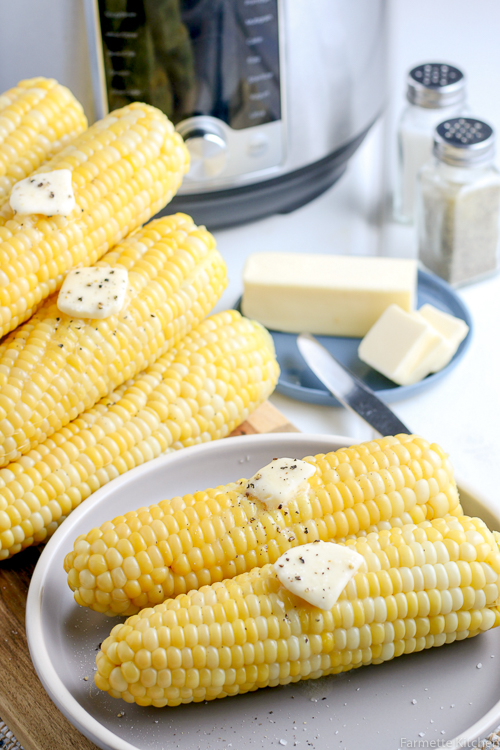 Corn on the cob is one of my favorite summertime treats. It's a quick side dish and pairs easily with so many other seasonal foods like grilled chicken or smoked brisket. It's always been kind of a pain to cook though; I can never remember to start the water to boil with enough time and I feel like it gets tough in the microwave.
This Instant Pot Corn on the Cob solves all of my problems! Tender, juicy, corn that only takes two minutes to cook. (It doesn't take long to reach pressure, either!)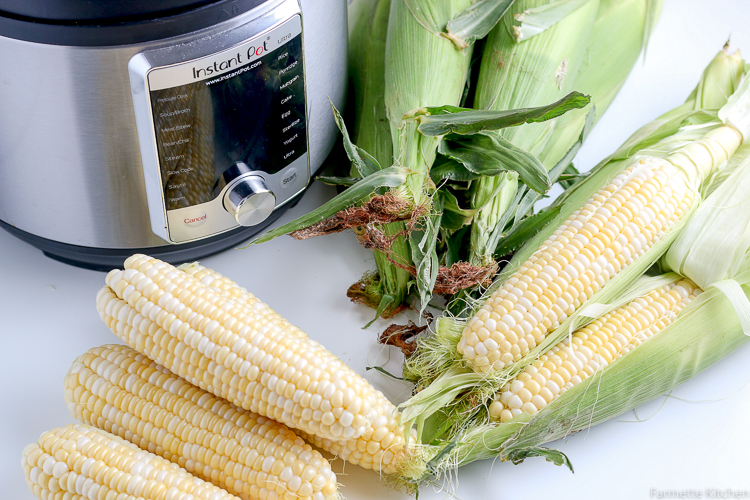 What's in this Instant Pot Corn on the Cob?
Well, you guessed it: corn on the cob (husked and cleaned). Some prefer to boil the corn in a salted butter bath, and while that may result in a slightly richer flavor infused into the corn, I prefer to just add mine on after when the corn is piping hot.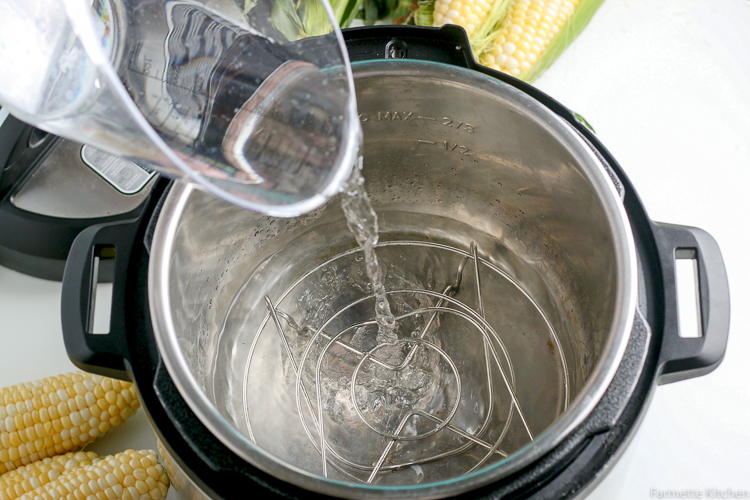 How to make corn on the cob in the Instant Pot?
To make this recipe, you will need a pressure cooker and a trivet. This should have came with your Instant Pot, but you can also buy a trivet online. I use mine ALL the time.
Go ahead and buy a new set of sealing rings as well- this comes in handy when switching between savory recipes and sweet ones- like my Instant Pot Applesauce.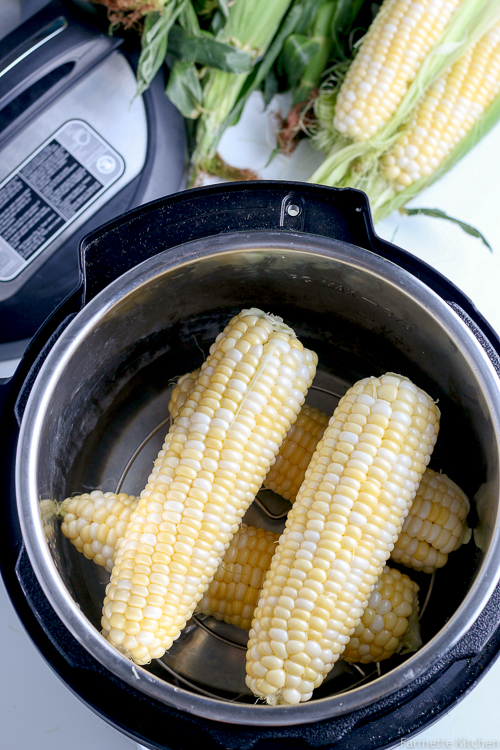 After you put the trivet and water in the pot, add the corn. It's okay to overlap them like shown above. If you're making a lot, you can stack them vertically. I've never made more than four at a time though.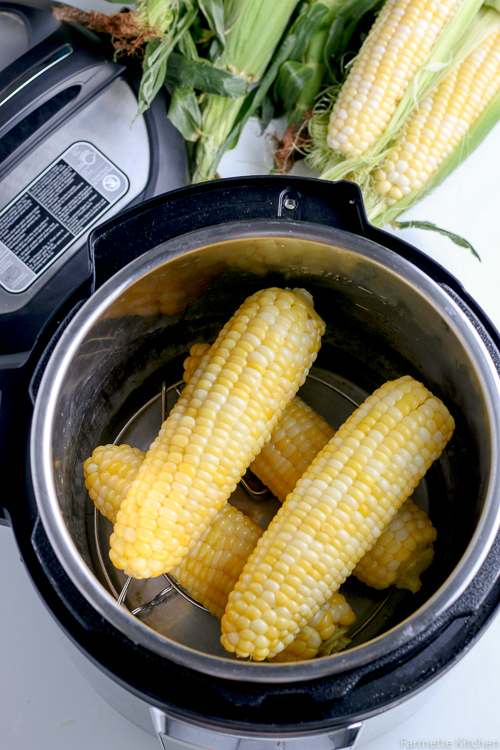 After a quick two minute cook time, the corn will be bright and juicy! I have found that it doesn't retain as much heat as it would being microwaved or boiled, so it's best to serve and enjoy right away.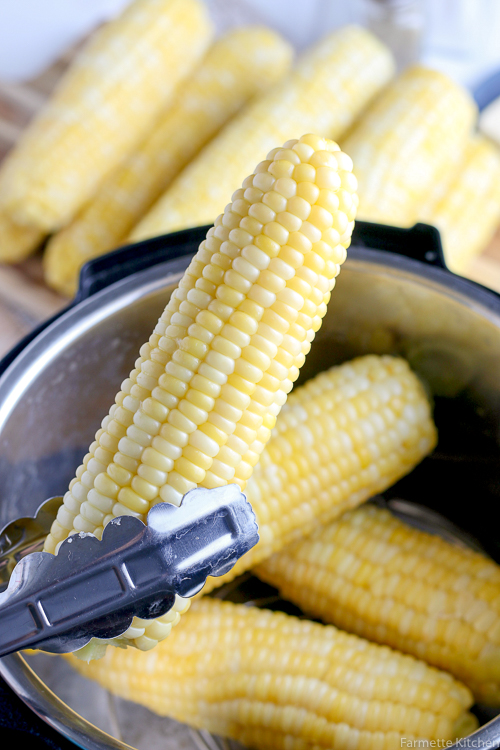 How to Serve Corn on the Cob
I like to slather mine with a generous amount of salted butter and a quick sprinkle of pepper- reminds me of my favorite Creamed Corn. You could also add Parmesan, crema, cajun seasoning, etc!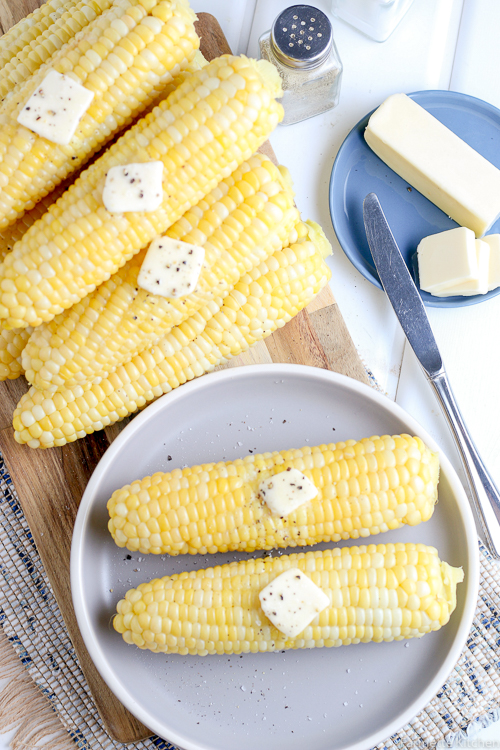 I also have to have corn holders. As much as I love corn on the cob, if there are no holders I will refrain from eating it. Some people are weird about eating certain textures, like bananas, I draw the line at holding slippery corn with my fingers- ha.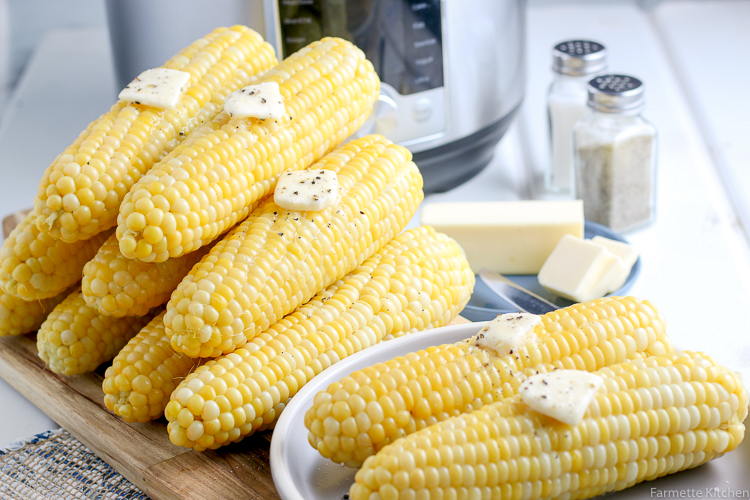 I give our leftover corn cobs to the chickens and they LOVE them!! I give them a quick rinse to wash off any extra butter or salt and then toss it out to them. They go to town pecking it clean. One night we even found the bare cob in their coop-- the thought of them carrying it all the way up there cracks me up.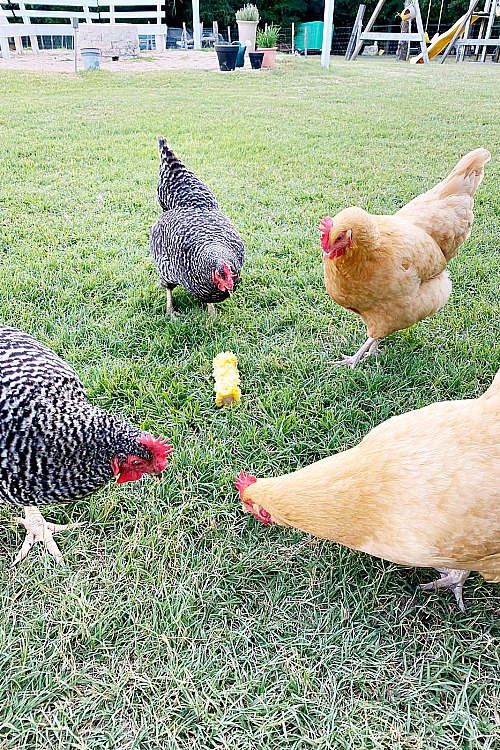 More Instant Pot Recipes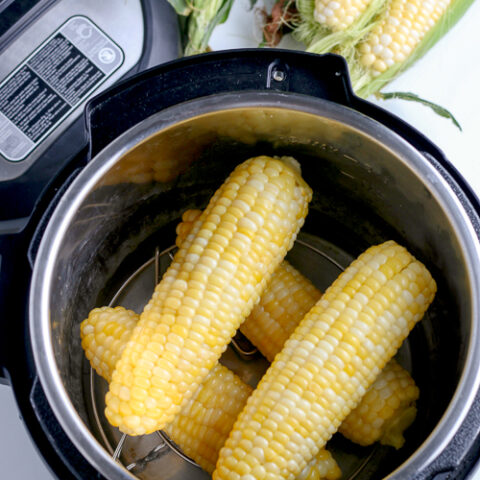 Instant Pot Corn on the Cob
Instant Pot Corn on the Cob - the easiest way to make corn on the cob!  Tender and juicy corn on the cob that cooks in two minutes and is full of flavor.
Ingredients
Corn, husked and cleaned
1 cup water
Instructions
Clean corn and remove silks.
Pour water into Instant Pot.
Place trivet into pot.
Add corn to pot.
Close lid and set to high pressure for 2 minutes.
When done cooking, immediately release the pressure.
Open lid and carefully remove hot corn.
Serve immediately with your favorite toppings.
Recommended Products
As an Amazon Associate and member of other affiliate programs, I earn from qualifying purchases.
Nutrition Information:
Yield:

4
Serving Size:

1
Amount Per Serving:
Calories:

25
Total Fat:

0g
Saturated Fat:

0g
Trans Fat:

0g
Unsaturated Fat:

0g
Cholesterol:

0mg
Sodium:

3mg
Carbohydrates:

5g
Fiber:

1g
Sugar:

1g
Protein:

1g
The nutritional information is provided as a courtesy and is an estimate generated by a calculator.
Find More Recipes
This recipe is part of my Instant Pot Recipes for Beginners series. Check it out!