After working through some Instant Pot Recipes for Beginners, you will soon learn that making soup is a great way to utilize the Instant Pot! Cooking soup under pressure helps to tenderize tough cuts of meat in no time and infuse flavors that you would typically only get from hours of simmering.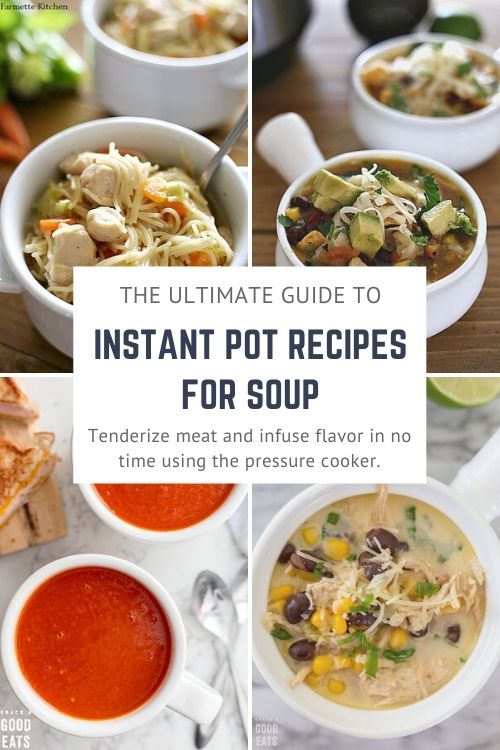 This collection of Instant Pot Recipes for Soup includes everything from chicken, beef, pork, and vegetarian. Whether you're looking for a hearty meal or a light soup to serve as a side, you're sure to find it here!
I've compiled over 50 different soup recipes, so make sure you bookmark or pin this post for later.
Jump to: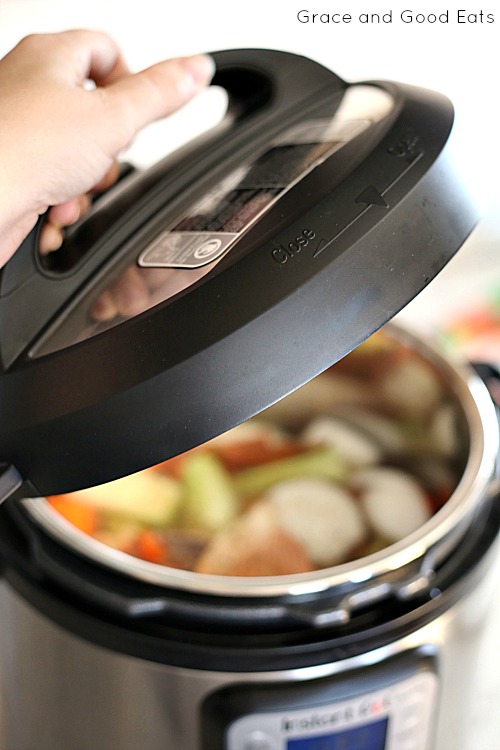 Equipment and Gear
Of course, if you are going to make these Instant Pot Soup recipes, you will need a pressure cooker. I have both the 6 Quart Instant Pot and the 3 Quart Instant Pot Mini and I love them both. The mini is perfect for camping!
For blending: If you want to make blended soups, like Creamy Tomato or Butternut Squash, you will also want an immersion blender.
For serving: Be sure to also grab a few silicone spatulas and ladles to prevent scratching your inner pot.
For leftovers: These reusable containers are my favorite way to store leftover soup.
For cleaning: Bar Keepers Friend is the secret to keeping your inner pot looking shiny and new!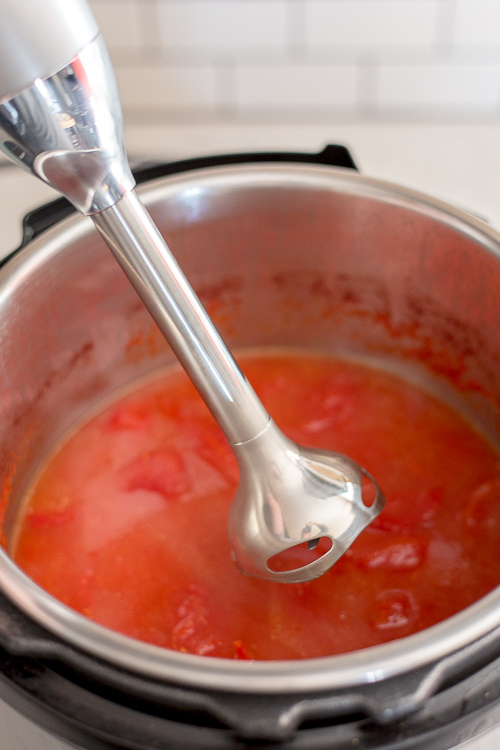 What is the Instant Pot Soup setting?
Let's get this out of the way right from the start. Most pressure cookers will come with different preset buttons and settings, depending on the make and model. The soup function is designed to cook soup without burning or scorching the bottom.
That said, not all Instant Pot Recipes for Soup will utilize the soup button. This is because most vegetables, including potatoes, do not need to cook for 20-30 minutes under pressure. This post details more information about all of the Instant Pot settings and buttons.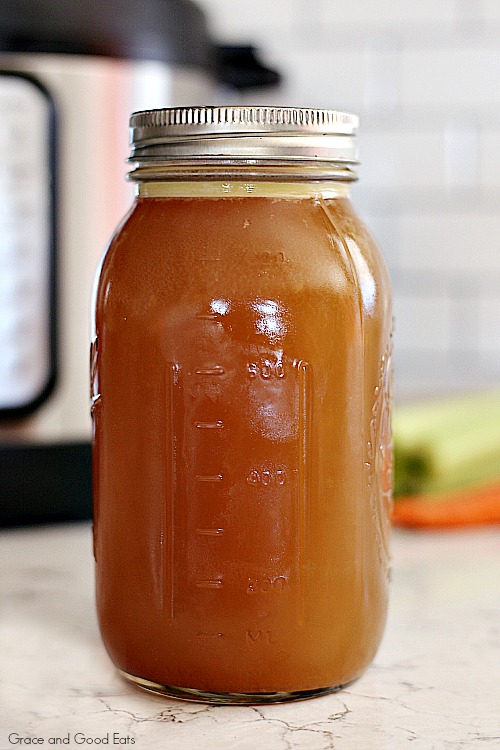 Tips and Tricks
Many of these Instant Pot Soup recipes will call for chicken broth, you can make Homemade Bone Broth in the Instant Pot as well. It is SO much tastier than the store bought version!
Be careful not to turn your beans and pasta to mush. Read recipes carefully, many will suggest that you add the beans and pasta (like this Chicken Noodle Soup) after the pressure cooking to prevent them from turning soggy and overcooked.
If your soup recipe calls for onions, you might want tot use the sauté setting first before cooking the soup (like in this French Onion Soup). This will result in a much more flavorful final product!
How to Release Pressure
Be careful when you release the pressure - some recipes will call for a quick release (where you manually turn the knob to release the pressure) and some will call for a natural release (where you leave it alone after the cooking time has passed until the pressure fully releases). If you quick release, there is a high probability that the soup will splatter so be prepared.
How to Thicken Soup
If your soup is too runny and needs to be thickened, most recipes will use cornstarch or a roux with flour. Read the recipes carefully, because this typically needs to be done after the pressure cooking. Set the Instant Pot to sauté and quickly stir in the thickening agent.
How to Reheat Soup in the Instant Pot
Not only can you cook your soup in the Instant Pot, but you can also use it to reheat soup - just use the sauté button and be sure to stir it regularly to prevent scorching.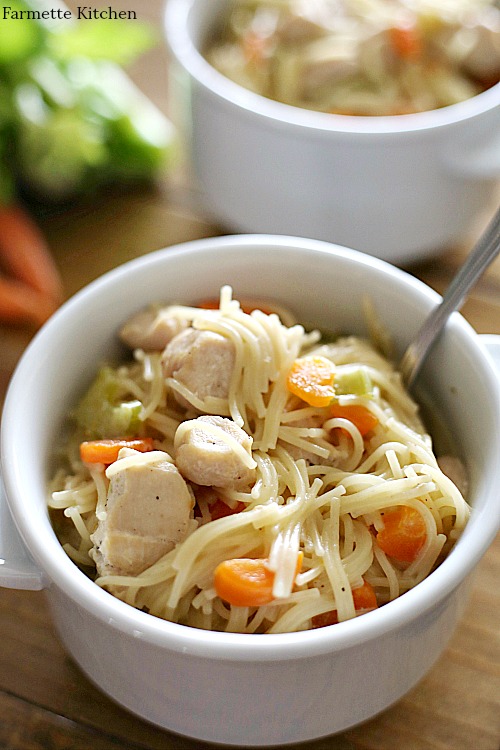 Soup Recipes with Chicken
Soup Recipes with Beef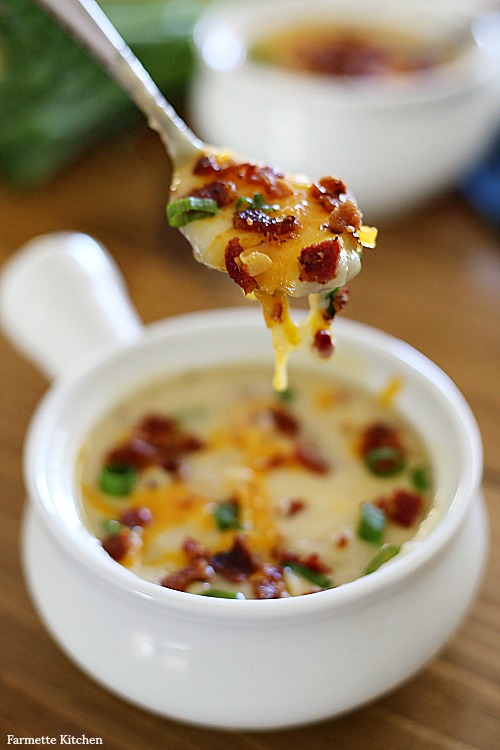 Soup Recipes with Pork
Vegetarian Soup Recipes
Share this Guide!
Be sure to pin this Ultimate Guide to Instant Pot Recipes for Soup and share it with your friends.
Additionally, if you have a recipe that you think would be a good fit for this guide (and isn't already mentioned above), please send me an e-mail.