We started researching the home build process not long after we purchased our land in August 2019. Neither of us had ever built from the ground up before, so we had questions about everything from choosing a builder, designing the floor plan, and obtaining the construction loan.
Of course I immediately started a Farmette Homestead Pinterest board to pin all things modern farmhouse! I created a section for each room and space, both interior and exterior. Dreaming it all up has been so fun and the Pinterest boards have been helpful to make sure James and I were on the same page design-wise.
Jump to: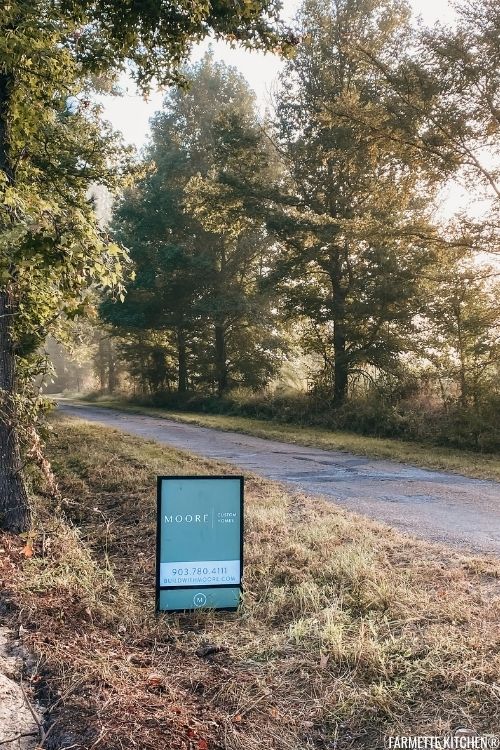 Choosing a Home Builder
When you work with a "big brand" corporate builder you typically only have a limited set of floor plans to choose from in a few specific subdivisions. After our first experience trying to build a home years ago, we knew we did not want to do that. Building a house in the country (and on your own land) is not like building a house in the city- we couldn't just pick from a subdivision or drive around looking at different model homes this time. We needed a custom home builder.
So, we started asking around for references for builders in our area. We spoke with a few of candidates and drove by some of the houses they had completed. Ultimately, we decided to go with Moore Custom Homes of Tyler, TX and we couldn't love Ben and his team more.
Ben sat down with us over lunch to discuss our needs, wants, budgets, and timelines in order to ensure we were a good fit for working together. He was thoughtful and professional and never made us feel like "just another home."
When deciding how to choose a home builder:
Get references. Don't just look at their online portfolio, actually ask around about how they were to work with. We had one builder come recommended to us by several people (because they had a "well known" name in the community) but they barely took the time to send an estimated cost to build. Someone that doesn't take the time to earn your business probably isn't going to do well to keep it either.
Meet with them in person. Don't ink a contract before you've had an opportunity to meet in person a few times. You need to make sure your communication styles are a good match. Do you feel heard when asking questions? Do they get back to you in a timely manner?
Consider their style. While I'm sure it's possible for builders to build a variety of different styles, you might consider finding one that specializes in the type of home you want to build. We wanted a modern farmhouse and chose a builder that builds modern farmhouses. This was very helpful while selecting the finishes because he was able to show us pictures of things he had used in the past and give advice on what looks best.
Ask what their work load looks like. How many projects do they plan to take on during your build over the next 6-8 months? What does their project management structure look like? Are they a one man show or will you be speaking to multiple people overseeing your build?
Designing a Custom Home
Once we had chosen our builder, it was time to begin the design process. We started by searching for existing modern farmhouse plans online for ideas and making a list of our wants and needs. We narrowed it down to:
4 bedrooms and 4 baths
master in separate wing from the kids' bedrooms
sitting room in the master
second master (with en suite)
Jack and Jill bath between two bedrooms
We wanted to design a functional house that can be our forever home... as in, a home that serves us now while our four children are living with us and in future seasons as empty nesters and grandparents.
With our oldest being a teenager already, we decided to only do three bedrooms for the kids. The girls will each have their own room and share the Jack and Jill bathroom. The boys (16 months apart) will share the second master with their own en suite bath. Once Isabella moves out, we will flip the rooms so Sophia (then a teenager) will get the second master and the boys will move into the separate bedrooms.
We really lucked out that the very first plans we found online checked ALL of our boxes and gave us a great jumping off point. Large kitchen, mud room, second master, J&J bath, a bonus room over the garage for my office! It even had a small office next to the master that we could convert to be the sitting room. We never found another set of plans that even came close to having everything we wanted.
Here's what we started with, but these are NOT the final plans (see the final plans here):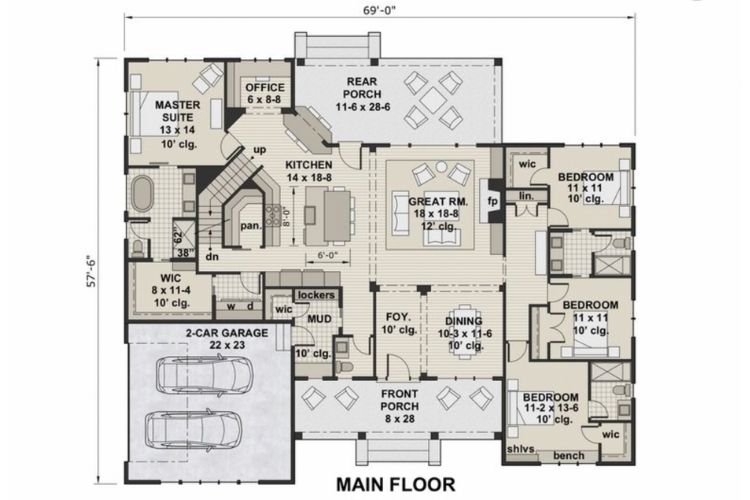 Tip: If you find a set of plans you like online, search the plan number as a hashtag on Instagram to see if anything comes up. If the plans are popular enough, you might be able to see real-life examples of completed builds.
Customizing Existing Plans
We sent the plans over to Ben to see if it would be possible to make a few adjustments. We didn't love the indoor/outdoor bar (hello, Texas) and we wanted to take out that wall between the master and office. We also wanted to change the garage access and make the front exterior more symmetrical.
I wasn't sure how that whole process worked- did we purchase the plans online first? Did we pay the company that made the plans to make the changes we needed? Was that something the builder could do?
Ben suggested we work with a drafter to make the edits. A drafter is similar to an architect but their education and involvement in the project varies, thus the cost is typically significantly less. I shared more in depth about our experience using a drafter for our custom home design process here.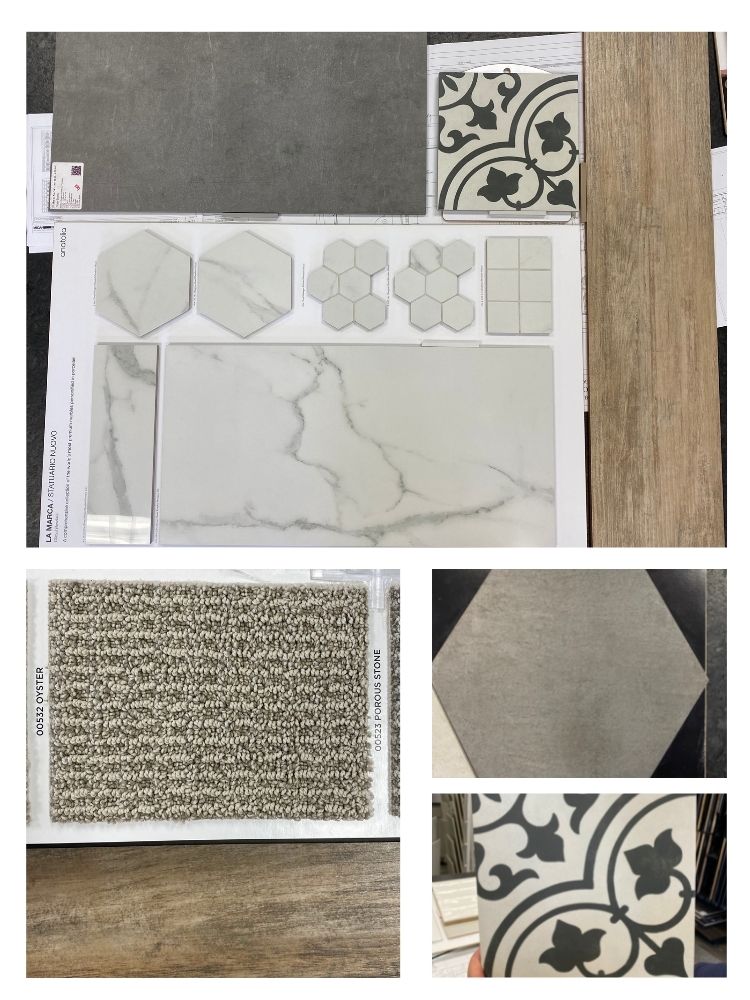 Making Design Selections
After we had the floor plan nailed down, it was time to choose finishes. We met with Ben on two separate occasions to choose the interior and exterior finishes.
Day One: doors, fireplace, flooring, and lighting
Day Two: plumbing fixtures, countertops, and appliances
Ben explained that the point wasn't to make the final selections so much as it was to create budgets for each category. He needed to know what we were thinking in terms of finishes in order to complete the final estimate for the contract and the construction loan.
After we made all of the selections, he waited for the final bids from contractors regarding the lumber, plumbing, electrical, etc based on our plans in order to write up the final contract that we could submit to the lender. By semi-locking in our choices, he knew what to allocate for what and we knew that choosing differently when the time came would have consequences for the budget.
Securing the Construction Loan
The final hurdle to starting the home build process is to secure the construction loan. Again, this differs from building in a city subdivision where you don't actually finance the construction, you only obtain a mortgage after completion.
The first step is choosing the bank you want to work with. Much like choosing a home builder, you want to be picky when choosing your lender as well. Ask around for references - were they easy to work with? Were they timely when it came to taking draws? Were they picky about doing draw inspections?
A few things we learned about the construction loan process:
You will still need 20% down on the loan. This can be cash or equity in the property. You will need to know the build cost to estimate this, which means you need to have your plans done and finishes chosen.
The bank will do inspections throughout the build process. Some banks are pickier than others when it comes to this. Apparently there was some shady business in the past where people were taking out draws for work that wasn't completed which resulted in a crackdown on the inspections.
You will only pay interest on the amount that is taken out. As the builder requests draws, the amount borrowed will increase, thus increasing your monthly interest payment.
Different banks offer different options when it comes to converting your construction loan to a permanent mortgage. This is important to know because if you plan to get a 30-year-fixed rate but your bank only offers 10/1 or 15 year notes, then you might end up needing two different institutions and pay costly closing fees twice.
When you close on your permanent loan, you will need to fund your escrow account with cash. So if your build is done in November, that means you will need 11 months of insurance and taxes at closing.
Note: This is all based on our personal experience. I'm not a financial advisor and you need to consult your lender for current information based on your situation.
Now that we've chosen our home builder, designed our plans with a drafter, and closed on our construction loan, the fun begins! You can follow our home build progress on Instagram.