Make your own Homemade Chocolate Graham Crackers with only a few simple ingredients.  Perfect in the lunchbox or as an after-school treat!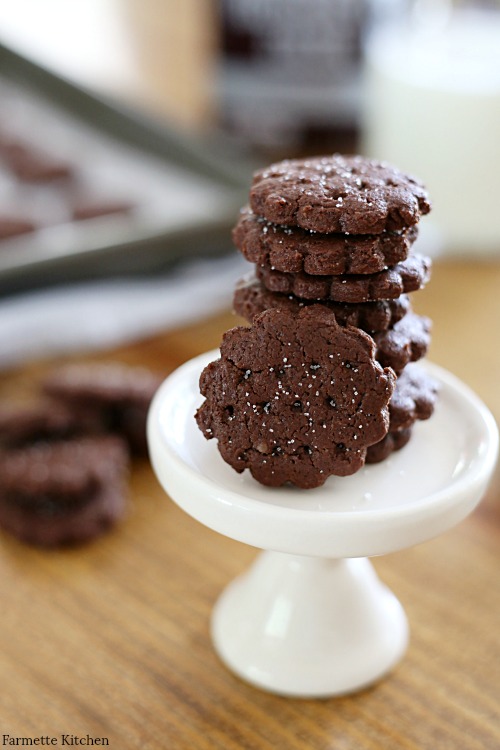 Ian started two-year-old preschool (three days a week) back in August at a local church.  Now that we've had more successful tear-free drop offs than not, I can finally say that it has been so good for the both of us.  It's been so fun to hear all the things he is learning about about and so good for me to have more time to create in the kitchen!  
His school serves a hot lunch every day so we've been excited for him to get introduced to new foods and, maybe more importantly for my picky eater, to see other kids eating different foods.  Some days I swear that child survives on granola bars alone.  I still pack his lunch for him each day but he has tried THREE new foods in the last month- peanut butter toast, noodles, and these homemade waffles!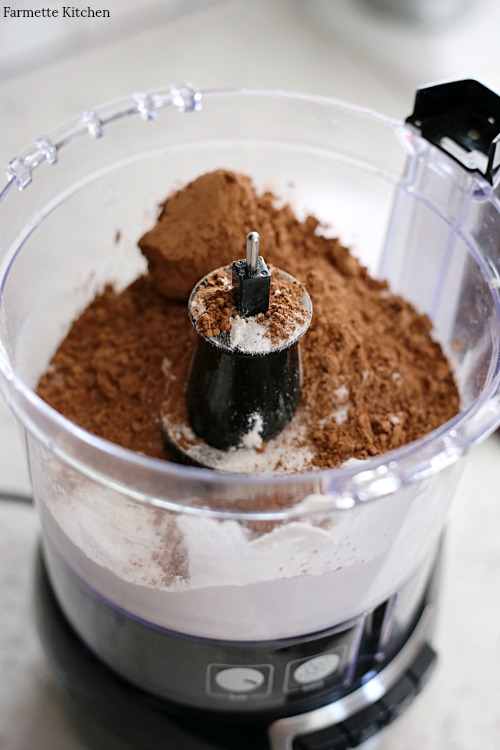 Homemade Chocolate Graham Crackers
He's also discovered a few new snacks, like chocolate graham crackers.  After eating them at school one day, he made sure to tell me that we needed to buy some "chocolate crackers" a.s.a.p!
The ingredient list for store-bought chocolate graham crackers isn't too bad- whole grain and no high fructose corn syrup, but they do still contain those pesky natural and artificial flavors, as well as a few forms of added sugar (sugar, dextrose, and maltodextrin) and preservatives.
Because he now wants these in his lunchbox on the regular, I wanted to see if I could make chocolate graham crackers from scratch without any questionable ingredients that still tasted good.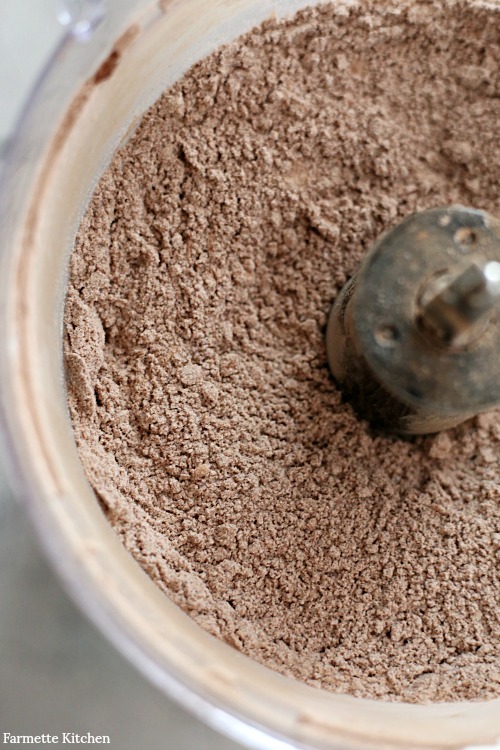 How to Make Chocolate Graham Crackers
After searching high and low in my kitchen to find my food processor, I finally found it in my husband's shed still packed up in a moving box.  That might tell you how often I use it - we moved here two years ago.  I may have forgotten about it but not anymore.  Not only will I be using it more often to makes this recipe, but it is also so handy for shredding cheese and slicing veggies.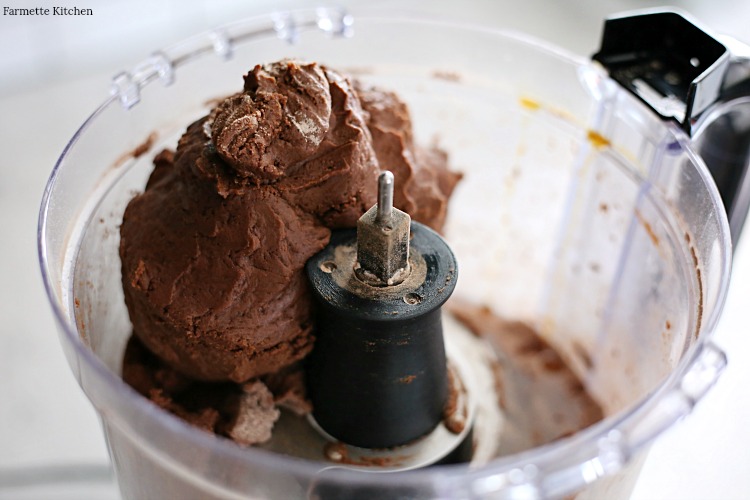 Using the food processor instead of a stand mixer is definitely the way to go.  No flour slinging all over the kitchen - it all stays contained in the food processor.  It cuts in the butter so effortlessly and makes cleanup so easy.  I don't know why I waited so long to make these from scratch because it really is SO easy.
The dough for these chocolate graham crackers is very forgiving.  It isn't sticky to the touch or difficult to work with it; it should be the consistency of fresh play-doh.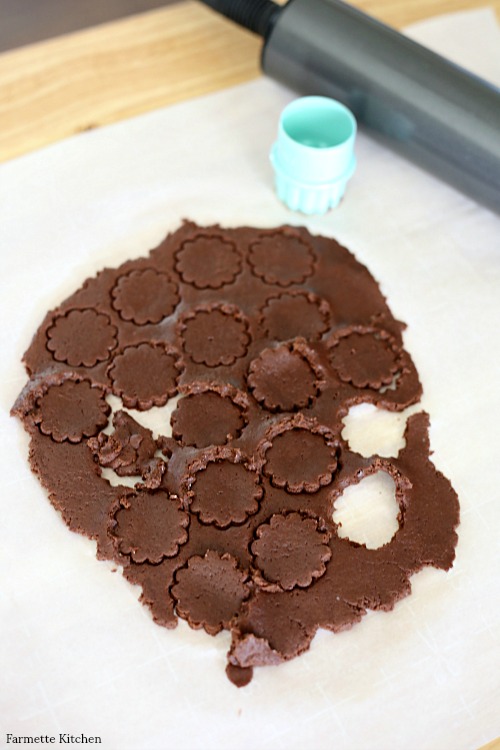 Recipe Tips
It was easier to cut the shape, take it directly to the baking sheet, and gently pop it out there.  (Instead of cutting them all out of the dough at once, like the image above.)  If your dough sticks to the surface, remove the "extra" dough around it and use a metal spatula to lift the cutout cracker and place it onto the baking sheet.
Tip: think "lift" not "scrape" so you don't scrunch up the edges of the cookies.  You just want to gently peel it up and lift it instead of trying to scoot the spatula underneath and scrape it off.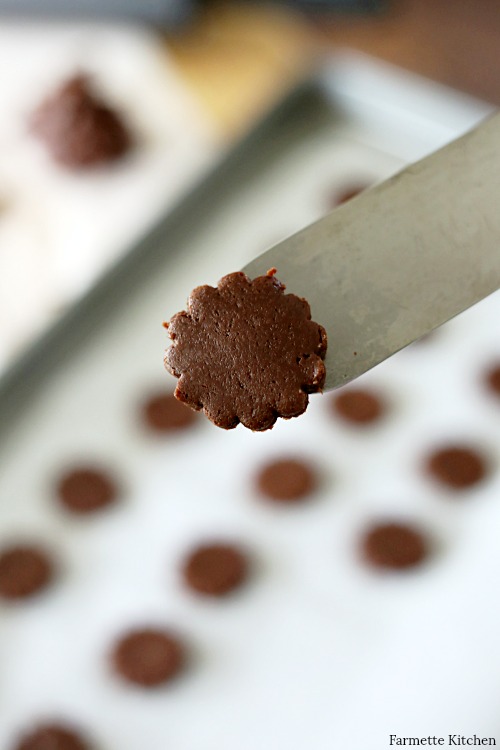 I decided to go with a 1.5in round biscuit cutter with scalloped edges instead of the traditional rectangle/ square shape for my homemade graham crackers.  Mostly because I didn't have a square cutter, but also because I wanted a more toddler-friendly size.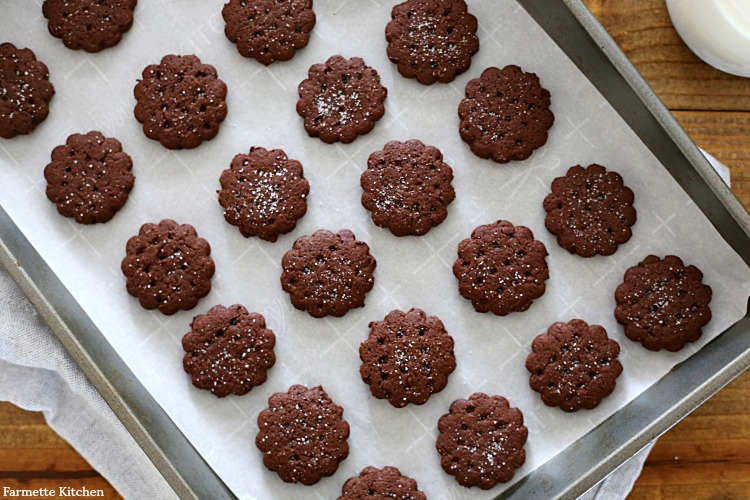 I gently scored the top of each cookie with a fork and then topped it with a pinch of sugar both before and after baking to give it more of that authentic graham cracker look and feel.  Be sure to wipe off your fork occasionally to remove any "dough debris" that might stick to it so you get a clean poke on each cracker.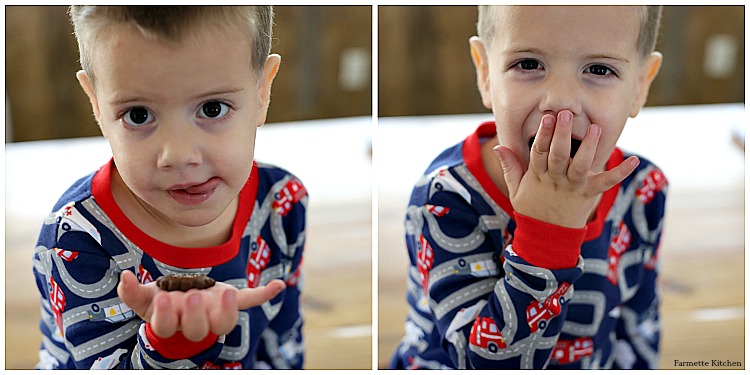 Ian came home with James after getting a hair cut just as I was taking the last batch of these homemade graham crackers out of the oven.  He immediately ran over and started eye-balling the tray.  I waited nervously to see if they would pass the taste test or if he would prefer the store-bought version instead.
He asked for a second cookie with the first one still in his mouth.  Safe to say that he approved.  They turned out to be the perfect "bite-sized" serving for him.  These will definitely become a weekly staple in our house and I love that they're so easy to make that Ian can help (like he loves to do with these One Bowl Chocolate Chip Muffins).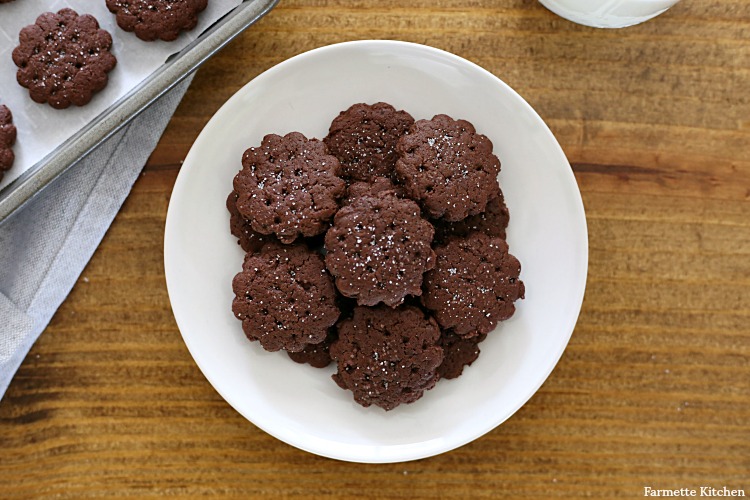 I based my recipe off of this one from Dessert for Two who also wanted to make a homemade version for her little one.  She uses "more wholesome" ingredients that I subbed out for what I tend to have on hand.  Check out her post for a quick video demonstrating how to make chocolate graham crackers from scratch.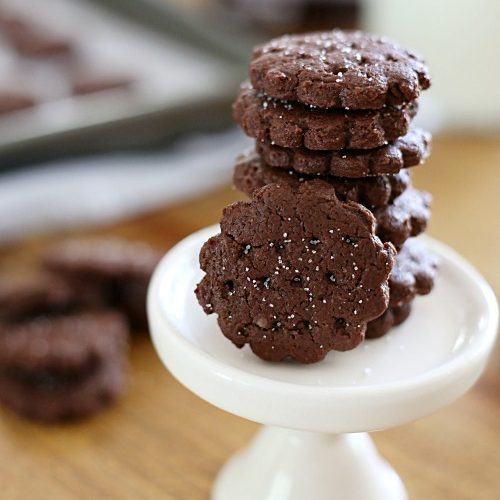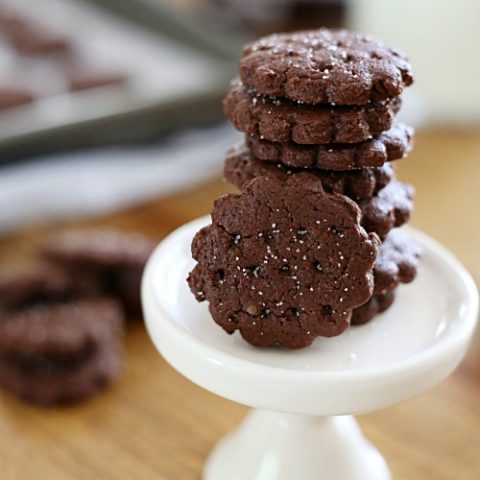 Chocolate Graham Crackers
Make your own Homemade Chocolate Graham Crackers with only a few simple ingredients. Perfect in the lunchbox or as an after-school treat!
Ingredients
2 cups all-purpose flour
½ cup cocoa powder
½ cup granulated sugar
½ tsp salt
¾ tsp baking soda
8 tbsp chilled butter, (½ cup)
¼ cup honey
¼ cup water
3 tbsp molasses, (or more honey)
½ tsp vanilla
Instructions
Preheat the oven to 350, and line a sheet pan with parchment paper.
In the bowl of a food processor, combine the flour, cocoa powder, sugar, salt, and baking soda. Pulse a few times to combine.
Dice the butter into chunks. Add the diced butter to the food processor and pulse until a slightly coarse meal forms, about 10-15 1-second pulses.
Combine the honey, water, molasses, and vanilla extract in a measuring cup with spout. Add the liquid into the food processor while pulsing (use the feed tube) until the dough clumps together and forms a ball.
Roll out one-third of the dough at a time between two pieces of wax paper. Roll it until it's slightly less than ¼" thick.
Use a cookie cutter (any shape you like) to cut out the crackers and place them on the prepared baking sheet.
Use a fork to prick the tops of the crackers with holes (don't go all the way through) and top each cracker with a tiny pinch of sugar.
Bake for 12-14 minutes (maybe longer depending on the size). I wanted my crackers to be crispy (like the store-bought version). They should be dry on the surface and firm to the touch.
Sprinkle again with a small pinch of sugar. Allow to cool and store in an airtight container for one week.
Notes
You can substitute coconut sugar for the white sugar. You can substitute one cup of whole wheat flour for one of the cups of all-purpose flour. Both regular or dutch-processed cocoa will work in this recipe.
Nutrition Information:
Yield:

140
Serving Size:

140 1.5in cookies
Amount Per Serving:
Calories:

18
Shop the tools I used to make these Chocolate Graham Crackers: